Where To Eat Now – Vaughan's Hottest Restaurants
This issue, City Life got behind-the-scenes access to four of the most-popular restaurants in Vaughan: Passione Moda Cucina, Cento40 Trattoria and Villaggio Ristorante. Get to know the men behind the magnificent culinary creations these restaurants provide and uncover what makes their restaurants special.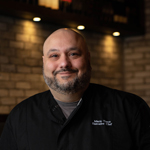 Cento40 Trattoria — Mario Turco
For most aspiring chefs, the final goal is to own their own place, and the same was true for chef Mario Turco. After 25 years as a chef, he finally had the opportunity to open his own restaurant and Cento40 Trattoria was born. With a comforting, homey feel, guests will not only get to eat an exquisite meal, but will also feel right at home.
Q: What was your goal when you were creating Cento40?
A: My goal was to provide the community with great food, great service and a place where they would find themselves always wanting to come back for more. I have always loved food and throughout my career have incorporated all my flavours and experiences, bringing them to the table for my friends, family and patrons.
Q: Tell us about your dish.
A: This pasta dish is cavatelli pasta with fennel sausage, cherry tomatoes, rapini, garlic and olive oil sauce. The combination of flavours has always been a great comfort dish. This pasta bursts with flavours and is a light alternative to heavier pasta sauces; it will always leave you wanting more.
www.cento40.com
@cento40trattoria
140 Woodbridge Ave. Vaughan, Ont.
905-605-8775
---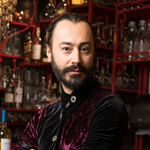 Passione Moda Cucina — Francesco Comito
Chef Francesco Comito and restaurant pioneers Tony Guarasci and Domenic Comito have brought a trinity of expertise to their restaurant, Passione Moda Cucina. The name says it all — "Passione" is a concept where food made with love and passion gives your tastebuds a tremendous culinary experience. Chef Francesco's brand "moda cucina" is a concept consisting of a trendy, sophisticated and innovative cuisine showcasing dishes like a work of art combining colours, elements, ingredients and textures that will leave you with remarkable memories. This is a place "where food meets style."
Q: What makes Passione Moda Cucina original?
A: Vaughan [Ont.,] has a lot of amazing restaurants with a huge Italian and multicultural population. With my concept, I believe that I'm kind of different in this community by bringing forward a variety of vegan, plant-based dishes, as well as a large selection of gluten-free options.
Q: Tell us about your dish.
A: The dish created is called "gamberoni alla grande." Jumbo shrimp in a limoncello liquor sauce served with lemon beets, mascarpone risotto and garlic sautéed vegetables. It's fresh, elegant, sexy and super-tasty.
passionemodacucina.com
@passionemodacucina
4040 Highway 7, Unit 3, Woodbridge, Ont.
905-265-2323
---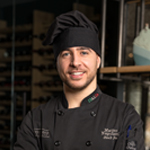 Villaggio Ristorante — Matteo Napoleoni
With a sleek new look and a dedicated family at the helm of the operation, Villaggio Ristorante is the place to be. The Barbiere family run this operation, with chef Matteo Napoleoni in the kitchen as head chef. Originally from Rome, Napoleoni worked in restaurants all across Italy before coming to Canada at the age of 19. Now having been at Villaggio for seven years, he shares his passion for food and fine dining with guests.
Q: Share with us the philosophy behind your food.
A: Love. Every dish deserves an extra dash of love. It's the secret ingredient to great food. I pour my heart and soul into everything that I prepare for my clients. I then pair that with fresh ingredients and unique flavours in order to create a work of art that first satisfies the sense of sight, followed by the sense of taste.
Q: Tell us about your dish.
A: This dish consists of an Ontario rack of lamb, pan seared with a fresh mascarpone and pistachio crust on a bed of sweet potato purée and arugula. I created this specific dish as the official welcoming to spring!
www.villaggio-ristorante.ca
@villaggio110
110 Nashville Rd., Unit 11, Kleinburg, Ont.
905-893-4888