Freedom Through Fitness – Nichelle Laus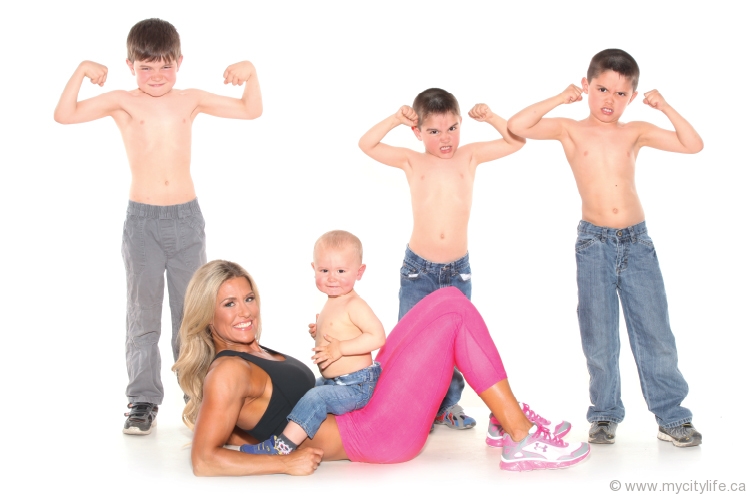 A Q&A with Nichelle Laus: the supermom that left her full-time career as a police officer to pursue her love for fitness.
Nichelle Laus has a passion for fitness. Personal trainer, motivational speaker, cover model, brand ambassador and an all-around expert in women's transformations — it's clear Laus has boundless energy when it comes to sharing her love of fitness with the world. With her history working as a police officer and competing as a boxer, Laus understood from the start what it would take to be a world-class trainer, from grit and determination to empathy for others. Now the owner of Optimum Training Centre, Laus continues to use her experiences and her dedication to inspire people of all fitness levels to meet their goals. City Life sat down with Laus to discover some of the secrets behind her drive — and find out how she recommends keeping fitness fun in your everyday life.
City Life: What inspired you to make fitness such a big part of your life?
Nichelle Laus: I was always very active growing up, playing various team sports and being naturally athletic — I excelled at most of them. I went through a rough time in my life when I broke my silence about child abuse I had been experiencing for a long time. I turned to kickboxing as an outlet, but it took me a long time to realize how much it helped me overcome my situation. By channelling anger and negativity into something positive, I was able to overcome a lot of demons and pain. I competed in kickboxing, and later boxing as well, for many years. I had to give up the competing when I started having kids as the training schedule was far too intense. Because I enjoyed the competition aspect of sports, I decided to enter the fitness competition world instead. Here, I was able to train on my own time and work out a schedule that fit best into my own busy life with four children, and a full-time career as a police officer. I am constantly inspired by the lives I have touched and changed over the years. It is because of my clients, and the love and gratitude I get from their successes, that I continue to do what I do. For many, the transformation is not just physical. It's mental and emotional as well.
CL: When should parents encourage their kids to be fitter?
NL: As soon as they can! I don't necessarily recommend pushing it on them, but allow them to be aware that movement, or any activity, whether recreational or competitive, is fun. We don't realize how early they understand things, and how influenced they are by not only our actions, but others around us. By making fitness a lifestyle, it will never seem forced.
CL: How do you inspire your kids to choose fitness over video games?
NL: To say my kids never play video games would be a lie. But we definitely have a balance and priorities in our household. Their play time is monitored, as well as earned on behaviour. We are really strict with that. I inspire our kids by walking the walk. By showing them that fitness is a huge part of my life, and a lifestyle, they are inspired to live the same way. They love to be included in my workout videos, they enjoy laughing and playing outside with each other and their friends, and they also include some fitness (and dance) in their interactive video games.
CL: Define a "healthy lifestyle."
NL: It is being able to maintain a sense of balance with exercise, food and mental growth, all while enjoying life to the fullest.
CL: What is the one thing you value the most as a trainer?
NL: Definitely the physical transformation of my clients is one thing, but what is even more gratifying is the way I have changed their lives emotionally and mentally. All are stronger and more confident, physically and mentally.
"Happiness is loving yourself and your life at any given moment"
CL: What is the one thing that you have learned as a former police officer that you still value today?
NL: All actions have circumstances; not all people who do bad things are "bad." Some people just make bad decisions based on their present circumstances. I apply that to all areas of life. People make decisions that seem right at the time, however, if put in that same situation at another time in their life, that decision might not be the same, or it might have a different outcome.
CL: How do you balance four kids, a career and mentoring, and still find time for yourself?
NL: I have definitely mastered the art of multitasking! Family is always first. I usually set my major priorities and then create the smaller ones under that. Because daily tasks always change, I need to be as flexible as possible, which is great about owning my own business. I try to make myself as available as possible (within reason) and then rearrange priorities as needed. I also multitask a lot. For example, I will use car rides to make phone calls, check emails while doing cardio and work on my online clients' programs while I am waiting for my kids at their activities.
CL: What are you most grateful for?
NL: Definitely the support of my husband and family. Without their support, a lot of what I do would not be possible. They believe in all my quests, and they support me all the way with any decisions I make or ideas I have.
CL: What is your definition of happiness?
NL: Happiness is loving yourself and your life at any given moment. It is smiling at your successes, embracing your opportunities and not sweating the small stuff.
CL: What is the one regret you have in life?
NL: I wish I would have travelled more when I was younger. I would have loved to tour Europe, Africa and other wonders of the world.
CL: What do you love about being a mom?
NL: Everything! The good, the not so good. Being a mom has taught me more lessons and challenged me more than anything I have ever done before. It has also made me a better person overall.
CL: What is the one exercise you swear by?
NL: Squats! They are the most effective for targeting all the muscles in the legs, and they also strengthen the hips and lower back, which helps prevent injury.
CL: Tell us about a memory that still brings a smile to your face.
NL: The trip my husband, Dave, and I took to California, where we got engaged on the Friday and married (in Vegas) on the Sunday! Thirteen years and four children later, we are still as happy as ever!
CL: What would you say to someone who is struggling with a negative body image?
NL: I always try to turn a negative into a positive. I always tell them to pick the three things they love about themselves and write them down. Whenever they are feeling down, I always tell them to focus on their positive points. We have all struggled at one point with body image, and I am a strong believer in positive affirmation and learning to love yourself at all stages of growth and change.
CL: Where do you like to dine, shop, vacation?
NL: I am rarely without my family, so if we do dine out, it will always be somewhere that is relatively inexpensive and that has great variety. Some of our favourites include Swiss Chalet, Montana's, Sanremo Bakery, Papa Giuseppe's, The Q and other Italian-style and pizza places that offer lots of variety. My kids love pasta! I usually shop somewhere I can go in and out of and that is a one-stop shop. I tend to get too lost in malls, so somewhere quick and convenient like Walmart where I can grab everything is great. I have also been getting used to doing a lot of my shopping online, which helps a lot. We don't go on vacation much at all. We do weekend getaways sometimes with the kids that usually include camping, or Great Wolf Lodge, or sometimes a quick weekend trip to Niagara so we can pack several fun things into a couple of days.
CL: What is your favourite brand of running shoes? Athletic wear? Healthy snack?
NL: My favourite brand of running shoes is Puma. I like to choose my shoes based on comfort first. Puma has a lot of styles and colours to choose from, and they are great for running, which is something I enjoy doing when I need to get my cardio in. My favourite clothing is also Puma, but I also love the styles and comfort of Lululemon and Industry Active. Again, I base my selection on comfort and style. My favourite healthy snack is rice cakes and peanut butter. I also enjoy a refreshing shake made with almond milk, banana, chocolate protein powder and peanut butter. So yummy!
CL: What is your favourite Movie?
NL: I usually can't stay awake during movies. That happens to be my claim to fame! But if I had to choose a favourite current movie it would be The Other Guys. I liked it because being an ex-police officer, I relate to the humour. Will Ferrell and Mark Wahlberg make such an awesome comedy combo.
I love to laugh!
CL: What is on your workout playlist?
NL: Usually anything Eminem, Drake or current Top 40 with a bit of hip-hop.