Burrata & Stone Fruit Flambé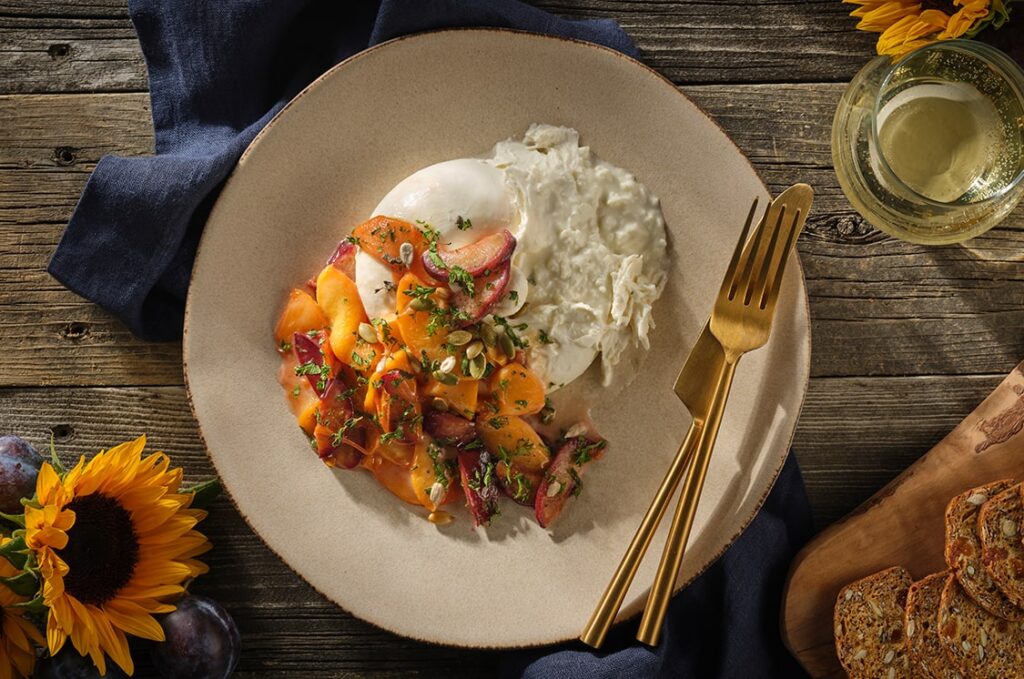 Prep 10 Min, Cook 5 Min
INGREDIENTS
½ oz (14ml) Dillon's rum
½ oz (14ml) Dillon's peach schnapps
½ cup (125g) Ontario plums, sliced
½ cup (125g) Ontario peaches, sliced fresh or frozen
1 tbsp (20g/15ml) local maple syrup
1 tbsp (20g/15ml) Ontario butter
1 whole Ontario burrata
salt and pepper to taste
fresh garden herbs (sage, rosemary, thyme, parsley)
toasted pumpkin and sunflower seeds
METHOD
STEP 1: Preheat a medium non-stick skillet or pan on medium-high heat.

STEP 2: Once the pan is hot, remove from the heat and carefully add the rum and schnapps to the pan. Then, immediately and very carefully set the pan aflame with a BBQ lighter. Be sure to not be standing too close to the pan when igniting!
STEP 3: Once the flames die down, return the pan to the heat and add the stone fruit to cook. Cook for 2-4 minutes to soften the fruit. Finish with maple syrup, butter and a pinch of salt.
STEP 4: Pour the stone fruit compote over the burrata and garnish with herbs and toasted seeds. Serve with crackers or warm bread.
savourontario.ca
qualitycheese.com
RECIPE BY RICKY CASIPE