Pan-Seared Atlantic Salmon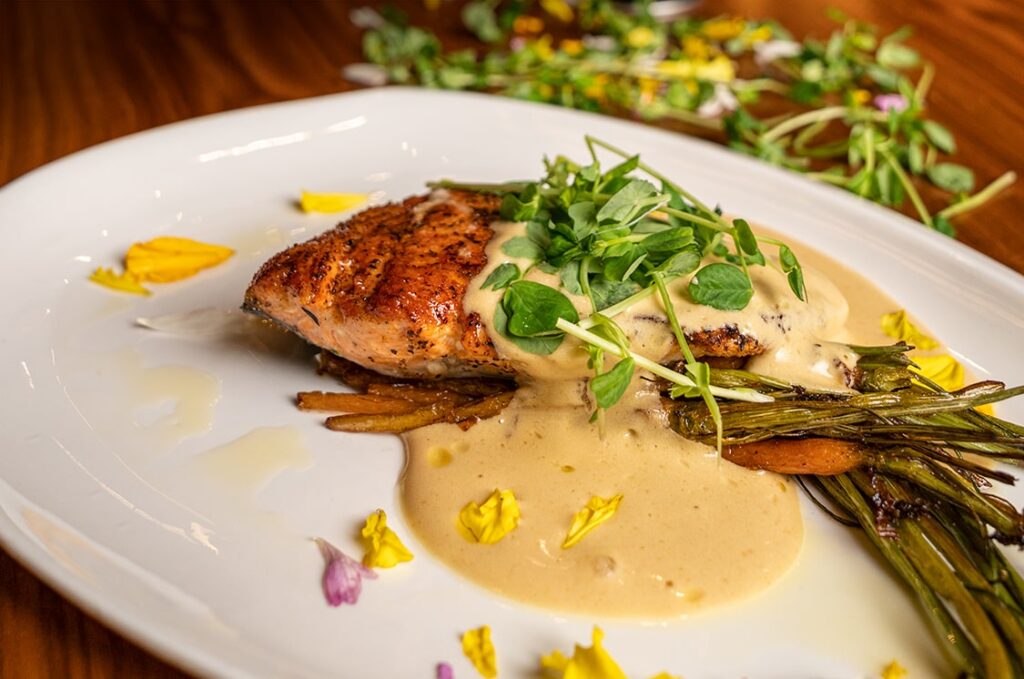 House-Made Zerillo Premium Extra Virgin Olive Oil and Marsala Zabaglione
1 Serving
Ingredients:
8 ounces, plus 2 teaspoons Zerillo Premium Extra Virgin Olive Oil
1 salmon fillet, skin on
1 clove garlic
1/2 teaspoon clarified butter
One sprig of fresh rosemary
One sprig of fresh thyme
2 ounces Marsala wine
2 egg yolks
2 pinches sugar
Salt
Your choice of roasted vegetables
Edible flowers
Directions:
1. Preheat oven to 400°F/200°C
2. Season salmon with salt.
3. Heat 2 teaspoons of olive oil in a non-stick oven-proof skillet over medium-high heat.
4. Add garlic, rosemary, thyme and clarified butter, and then fry for 30 seconds to release flavours.
5. Add salmon, flesh-side down, and cook for 4-5 minutes until meat is seared, flipping it over for the last minute to brown and crisp the skin.
6. Transfer the skillet to the preheated oven and continue cooking for 8-10 more minutes.
7. In the meantime, prepare the zabaglione sauce by whisking together the egg yolks, a pinch of salt, sugar and Marsala wine. Add 8 ounces of olive oil and whisk.
8. Prepare a bain-marie by filling a pot halfway with water and bringing it to a simmer.
9. Place the bowl with zabaglione over the pot. The bottom of the bowl should not touch the simmering water. Continue whisking the mixture until it thickens and coats the back of a spoon.
10. Place roasted vegetables on a plate. Once the salmon is ready, take it out of the oven, place it skin-side down on top of the vegetables, and pour the zabaglione sauce over the top.
11. Decorate with edible flowers.
Recipe courtesy of Giro D'Italia Ristorante, #16-8740 Jane St., Vaughan, ON

www.zerillo.ca
www.shopdolce.ca
@shopdolce_ca