Quality Cheese: Simple Roasted Beet Salad With Fresh Burrata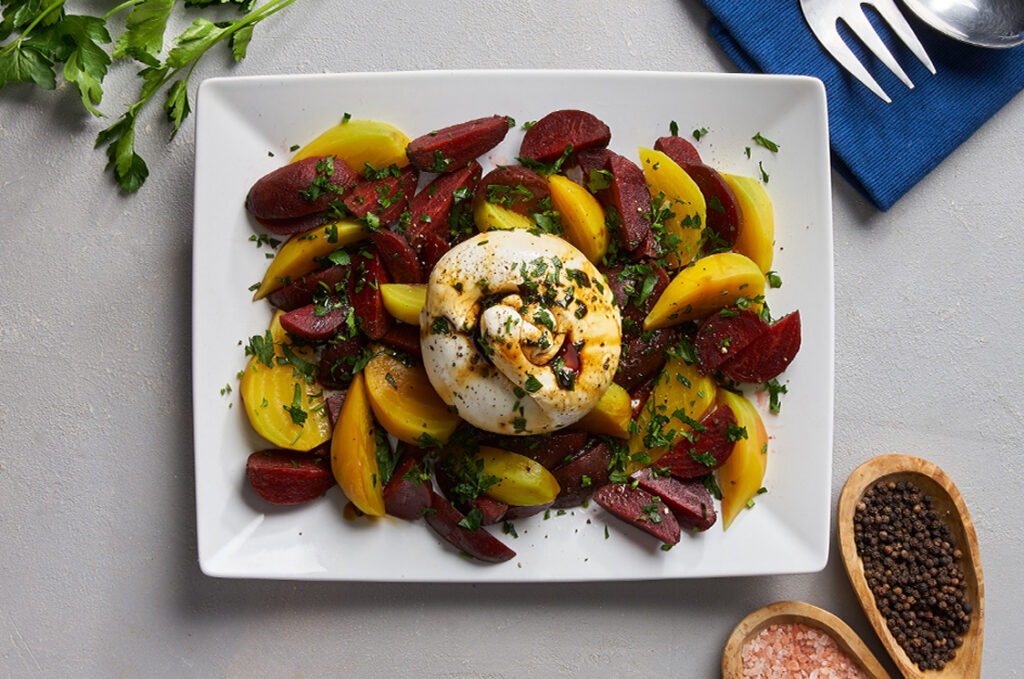 This simple roasted beet salad will soon become one of your favourite recipes to make. Filled with complex flavours made with just a few simple ingredients, starring creamy Ontario burrata.
Serves: 6 people
Prep time: 15 minutes
Cook time: 15–20 minutes
INGREDIENTS:
1 Ontario burrata ball
2 cups yellow candy beets
2 cups purple beets
2 tbsp olive oil
1 tsp salt
1 tsp ground pepper
1 tbsp parsley, chopped
2 tbsp pomegranate molasses
or balsamic glaze for drizzle
INSTRUCTIONS:
1. Preheat oven at 375F/190C
2. Wash and peel beets and
cut into quarters. Toss in olive
oil and salt and pepper
3. Evenly spread beets on a
prepared baking tray and bake
for 20–30 minutes
4. Place roasted beets onto
a serving platter, top with
chopped parsley
5. Lay Ontario burrata ball on
top. Drizzle with olive oil and
salt and pepper to taste
6. Drizzle pomegranate
molasses over the salad
and serve.
Find it at your local grocery store.
www.qualitycheese.com