Peter Campoli: Discover A Brokerage Built Differently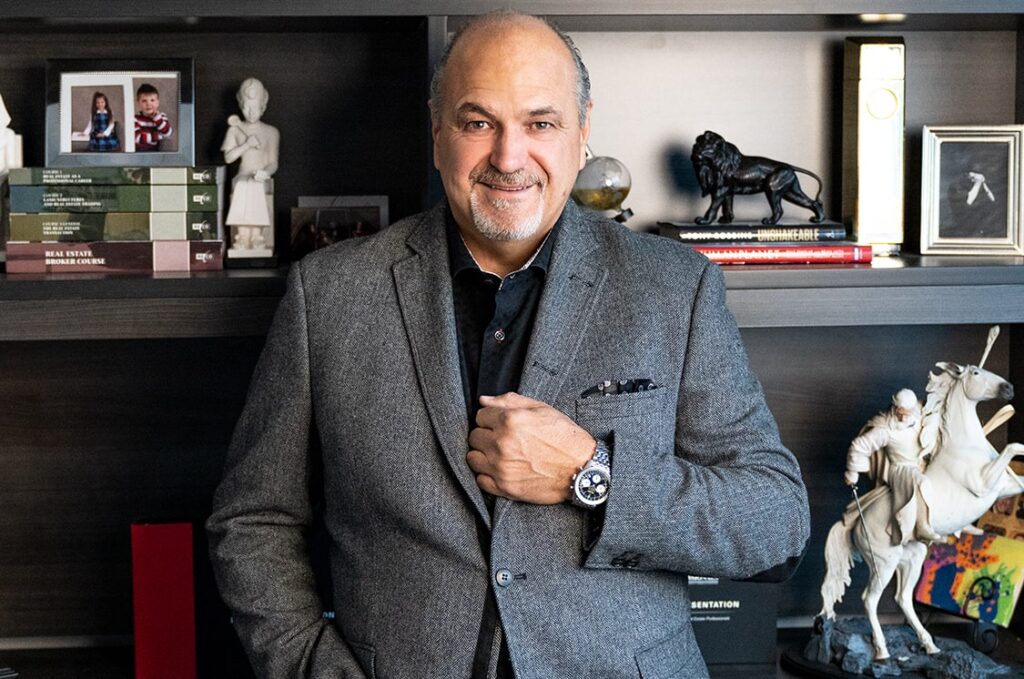 With almost 40 years of experience working in the real estate industry, Peter Campoli knows what it takes to not just see agents excel in their work, but also support every aspect of their professional journey.
As a Royal LePage Real Estate Professionals Broker of Record, Peter Campoli has lived a career that spans residential homes, commercial properties, investment properties and sales. He also manages his team of more 100 real estate professionals servicing the Greater Toronto Area.
"Our business is about building connections with people, relationships with people and establishing a trust factor," Campoli says. "We just happen to sell real estate, too."
As a business, Royal LePage leads with a number of core values. These include integrity and the ability to keep promises, provide quality client service with agents who remain at the top of their game, teamwork, promptness and versatility. Especially in an industry where clients can be working with baby boomers or millennials, the real estate professionals know the importance of staying on top of technology, trends and being able to resonate with people in a way that's authentic.
"It's About Teamwork And Strength Through Working Together. We Want To Give The Best Possible Tools, Information And Ways To Do Business, Especially In A Changing Industry"

Peter Campoli
For anybody who joins Royal LePage as a broker, they'll not only be entering a supportive, like-minded team of other brokers, but also a place that actively supports their business and invests in their continuous development. Even as we were speaking with Campoli, he'd just finished a 52-week training course with his agents on how to work with buyers.
"I come from an upbringing of helping others grow and helping people attain their goals," Campoli continues. "It's about teamwork and strength through working together. We want to give the best possible tools, information and ways to do business, especially in a changing industry."
As Ilda Rites, one of the company's sales representatives, says, "Peter is a professional and supportive mentor who is always encouraging me and the agents in the office to thrive through support, training and mentorship."
For this reason, agents joining will do so with a suite of options at their disposal. As well as gaining guaranteed leads every month, they'll also have access to an in-house, full-service marketing team and virtual training options spanning residential, commercial, industrial and investment properties, as well as expert advice from the mortgage team, solicitor and marketing department.
Speak to the agents themselves and you'll get a sense of the ethos and work environment Royal LePage has created. "We are all truly lucky to be a part of the RLP Real Estate Professionals family," says Cristina Porretta, who's a broker with the company. "It gives us access to some of the best training out there and the tools we need to succeed. I'm definitely proud and honoured to be a part of this brokerage."
Vincent Guido is a sales representative at the firm and says that "after more than 25 years as an agent, I can attest to the fact that Royal LePage Real Estate Professionals is a great place to work and I am proud to call this brokerage home. With his immense experience and expertise, our Broker of Record, Peter Campoli, is always there to give us support and to back us up."
Another is Sebastian Malhotra, who's been with the company for more than 15 years. "I've been with Royal LePage Real Estate Professionals since I first became a realtor 17 years ago and I've advanced my career with the support of the brokerage," he says. "The staff have always been helpful, and the location is ideal for my business."
Your real estate career with Royal LePage is only a message away. Get in touch via its website to find out more.
---
Cristina Porretta | Broker
"We are all truly lucky to be a part of the Royal LePage Real Estate Professionals family. It gives us access to some of the best training out there and the tools we need to succeed. I'm definitely proud and honoured to be a part of this brokerage."
---
Maurice D'Amico | Sales Representative
"I have enjoyed great success working for Royal LePage Real Estate Professionals under Peter's management. It's a great office and I can't imagine working anywhere else. The support staff is second to none."
---
Sandy Szewczyk | Sales Representative
"Peter Campoli is very professional and always great to work with. I always felt that he is looking out for my best interest. Royal LePage Real Estate Professionals provides a great working environment, and my colleagues are always willing to assist."
---
Sebastian Malhotra | Sales Representative
"I've been with Royal LePage Real Estate Professionals since I first became a realtor 17 years ago and I've advanced my career with the support of the brokerage. The staff have always been helpful, and the location is ideal for my business."
---
Vincent Guido | Sales Representative
"After over 25 years as an agent, I can attest to the fact that Royal LePage Real Estate Professionals is a great place to work and I am proud to call this brokerage home. With his immense experience and expertise, our Broker of Record, Peter Campoli, is always there to give us support and to back us up."
---
Ilda Rites | Sales Representative
"Peter is a professional and supportive mentor who is always encouraging me and the agents in the office to thrive through support, training, and mentorship."
---
Sonia Capista | Sales Representative
"I can't thank Peter Campoli, the amazing staff, and fellow co-workers enough for their continuous support, training, and mentorship. I am proud to say that with all their help, I am an award-winning, confident realtor pursuing my dream of helping others. I look forward to many more successful years with my RLP family."
---
Marta Bruno | Sales Representative
"I joined the company in 2003, and there were about 30 agents in the office at that time. The brokerage has grown tremendously in both the quality of agents and brokerage support services to help us succeed in today's real estate world. The environment at the office has been like family. Joining Royal LePage Real Estate Professionals was the best decision I ever made."
---
8551 Weston Rd., Vaughan, Ont.
416-743-5000
rlpprofessionals.com