Coach Jim Brennan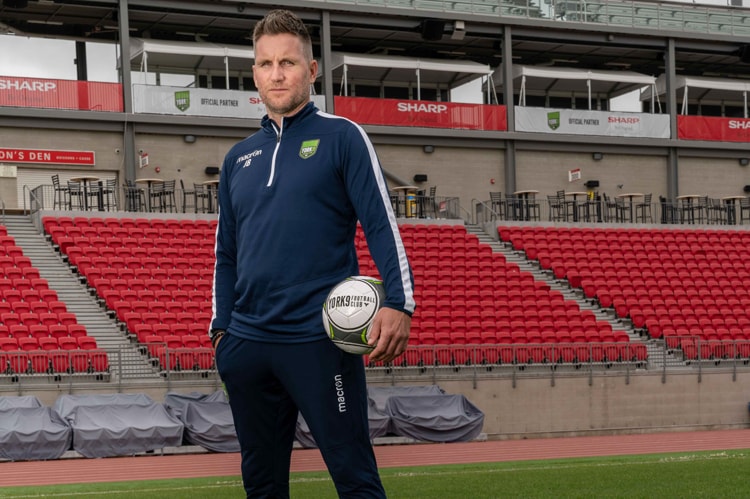 There is light at the end of the tunnel when it comes to Canadian football (soccer) with coaches such as Jim Brennan at the helm of York 9 FC. For those who do not know, Canada finally has a professional football league, which started this year. This league is called the Canadian Premier League, and York 9 FC is one of seven clubs that make up the league, which spans the country.
Jim Brennan is a Canadian-born footballer with over 10 years of experience playing in England at the highest level. When listening to coach Brennan talk about Canadian football, a sense of passion and positivity is really evident. Along the same vein, the coach puts an emphasis on working hard to showcase one's talent. The stigma around Canadian football comes from the idea that we are not a footballing nation. Brennan counters this notion, challenging his players to play with high intensity, but to also express themselves out on the pitch — essentially letting the play do all the talking. Coach Brennan is someone who enjoys being around his squad every day and knows his players inside and out. With coaches like Brennan, Canadian players will only mature and gain more confidence in knowing that they can compete with anyone.
Q. From your experiences playing in a foreign country, what advice could you pass along to younger players who are currently or will be playing in a foreign country, such as an Alphonso Davies playing for Bayern Munich, and how they can deal with racist remarks or hassling of any kind?
A. In regard to racist remarks, there is no excuse for any of that, there is no room for that in the game. But for the young boys over there, just enjoy the moment, dig your head down, keep working and prove to people that you can play this game and play at the highest level.
Q. What has been the highlight so far in coaching York 9 FC?
A. Every week there's a new highlight, just watching these guys start to gel and express themselves. The highlight I get as a coach is watching and working with these guys every day and then seeing them go out onto the field and showcase what they've got. I'm really enjoying watching these guys and coaching them.
Q. Do you see grassroots football in Canada heading in the right direction?
A. See, that's what the Canadian Premier League is for, and that's developing players, coaches and administrators. We're just going to create a bigger player pool, just look at our under-17s; there are so many Canadians playing professional football, it's amazing. As the Canadian Premier League grows, it's just going to create a bigger and bigger pool for our national team. And now with this pro game, it's all about getting these local clubs out so these young kids can watch these pros, and maybe it can give them an opportunity to fulfill their dreams of playing professional football.