Leaky Pipes? Old Wiring? Or Maybe We're Living In A Haunted House?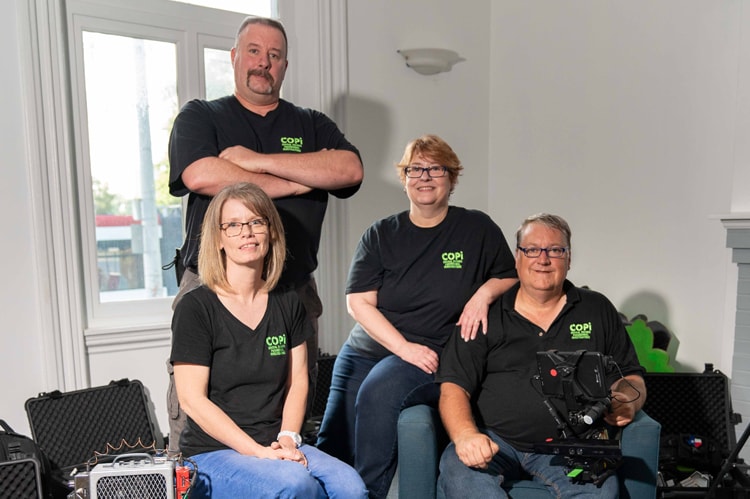 You hear noises at night. What's that rattling sound? Are you hearing voices, too? Is the house settling? Is it a bad reno — or is it a ghost? It's probably nothing. Or maybe not. Maybe you have some unwelcome roommates, and it's time to call in the experts.
You know what it's like buying a home — you get the shiny new keys, you're excited and you're a little bit nervous, too. That's exactly how Glenn Laycock felt when he and his wife moved into an older home 12 years ago. "I think it was our second day there that I had a door slammed in my face," Laycock says. They would come home from work, and the dining room chairs would be in the kitchen. They started hearing voices, too. "We'd have company come over, and people would say, 'Is your TV on downstairs?'"
And that is how Laycock became a paranormal investigator. "Because if you tell people this stuff, they say, 'You're crazy' — and I know what it's like to be that person," he says. Laycock messaged a few others who were involved with another paranormal investigation group, and together they cofounded Central Ontario Paranormal Investigations (COPi). One thing Laycock wants to make clear is that they don't charge anyone for an investigation. "We do it because we want to help," he says simply. And he doesn't like the term "ghost hunters," either. "I prefer the term 'paranormal investigators' because we try to figure out what's going on by conducting an investigation," he says.
So how is an investigation conducted? The team listens to the issues, they take a walk around the house and usually arrange a date to stay overnight and set up their equipment. "We try to look at everything; we're all about hard evidence," says Laycock. "We ask what could be causing the disturbance: Is it rattling pipes? Is it a furnace? Is the house shifting? We want to be able to record it, videotape something and get something that is tangible." The investigators then look at the evidence and reveal their findings to the client.
Many times, common everyday occurrences are mistaken for paranormal activity. Laycock cites the example of a mother and her two children convinced that their house was haunted. Laycock and the other investigators saw absolutely nothing. The woman, who was visibly upset, couldn't understand it, telling them that her young daughter said that her bed was vibrating at night. Laycock asked permission to speak to the child. As it turned out, she was sleeping with her phone under her pillow, which vibrated when friends — not ghosts — were trying to contact her. But the daughter was also seeing shapes at night. "On the wall at the foot of her bed, she had a huge mirror — she was actually seeing herself," says Laycock.
Sometimes, however, things can't just be explained away. In one small town, the town hall has some very active paranormal activities going on. The investigators recorded voices and revealed their findings to the mayor, who was shocked. "She asked me if it was a good idea to perhaps get a minister in to do some kind of ceremony," says Laycock. "I said, 'Sure, there's nothing wrong with that, it wouldn't hurt.'"
'We aren't afraid of them, we just live with it. It's just part of being there and it's fine'
Sometimes, however, paranormal activities can be downright scary. In one instance, COPi was contacted by a couple because the husband thought he was being attacked at night: he had the feeling that he was being held down, and his wife was really upset. "The place was quite active. We had a lot of evidence; we left a recorder overnight and we recorded voices and footsteps," says Laycock. In another case, a grandmother lived with her son's family, and she was very ill. One night, they caught her going into the son's bedroom with the intent to harm him because that is what the voices in the house were telling her to do. In these cases, people often just want to get away and so they sell the house and move into another home, says Laycock.
But in most cases, if they do find something, Laycock says things can frequently be fixed by saying something like, "I live here, and you're not supposed to be here; you need to leave." Some people feel more comfortable involving someone of their faith, or Laycock will conduct a smudging ceremony to purify the space. And even if they don't find anything paranormal, it gives people peace of mind just knowing what was causing the disturbance, he adds.
As for Laycock and his wife, they still live in their haunted house. "We're still there and we still have things happening — I would say it's calmed down a little bit, but it still happens, and we hear voices or find something has been moved on a regular basis," he says. "We aren't afraid of them, we just live with it, it's just part of being there and it's fine."
Not a believer? Then check it out for yourself. At this year's Fall Home Show, Laycock will be sharing stories and talking about the most common household noises that are often mistaken for ghostlike activity. He'll also be leading a behind-the-scenes tour of the Exhibition Place grounds, well- known for unexplained supernatural activity since their construction.