Lower East Side Brunch Tart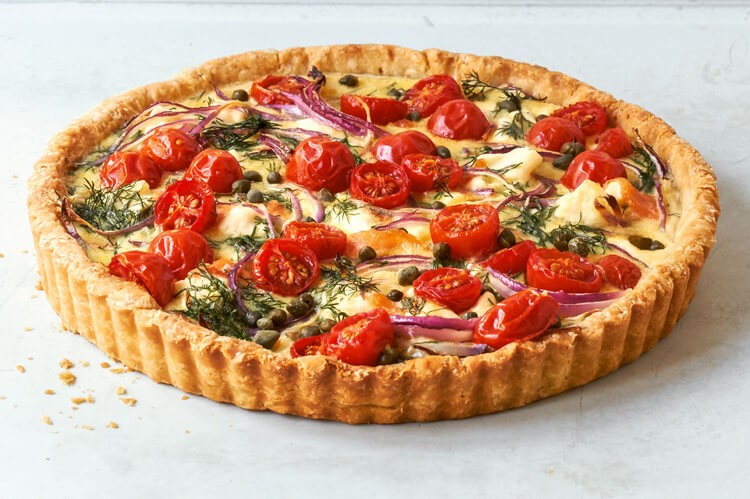 Inspired by the ever-faithful bagels and lox, this quintessential quiche uses fresh flavours to create a dish you won't soon forget.
After a few weeks of binge quiche-making and a brunch at Russ & Daughters, the Lower East Side Manhattan restaurant that specializes in smoked fish and Jewish tradition, I came up with this recipe. Think bagels and lox, the Sunday-morning meal of millions of New Yorkers, Jewish or not. But to say "bagels and lox" is to shortchange the dish. What you want with your bagel and smoked salmon (lox is one kind) is "the works": cream cheese, red onions, capers, dill and tomato. And that's what you get in this tart.
Working ahead: you can prebake the crust up to two months ahead and keep it, wrapped airtight, in the freezer
To capture the spirit and flavour of the weekend special, I did a couple of things I'd never done before for a tart: I used raw red onion, so that it would retain some of its texture (I usually cook the onion before adding it to something to be baked); I speckled the tart with small chunks of cream cheese; and I tossed in capers. As often happens, the oven's heat was the magic ingredient, making all these firsts seem as right as the Lower East Side ritual and just as tasty.
If you'd like your tart to look like the one in the photo, cut the cream cheese into chunks so they won't melt completely, and reserve some of the capers and dill to scatter over the top with the tomatoes.
INGREDIENTS
One 9- to 9½-inch tart shell made with Pâte Brisée partially baked and cooled
1½ oz. (43 g) cream cheese, cut into small bits or chunks
3 oz. (85 g) smoked salmon, finely chopped (about 1/3 cup)
¼ cup (36 g) thinly sliced red onion, rinsed and patted dry
1 tbsp. chopped fresh dill
3 tbsp. capers, rinsed, patted dry and chopped if large
¾ cup (180 ml) heavy cream
2 large eggs
½ tbsp. fine sea salt
¼ tbsp. freshly ground pepper
12 to 15 cherry tomatoes, halved
METHOD
1. Centre a rack in the oven and preheat it to 350 degrees F.
2. Place the partially baked tart shell on a baking sheet lined with parchment paper or a silicone baking mat. Scatter the cream cheese over the bottom of the crust, followed by the salmon, onion, capers and dill.
3. Beat the cream and eggs together with the salt and pepper in a bowl until smooth. Pour this into the crust, stopping when you're just below the rim. (It's often hard to judge just how much filling a crust will take, so you might have a few drops left over.) Top with the tomatoes and very carefully slide the baking sheet into the oven.
4. Bake the tart for 40 to 45 minutes, or until it is puffed and set — a skewer inserted into the centre will come out clean. If the centre of the tart has risen as much as the sides, you can be certain it's baked through. Transfer the baking sheet to a rack and let rest for at least 15 minutes before serving — it's best just warm or at room temperature.
LOWER EAST SIDE BRUNCH TART is excerpted from Everyday Dorie by Dorie Greenspan
Photography by Ellen Silverman.