Tasios Orthodontics Does More Than Create Smiles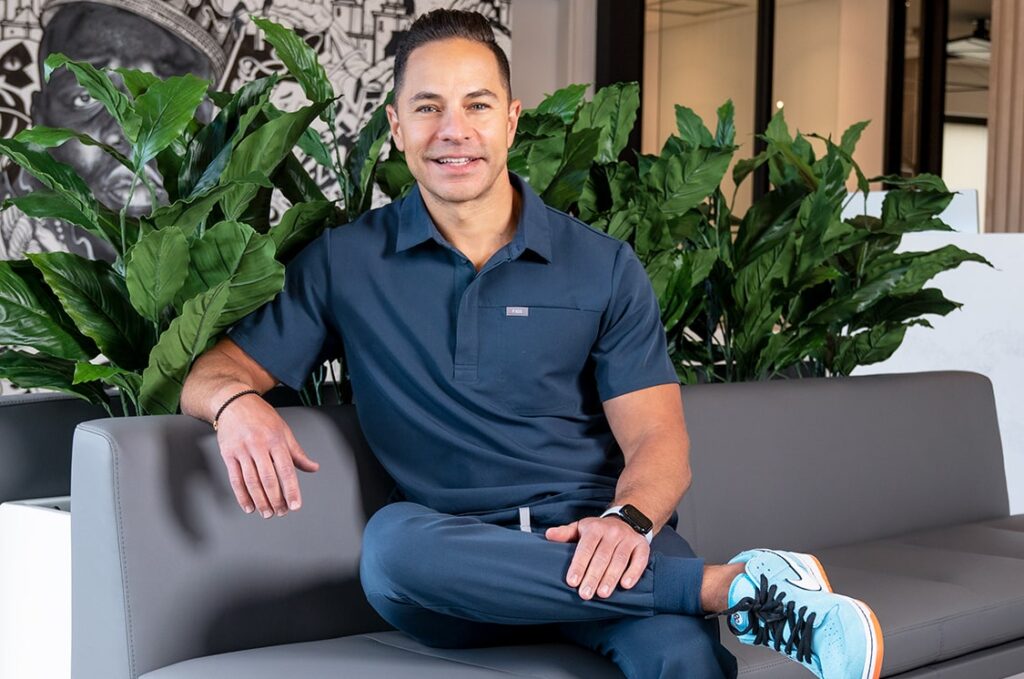 When it comes to teeth, Dr. Bruce Tasios is someone who doesn't settle for less than perfect. Here, he explains how he's translated his vision for unforgettable smiles into a new Woodbridge location.
Since Dr. Bruce Tasios started his work as an orthodontist, he's had a dream to create an environment that reflects the quality of work his clinic does. By combining an artistic approach with the cutting-edge science of orthodontics, he's helped thousands of people achieve the smile of their dreams. While his first location has already been celebrated for its award-winning design, his new Woodbridge location takes it to the next level.
"When I built this clinic, I wanted to have its esthetic and vibe reflect me and what we strive to achieve for our patients," Tasios says. "You'll see it's super modern, and great for kids and adults. There's a cool games room and outdoor minigolf area for kids. For adults, there's a quiet waiting area with waterfall features and cucumber water. I wanted to create a spa vibe and offer a great, unique experience."
While the location was completed in August of this year, it was an idea that came to Tasios two years before. Whenever he visited a restaurant or hotel he believed was doing customer service right, he'd take notes and later adapt what he'd learned in his own space.
It's Tasios's second location, joining one in Toronto — and you can be sure that whichever Tasios Orthodontics clinic you visit, both have the same approach to service and results. Whether it's the way someone is greeted when they enter the office, the amenities they find there or simply being seen on time, Tasios wants the experience to be a holistic one with exceptional attention to detail.
It's the reason the team has gained thousands of followers on Instagram, winning business from its before-and-after photos. It's also the reason why Tasios has clients who drive up to seven hours for appointments, from Montreal and even farther away, and why they have been voted the top orthodontic clinic in Vaughan for eight years running.
"If someone is contemplating orthodontic treatment, we offer a free consultation where we can review all options," Tasios explains. "A lot of adults have a misconception that their teeth don't move as quickly as younger patients, but that's not true."
He also explains that more adults are seeking orthodontic treatment now than ever before. He feels it comes down to a greater understanding of the confidence that comes with a better smile, as well as the more discreet options currently available.
It doesn't look as though the Tasios Orthodontics brand has finished growing, either. As well as celebrating the recent opening of its Woodbridge location, Tasios shares how he's applying his vision for customer service and orthodontic results by converting his previous location in Woodbridge to a pediatric dental clinic, which should be complete by the end of 2022.
3611 Major MacKenzie W. Dr., Unit 2, Vaughan, Ont.
905-553-7778
2085 Lawrence Ave. E., Unit 6, Toronto, Ont.
416-901-7778