Maple Bakery: A Sweet Place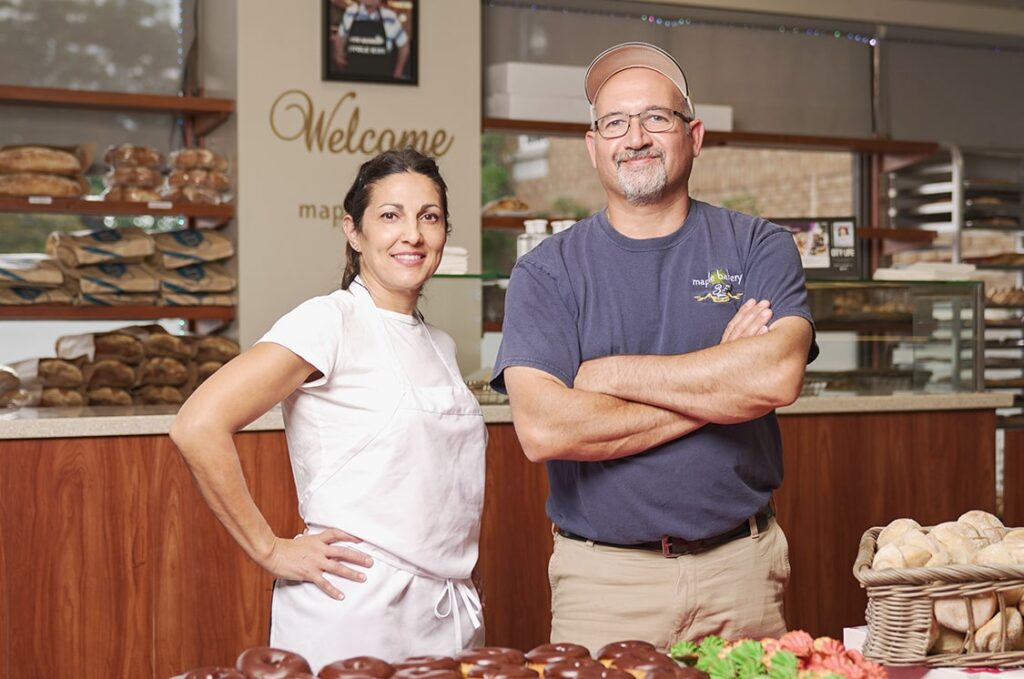 If your la dolce vita includes freshly baked bread, pastries and cakes, then head straight to this happy bakery. And, do you like fluffy, fresh croissants hot out of the oven that practically melt in your mouth? Then you should get there early. They sell out fast.
When opportunity knocks, some people just know to open the door. That's what happened in 1983, when Silvio Russo's father and brother started Maple Bakery. The place was already there, and it wasn't even as if they were bakers. They just had a dream and a passion — and that is serendipity in action. "I don't know why they were interested, they just learned along the way," says Russo. "I came in later on because I'm younger. Then I got interested, and I stayed around."
Little did they know it would turn into a great success story. Actually, Maple was just a small, quiet Ontario town in the early '80s. It's grown, of course, but Maple Bakery is still the place to go for next-level baked goods and a hot table. People stop for espresso in the mornings before work, or pick up a quick and healthy meal for lunch, or order their favourites ahead of time for a get-together. "You have to have a lot of passion for what you're doing," says Russo. "So if you take your time, and use quality ingredients, it reflects in the outcome of the product — it's always good."
Asked to describe the bakery, Silvio delivers a simple answer: "flour, sugar and a little bit of love." You must love what you're doing when a typical day starts at about 4 a.m. so everything can be prepared fresh and ready to go, as most of the items are made in-house from scratch. Nothing beats fresh bread right out of the oven, but signature offerings also include customized cakes (kids' birthday cakes are a big hit) and pastries, which people can't get enough of. Add to that apple and cherry pies, along with seasonal offerings like pumpkin pies at Thanksgiving and Christmas delicacies, and that's why the oven is always hot at Maple Bakery. "I can make practically anything!" laughs Russo.
Bottom line, Maple Bakery is a happy place, and it shows. When you walk through the door, you can almost taste the hard work and dedication that Russo, his family and staff put into preparing, creating and cooking superior Italian bread, cakes, pastries and savoury items. For Russo, the bakery is all about family, and he is grateful that they all get to work together. It's still a family-run business, with Russo at the helm, and his sister-in-law, Luisa, and his mother, Assunta, at the counter. "Sometimes people don't have an opportunity to see their family every day — and I do," he says. "It's a good thing."
The fact that family is valued so highly shows in the way they treat their customers: like family themselves. Russo wouldn't put out anything that he wouldn't feed to his own family, and the effort he puts into the perfectly baked goods is absolutely because of the way he feels about the community and the people who come into the bakery. It's clear that Russo loves his customers. "They're friendly, and they're dedicated, and they show a lot of respect to our employees," he adds. "Our customers and our employees, they're really what make the place what it is."
10040 Keele St., Maple, Ont.
905-832-2987
www.maplebakery.com