Gianna Ugolini: Gc & Co. Salon And Med Spa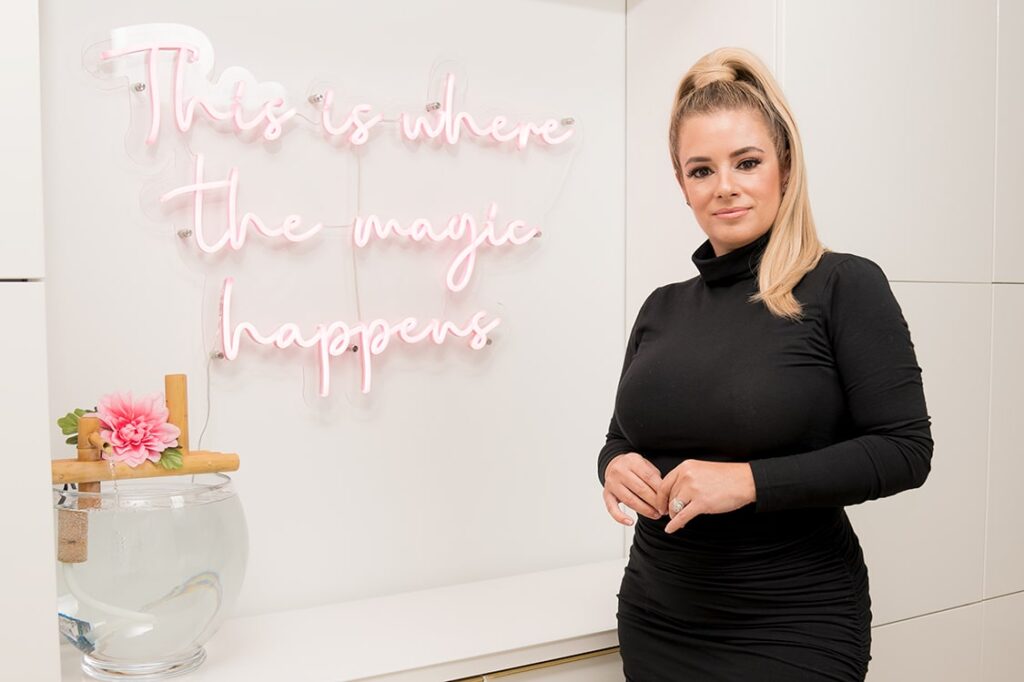 Perhaps never before has it been more important to treat and indulge yourself with beauty therapy by the experts at GC & Co. in Woodbridge.
Two of the most common denominators of this challenging year are stress and anxiety — feelings that can impact your exterior self as much as your interior one. And no one understands this better than Gianna Ugolini, owner of GC & Co. Salon and Med Spa, located on Highway 7 in Woodbridge, Ont. Specializing in laser hair removal, customized facials, lash and brows, Ugolini and her team of technicians at GC & Co. bring out your natural beauty through their passionate hands.
Ugolini carries 17 years of laser hair removal experience and offers her clients the gold standard in technology with Cynosure's VECTUS laser hair removal system. "Our laser tech team of experienced technicians here at GC & Co. strive to help people feel their best despite everything that is going on," says Ugolini. The team of talented, strong and confident women at GC & Co. never stops investigating new and innovative techniques in the beauty process on behalf of their clients, and Ugolini is especially passionate about the new addition to her product selection, Environ Skin Care. This line's core ingredient is vitamin A. Vitamin A supports the skin's immune system and promotes natural moisturizing and hydration, adhering to Environ's philosophy that healthy skin will be beautiful skin by "feeding" the skin the necessary vitamins. "I've been researching this line for over a year, tried it on myself and was blown away by the results," says Ugolini. "The brightening effect is just incredible, and specifically their revival mask — it's actually nicknamed the facelift in a jar."
GC & Co. also features Environ's DF Machine, enhancing the penetration of the active vitamins and age-defying peptides of Environ's products, providing faster and more effective results.
Ugolini recommends the Environ Skin Care line to brighten pigment, and tighten and plump the skin. "People with pigmentation issues and sun damage need a really good home care routine morning and night in order to see results, [and] this along with regular facials is the secret to beautiful skin," says Ugolini.
Clients usually begin with the Signature Facial, where Ugolini analyzes the client's skin and recommends the best add-on options, such as the oxygen system, gold leaf mask or skin tightening around the eyes, which is proving to be quite popular. To enhance that, GC & Co. features a new eye treatment add-on, a Pressotherapy device, which is similar to goggles that are placed over the eyes that vibrate, warm and massage the eye area.
"The expertise I developed over the last 25 years allows me to analyze my clients' skin and customize a program for them," says Ugolini. "I want to give clients exactly what they need in order to get excellent results — that is my top priority."
Peace and serenity have been in short supply during 2020, so indulging with the experts at GC & Co. can provide a calming, healthy and natural sanctuary — just when we need it the most.
---
"The best facial EVER! Gianna has magic hands. I leave feeling rejuvenated, skin tighter, brighter and wrinkles smoothed out. Her technique and combination of procedures are like no other. I highly recommend Gianna and her wonderful unique facials. Love her!" — Helen Brandao, owner @brandosclothing
"Gianna has given me the true confidence that I've been searching for in regards to my skin. If I could give her more than 10 stars, I would! When working with Gianna, you can expect amazing results from the best master facialist in the GTA. Thank you, Gianna, for changing my skin!" – Vic Brocca, owner @velvebeauty
"The facial I received from Gianna was not only soothing and relaxing, but also my skin felt so smooth and radiant afterwards, which gives me the confidence I need before I step in front of the camera every morning." — Nicole Servinis, Live Eye Reporter @bttoronto, @nicoleservinis
6175 Hwy 7, Unit 7, Woodbridge, Ont.
416-527-1023