Redefining "Different"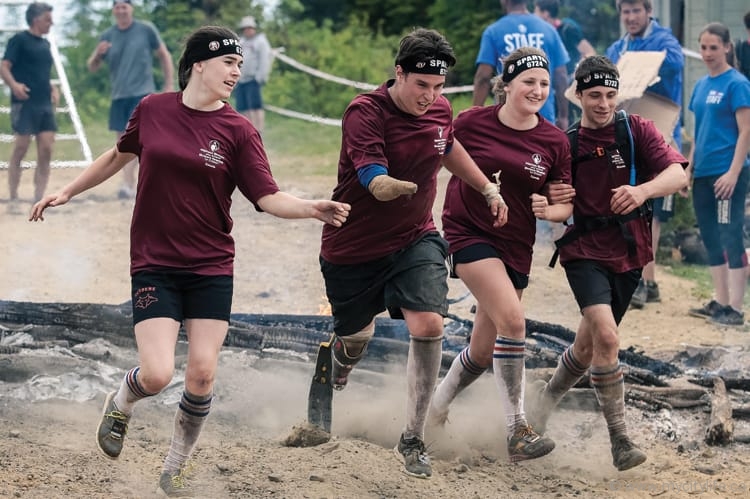 Quebec teen Jeffrey Beausoleil has lived with a prosthetic leg his entire life. This year he impresses the world as he takes on his biggest challenge yet.
A16-year-old just taught me a lesson I will never forget: outrunning your fears is a lot more possible — and fun — than you might think.
Hailing from Saint-Jean-sur-Richelieu, Que., Jeffrey Beausoleil loves a good challenge. He's completed five Spartan Races since May of this year, and he's planning to tackle even more of the infamous obstacle courses as 2015 progresses — and he's doing all this on his prosthetic leg.
When Beausoleil dives into the details of his condition and Spartan track record, I am instantly inspired. He was born with a congenital malformation of his right hand and right foot, preventing the two limbs from forming properly. Since he was five months old, he's been cared for at Shriners Hospitals for Children in Montreal, where he had his first surgery at just over a year old and continues to undergo treatments (the growth spurts call for newly moulded prosthetics on the regular). Shriners is a place that's close to Beausoleil's heart, and the reason why he decided to pursue these races in the first place. And he doesn't plan on stopping until he's raised $10,000 for the hospital that helped give him back his childhood.
A few years ago, Beausoleil and his friend Michel Sirois vowed they would one day participate in a Spartan Race together. As fate would have it, earlier this year Shriners approached Beausoleil and asked if he would be interested in becoming their patient ambassador for the races and help them raise money.
"Shriners helped me find my way of doing things — it is because of them that I can prove to everybody that I'm not different, I'm only differently abled," says Beausoleil. "So I jumped at the opportunity."
The two friends braced themselves for their first race on May 23, 2015, and not only did they complete the course (a feat in itself), but they raised $100 in the process. Sirois has since raced alongside Beausoleil each time.
Fundraising isn't the only good thing that's come from Beausoleil's successes on the obstacle course. On top of supporting the hospital to help other kids with conditions like his, Beausoleil's lifting the stigma that surrounds those living with physical disabilities. Some people are quick to judge someone with a prosthetic leg, assuming it's too difficult or impossible for them to reach the same physical goals. But Beausoleil's story follows the same course as any hero's: he felt inspired to send a message and help a good cause. So he set his mind on a goal — to succeed at as many Spartan Races it would take to raise thousands for a good cause — and worked hard until his dream became a real possibility.
"Fear is psychological: if you believe you can do it, you will do it," says Beausoleil, who prepares for each race by running and working out three or four times a week. "It's all about
the mindset you put yourself in. If you do a Spartan Race, you will find out who you really are at the finish line."
Next on Beausoleil's agenda is the 5K Foam Fest in September, followed by the Total Zombie race in October. Having raised over $500 for Shriners so far, he's aiming to raise the $10,000 within the next year, and he's on his way to achieving that goal for the place he considers his second home.
It's too perfect an analogy: Beausoleil is a living example that no matter what obstacle course a person finds themselves in, they can in fact make it through — and even enjoy the bumpy way out.
shfcmh.convio.net/goto/spartanjeffrey
Photo By Epic Action Imagery