The Décor Difference – The Marzilli Family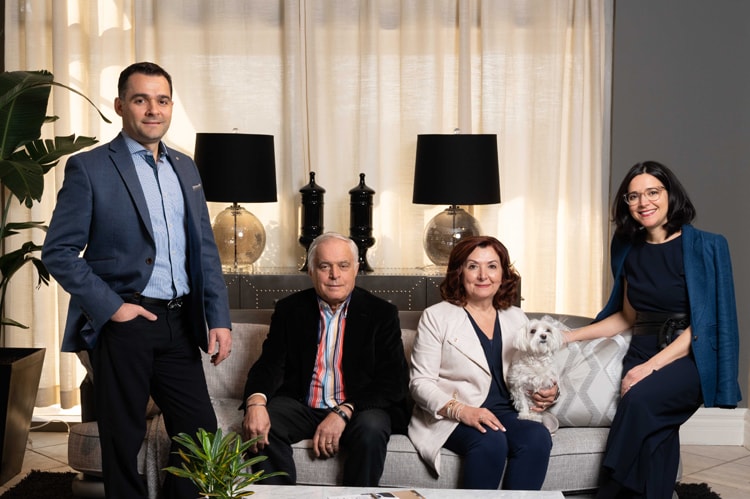 The Marzilli family have mastered the art of operating a successful family business with their own company, Decor-Rest, and with their daughter's own venture, Zilli Homes.
Vision and planning may be key attributes to success in any field, but they are even more impressive when done over a 45-year span in creating, operating and growing a successful family business.
An ideal example is Decor-Rest Furniture Ltd., founded by Angelo and Christina Marzilli in 1972, after emigrating from Italy. Not only was the plan to manufacture the finest in furniture, but also their shared long-term vision was to have both their children eventually join the family business.
Both the plan and the vision have been attained, as Decor-Rest is now the leading furniture manufacturer selling to retailers across Canada and abroad. And both children, Angelo Jr. and Natalie Papia, have joined the business and spurred its growth.
Angelo Sr. is now chairman of the board, and Christina is managing director.
Angelo Jr. is president, and daughter Natalie has since expanded the operations by creating Zilli Home Interiors in 1999, further showcasing home furnishings in a retail environment by bringing its fine product offerings directly to consumers in Vaughan, Ont.
Natalie recently spoke to City Life about the keys to this impressive and long-standing family business success story.
Q: How has each new generation of your family contributed to the growth and success of your business?
A: Up until 10 years ago, I was leading the sales and marketing at Decor-Rest and truly loved being on the road, working with sales representatives and meeting retailers across the country and promoting the Decor-Rest brand. It was then that I realized we needed to showcase home furnishings in a retail environment and bring this product offering directly to consumers in Vaughan. (Plus, I had a young family and wanted to be close to home and raise my kids.) Therefore, Zilli Home was created in March 1999. We celebrate 10 years this year. Angelo Jr., as president of Decor-Rest, has been with the family business since its inception, holding positions in all facets of the business.
His passion for growth and expertise in business management lead their team in sales and manufacturing coast to coast in Canada and internationally. What's great is that we each have our own unique responsibilities, but ultimately [we] work together to promote the brand and ultimate vision in the home furnishings industry.
Q: Tell us how you go about resolving conflicts working with your family.
A: Communication is key. Simple conflicts are easily resolved with a phone call, or a quick face to face. Other more difficult situations are resolved with family meetings, and sometimes even with the assistance of a third party to help mediate and provide expert advice. Either way, patience, love, open communication and lots of discussion help resolve conflicts.
Q: Describe some of the advantages to working with your family.
A: Respect, trust and flexibility as a family team. The support and wisdom that our parents provide us are priceless. They are always available and always have wise and encouraging advice. Among the four of us, we respect each other for our strengths and weaknesses, and trust each other implicitly. Of course, having the flexibility of covering for each other while the other is away is also great and provides ease of mind for everyone. The joy of being able to bring the warmth and love of furniture to people's homes, together as a family, makes it all the more special.
Q: Please share some of the challenges you face when working with your family.
A: Business is business, so we try not to take things personally. The decisions we make are based on what is best for our customers, for our staff and for the future of our business. That is the easiest way to keep family and business separate (but of course, it's not always easy).
Q: What are some business or life lessons you learned from the previous generations?
A: Our parents are truly inspirational and continue to lead by example. Hard work, dedication and passion always lead to success, both in business and in your family life. Plus, they have always had the most respect and love for our staff. The bond with the staff and the team we surround ourselves with is of the utmost importance, since they become an extension of our family. We enjoy having many staff social gatherings and spending time with each of them. Ultimately, it's a team that grows the business together.
Q: How do you envision the future of your company?
A: It never ends. The future will always maintain a vision of offering the ultimate home furnishings experience from manufacturing to the final consumer. Of course, we continue to evolve, embrace change and continuously seek new ventures on how to improve and take the home furnishings industry to the next level. Follow us on Instagram and stay in touch.
www.decor-rest.com | @decorrest
www.zillihome.com | @zilli.home
WRITTEN BY RICK MULLER
INTERVIEW BY VICTORIA SCOTT