A Baker's Legacy – St. Phillips Bakery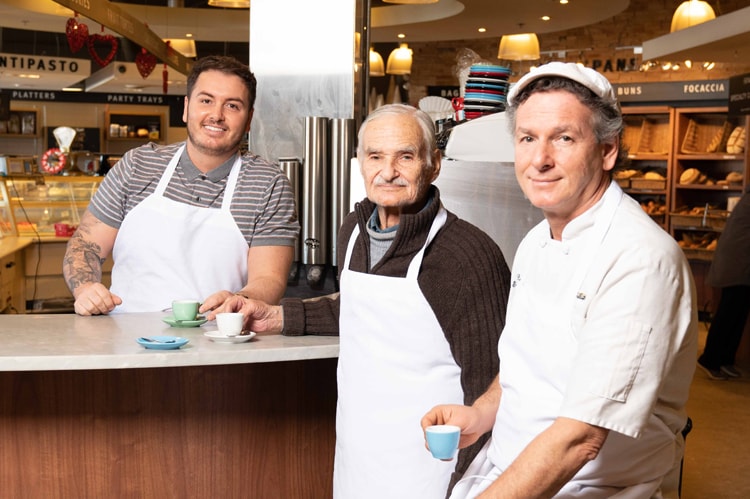 With four generations working in this company, few family-run businesses have attained success comparable to the Bozzo family, founder of St. Phillips Bakery.
If you should hear the words "We should go into business together" at any family gathering, immediately volunteer for the dishes. That seemingly innocent comment can result in awkward family get-togethers for years to come.
Rarely does any family business enjoy a more successful shared venture than the Bozzo family, owners and operators of St. Phillips Bakery in Woodbridge, Maple and now Nobleton, Ont., celebrating its 51st year in business in 2019.
The story of St. Phillips began after Giuseppe Bozzo arrived in Toronto following the Second World War. Already a master bread maker, he worked at some of Toronto's oldest bakeries until opening his own in 1968 with son Robert. Immediately successful for its handmade Italian bread, the business expanded into cakes and pastries, growing even further by offering handmade pasta, lasagna and pizza, as well as fresh meats, fish and vegetables. Robert's sons Joe and Sandy joined in 2001 and continued the bakery's success.
Four generations of a family business operating for 50-plus years is a success story worth telling, and we sat down with Joe to discuss the advantages, challenges and life lessons he's learned.
Q: How has each new generation of your family contributed to the growth and success of your business?
A: My grandfather had an open mind in allowing my father to explore the world of pastry and cakes. My father also allows us the freedom to explore and achieve something new to modernize and reinvigorate our business for the 21st century. We often have failures. I can tell you I have tried many different concepts and pastries which have been a failure, but when I capture that winning pastry, bread or cake, there is no better feeling.
Q: Describe some of the advantages to working with your family.
A: There are many advantages to working with your family. First and most important, family has been the base of our success, as we can always trust and count on each other to do the work that needs to get done, especially during those extremely busy or hard times. There is something special about walking in to work and knowing that you are not alone in whatever the day has in store for you. There are also family recipes and trade secrets passed down from generation to generation, which enrich the history of our business. We like to say that if you go back to my great-grandfather, the first panettiere, and my great-grandmother, we have over 120 years of family recipes and tradition. It is the complete truth when I say we still use some of the exact recipes today in our store that have originated from my great-grandparents.
Q: Please share some of the challenges you face when working with your family.
A: There are always more benefits than challenges to working with family. Families, being family, will always have disagreements in direction, style and choices made to the business, which other single owner/operators who do not work with family may not encounter. However, a large portion of our success has been the ability to change from decade to decade, moving with the times as flavours, styles and tastes fall out of fashion.
Q: What are some business or life lessons you've learned from the previous generations?
A: When my brother and I decided to partake in the family business, my father told me that the most important part of our business was to actually learn every part of the business. We both were "forced" to wake up at 2 am and learn how to bake artisan Italian bread for the first years of our careers. From there, we eventually learned the other facets of our business, such as gelato, food, pastry and cakes. My father always emphasized to not compromise on the quality of your ingredients and the product. "This is first," he always says. He then always famously says, "We are only as good as the last customer we served." If you talk to anyone who knows my father or my grandfather, they will tell you they are the hardest working people they know and also two of the most honest and sincere [people] you will meet. They wear their heart on their sleeve. They have always conducted themselves that way, and from that we have taken our life lessons.
Q: How do you envision the future of your company?
A: In the immediate future, our company is now expanding into its third store, in Nobleton. We are also considering new locations throughout the Greater Toronto Area and downtown, and possibly Quebec. After four generations, our goal is to continue to make a quality product, threading that very fine needle of continuing to evolve with the shift in trends, while still maintaining our history and heritage, which have made St. Phillips a success. I'm hoping one day that one of my children will carry on the business for another 50 years.
WRITTEN BY RICK MULLER
INTERVIEW BY VICTORIA SCOTT