Dr. Diane Contino: A Passion For Smiles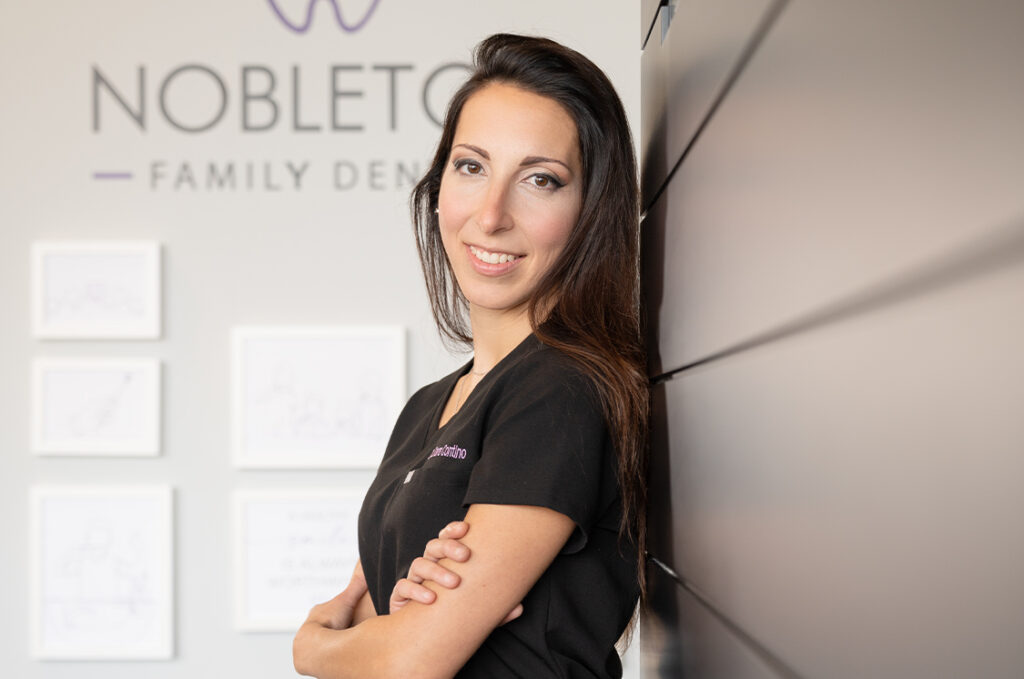 Nobleton Family Dental boasts an atmosphere that is both welcoming and professional, where everyone goes home with a confident and healthy smile.
There is uncompromising perfection when it comes to the healthy smiles that Dr. Diane Contino helps achieve for her patients. She skillfully merges her expertise in cutting-edge dental techniques with the fine art of aesthetics to integrate dentistry and business.
Since the inception of Dr. Contino's practice, one of her unwavering goals has been to create an environment that reflects the exceptional level of work performed at her clinic. Combining her artistic talents with her skillful mastery of dental care procedures and techniques, she has helped thousands of patients of all ages to achieve their desired smile.
Dr. Contino, who earned both her Bachelor of Science and Doctor of Dental Surgery degrees from the University of Toronto, is passionate about people and dentistry. She firmly believes that dentistry should be gentle, high-quality, and personalized for each patient. After graduating from dental school, Dr. Contino was an associate at multiple dental offices in the Greater Toronto Area. Developing positive connections through her practice is how she maintains long-term relationships with her patients.
A resident of King Township, Dr. Contino is dedicated to the community in which she lives, participating in and sponsoring numerous events and speaking at schools annually. When she is not at the clinic, Dr. Contino spends time with her three children, as well as cooking, baking, and practicing yoga.
Her love of science and passion for helping people led Dr. Contino to pursue a career in healthcare. Dentistry was the ultimate fit because it allowed her to work with her hands, appealing to her creative side. Dr. Contino especially takes pride in helping patients overcome their apprehensions about dental offices and dental procedures.
Nobleton Family Dental has been providing dental care to patients in the surrounding area since 1995. However, it was not until 2017 that the space was purchased by Dr. Contino. The dental clinic offers and performs a wide range of dental services under one roof, including dental hygiene and cleaning, children's dentistry, fillings, root canals, extractions, crowns, bridges, implants, dentures, whitening, Invisalign, and full smile makeovers!
The team at Nobleton Family Dental is dedicated to every single patient who enters their clinic and is devoted to creating gorgeous smiles that boost patients' confidence and transform lives. With their patient-centred practice, Nobleton Family Dental offers comprehensive dental care with an equal commitment to preventative, restorative, and cosmetic dentistry.
Nobleton Family Dental is always happy to welcome new patients. Schedule your next appointment today and experience the importance of comfort and high-quality dental care.
13305 Highway 27, Unit 12, Nobleton, Ont.
905-859-5170
www.nobletonfamilydental.com
@nobletonfamilydental