The sibling duo behind Farmhouse Facelift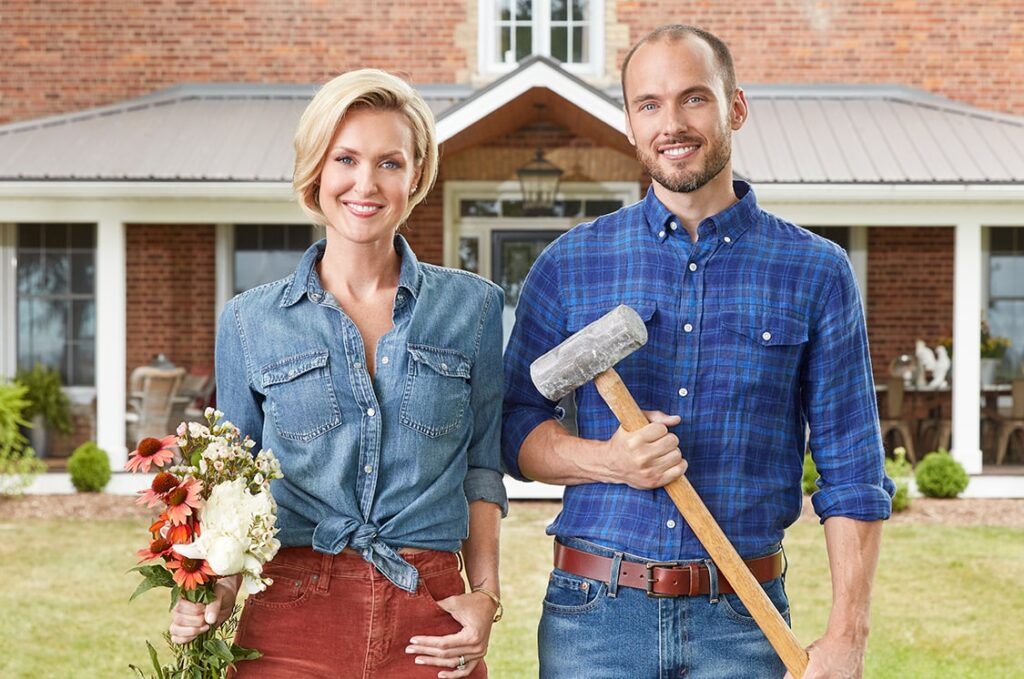 Siblings Carolyn Wilbrink and Billy Pearson are making their HGTV Canada debut by putting a modern twist on antiquing and the art of restoring farmhouses.
Growing up, siblings Carolyn Wilbrink and Billy Pearson were known to "borrow" their father's tools and, with their sister, build forts in the back fields of their family farm in Waterdown, Ont., just a stone's throw outside Hamilton. Whether all these tools made it back into their father's tool box is still an open question among the family, but what's clear is that Wilbrink and Pearson have always had a penchant for channelling their energy and creativity into architectural creation.
It is also clear that they are both extremely proud of being the son and daughter of the soil that they grew up on and the lessons that have come from being farm kids: "We always helped out on the farm, when we were kids … we learned a lot about hard work and the importance of hard work." Through this work ethic, their childhood passion has grown into a career of restoring heritage homes, which Wilbrink and Pearson bring to television in their new HGTV Canada series Farmhouse Facelift, premiering Wednesday, March 3, at 10 p.m. Throughout the season, the sibling duo collaborates to modernize, refurbish and up-cycle farmhouses with a view to enhancing their charm, while staying true to their original character. With sustainability being a central tenet of the show, Pearson hits the nail on the head when saying: "If something's been around for 100–150 years, why would you replace it? Why wouldn't you just fix it and make it last even longer? If we go into a space, and they have materials that we can reuse, that's what we specialize in."
There are a few ways Wilbrink and Pearson have infused farmhouse chic into modern décor on the show's projects. For example, Wilbrink recommends adding wood or wood beams, mixed metals, like iron, or something with a patina that has some history and character for those looking to add some country charm to their home. Pearson suggests repurposing something that would have otherwise gone to a landfill: "Carolyn and I love to go antiquing. Antiquing is always a lot of fun because you go in not knowing what you want, you just kind of go treasure-hunting. When it comes to antiquing, though, less is more, because you can definitely overdo it, you don't want it to look like grandma's house."
"If something's been around for 100–150 years, why would you replace it? Why wouldn't you just fix it and make it last even longer?"
Both Wilbrink and Pearson admit that the premiere episode of Farmhouse Facelift is one of their favourites. On this episode, they work their magic on a farmhouse that has been in a family for four generations. The importance of family history to a home is not lost on Wilbrink and Pearson, who are able to thread the needle between preservation and transformation by integrating a modern twist on traditional materials. The breathtaking result is reason enough to tune in.
As the siblings faithfully restore farmhouses on the show, the fruits of their labours are equally rewarding for them as they are for the owners: The renovations have proven to be a powerful unifier during an unsettling time for many of us, and remind us that, sometimes, a bit of country charm can go a long way.
As Wilbrink and Pearson reflect on the homes they worked on, they express how grateful they are to have had the opportunity to make this show: "The show, as a whole, has been a huge reward. It's almost like winning the lottery, because there are so many incredible designers and contractors out there." After all, Pearson said it best: "We're just a couple of country kids, doing what we love, and this all happened.