5 Questions with Jamie Oliver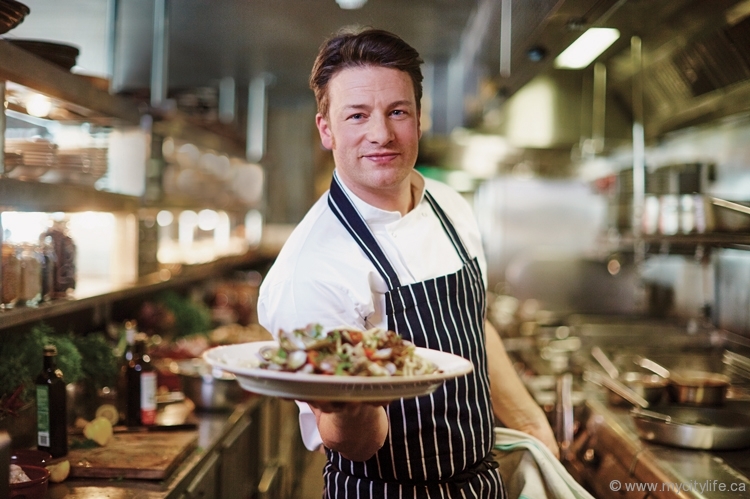 City Life caught up with celebrity chef Jamie Oliver at Jamie's Italian in Yorkdale Shopping Centre — the restaurant's first location in North America.
CL: Why did you choose to open your first North American location of Jamie's Italian in Canada, rather than the States?
JO: Because I'm definitely more at home here!
CL: What was the inspiration for some of the signature dishes here?
JO: The way Italians eat is so beautiful. And for the Brit in me, we love picnics — we love going out and having a picnic, and the Italians do the antipasti. I love it.
CL: You're extremely passionate about child health. Have you made the amount of progress in that area that you were hoping to?
JO: I think how you judge the movement depends on your life, if you're philosophical, whether you get the bigger picture or whether you can think long-term. The conversation is important. Definitely things are changing. I think companies are having to behave more. Ultimately, I guess, if you were to put child health at the heart of everything — businesses, government — then you'd have a very different country, and the economy would probably be much stronger because of it.
CL: If you had the opportunity to create menus for families around the world to follow, would you be interested?
JO: Absolutely. I think definitely there should be some guidelines to help. I'm very much the kind of person who thinks there should be some hard rules. But people still want choice at the same time — you've got to have flexibility. I honestly think that if you gave the public good, clear information, they'd make really good choices. At the moment we're just not getting the new information.
CL: There's talk of Canadian schools implementing culinary classes as early as elementary school. Why do you think it's important for kids to start learning about food and health from a young age?
JO: I think the appropriate time to plant that seed is as soon as you get pregnant. I did a Facebook Live stream the other day in which I addressed Canada, and seven out of 10 commenters said we need to get Canadian kids' food education in schools, we need to teach them how to grow, how to cook and not just for health reasons, but for cultural reasons as well.
www.jamieoliver.com
instagram.com/jamieoliver
twitter.com/jamieoliver
Photo by david loftus