Fun Lunches for Kids
Revolutionize the way your family is eating with these quick, creative and healthy lunch recipes brought to you by The Plantiful Sisters.
1. Waffle Kebabs with  Sunbutter & Raspberry Jam (makes 2 kebabs)
Ingredients:
2 Nature's Path waffles
SunButter
Raspberry jam
Fruit of your choice
2 skewers
Steps:
1. Spread SunButter on one waffle and jam on the other, as much or as little as you prefer.
2. Sandwich waffles together and cut theminto quarters.
3. Assemble waffles and fruit on each skewer as desired.
---
2. Asian-Inspired Veggie Noodles (serves 2)
Ingredients:
1 cup broccoli florets
½ cup chopped carrots
½ cup frozen green peas
1 clove garlic, minced
1 tbsp avocado oil
1 tbsp water
Generous pinch of ground ginger
1–2 tsp gluten-free
Tamari
100g rice noodles or other favourite noodle
Steps:
1. Heat oil and carrots with water for 3 minutes in a medium pan.
2. Add peas, broccoli and garlic. Cook until tender. You can cover the pan with a lid to speed up the cooking process.
3. Season with Tamari and ginger.
4. Meanwhile, cook pasta noodles according to package instructions.
5. Remove cooked noodles and add to skillet with veggies.
6. Toss well and taste.
7. Adjust seasoning as needed.
---
3. Veggie Chickpea Wraps (makes 2 wraps)
Ingredients:
2 gluten-free tortilla shells
Romaine lettuce leaves
For filling:
1 cup Eden Foods chickpeas, mashed
¼ cup chopped celery
1 tbsp vegan mayonnaise
½ an avocado, mashed
1 tbsp lemon juice
1 tsp Dijon mustard
Salt and garlic powder to taste
Steps:
1. In a bowl, mash chickpeas with a fork.
2. Add remaining filling ingredients and mix well.
3. Place 1–2 romaine lettuce leaves on tortilla shell and fill with chickpea mixture.
4. Roll up and cut in half. Secure with a toothpick if needed.
---
Snack Ideas
Yogurt Parfait made with Enjoy Yoso Coconut Yogurt & Living Intentions Superfood Granola
Dumet Pitted Black Organic Olives
All fruit and veggies from Mike & Mike's Certified Organics
Gogo Quinoa ChocolateChip Cookies
---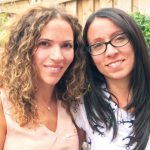 The Plantiful Sisters
Sister duo Angela Palmieri-Zerillo and Debora Palmieri combine their love of plant-based food and holistic living by creating healthy, delicious and easy-to-prepare meals. These two moms are on a mission to get you to rethink and reinvent your kitchen.
www.instagram.com/theplantifulsisters
www.instagram.com/angshealthyeats
www.instagram.com/nutritionistdeb_rhn