The Epitome Of A Family Store – Importer's Gifts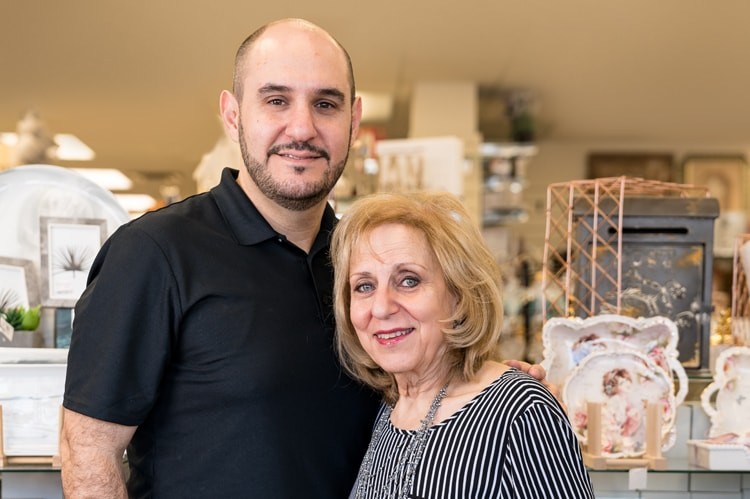 With dedication and unbridled passion, the Colalillo family has created a business that values high-quality products and long-lasting client relationships above all.
Importer's Gifts, voted Vaughan's Top Bomboniere Shop since 2016, has become a business built on passion, honesty, cherished relationships and dedication. One step into Importer's Gifts and it is easy to see that Christine Colalillo, her son Anthony and their dedicated staff are at the forefront of the shop's success.
Christine remembers the early days when she and her husband John were just starting out. "After experimenting with the importing business in the late 1970s, it wasn't until 10 years later that my husband and I opened Importer's Gifts. At first, we were selling to friends and neighbours by way of flea markets and home parties. Eventually we took the next step, and we decided to open our store location on Highway 7 in Woodbridge, and this May we will be celebrating 29 years in business."
Anthony and Christine both agree Importer's Gifts wouldn't be what it is today if it wasn't for them adapting to change over the years. "We embraced technologies like social media and a website long before many small businesses," says Anthony, who integrated in-house, state-of-the-art engraving equipment five years ago, allowing them to offer beautiful customized giftware and bomboniere as well as unique home décor pieces.
Unlike some major retailers, which seem to have no service people assisting customers in the aisles and have computerized self-checkouts, Importer's Gifts humanizes the shopping experience. Clients go to Importer's Gifts to find unique items, but they also go to visit with Christine and Anthony, which is an experience online shopping simply cannot provide. "We've always operated our business with good faith and honesty, by treating others how we would want to be treated," says Christine. "We still have many of the same clients who shopped at Importer's Gifts the first day we opened for business, and 30 years later we're providing products and services for their children and grandchildren's weddings and baptisms. When you are good to people it all comes full circle," adds Christine.
Even Anthony, who attended York University and Humber College for business and worked for various companies including national retailers, found his way back to the family business. "I've always had a passion for creativity and I love working in this environment," he says. "There is no better feeling than seeing your ideas made into a reality and having clients that appreciate your work."
If you're planning a function or looking to buy a gift, collectible or houseware item, Importer's Gifts is the place to shop. Its slogan, "for life's important moments," holds true with its vast product offering and unique array of gifts and event essentials. Some of the latest specialty products Importer's Gifts offers include "engraved goods, laser-cut acrylic and wood signage, custom cake toppers, personalized bomboniere, and many event essentials including sweet table décor pieces and Italian imported confetti. It's a total party package," says Anthony.
Another special aspect of the Importer's Gifts model is Anthony and Christine's ardency about giving back to the community. They donate to the needy, sponsor gifts and prizes for local fundraising events and charities, and always remember that since they began nearly 30 years ago, without the Woodbridge community, without the friendly faces who keep coming back, there would be no Importer's Gifts.
---
Importer's Gifts
5731 Hwy. 7, Units 18/19, Woodbridge, Ont.
905-850-8926
www.i-gifts.ca