Allies in Community Health Care – Nobleton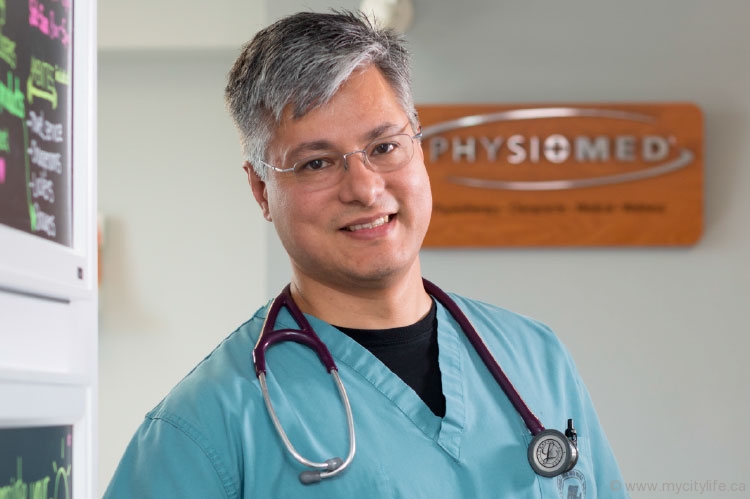 A group of health professionals joined forces to offer the rapidly growing community of Nobleton and surrounding areas an outstanding "Whole Health Solution".
Longtime friends and business partners, doctors Oswaldo Ramirez and Filipe Tiburcio — Dr. Oz and Dr. Phil, as the two like to joke — spearhead the all-in-one wellness facility located at 12931 Highway 27: Nobleton Medical & Walk-In Clinic, Physiomed Nobleton and the King-Nobleton Gym (KNG). The newly renovated facility also includes dental care, vision services and a pharmacy.
By having a team of health-care providers available at one convenient location, Dr. Ramirez believes patients are more inclined to look after their overall well-being — this sparked his desire to offer an inter-professional health program.
"Our 'whole health' approach means we treat the cause, not just the symptom," says Dr. Tiburcio, doctor of chiropractic at Physiomed and co-owner of KNG. "By working with different professionals in the health field, we believe we will not leave any stone unturned and, thus, we increase the likelihood of a patient improving and decrease the chances of recurrence."
The journey to a client's "Whole Health Solution" begins with a visit with Dr. Ramirez or Dr. Tiburcio to determine what the patient's goals are and how they can be achieved — realistically. These goals usually include one or a combination of the following: pain and injury treatment, chronic condition management, weight loss and preventative health,and athletic performance improvement.
"First and foremost, we want to have a clear picture of our client's current health," says Dr. Ramirez, medical director of the Nobleton Medical Clinic and co-owner of KNG. "Everyone is encouraged to have a comprehensive medical assessment and a physical fitness test if they are planning to utilize KNG Total Fitness."
The doctors then discuss the best course of action for the patient and a treatment plan that will lead to measurable results. More than ever, Dr. Ramirez says clients are looking to get into fitness and nutrition, but don't know where to start. The centre provides science-based medical advice and does not promote the concept of fad dieting for weight loss.
The on-site fitness centre offers one-on-one personal training from certified fitness instructors, as well as a number of engaging group classes. "It's taking it back to basics and teaching the importance of nutrition and achievable fitness goals that can be maintained long-term," says Dr. Ramirez.
Dr. Tiburcio believes strongly in the power of allied health and the benefits of such an inclusive facility. He says healthy living is being able to have a balance between mind, body and soul. With these three elements in balance, client's are able to achieve great personal goals and continue to reach for new ones.
Additional services at the facility include physician-administered Botox, not solely for esthetic purposes, but also to manage conditions like hyperhidrosis (excessive sweating). The experienced physicians stress the importance of turning to a medical professional for any injectable service to avoid incorrect placement, facial paralysis and other potentially dangerous complications.
The doctors run a one-of-a-kind facility in the area, with services tailored to client demand. The well-rounded menu specifically caters to the "whole health" approach.
"We want to keep people motivated, engaged and healthy," says Dr. Ramirez. "It's about total patient satisfaction."
12931 Hwy. 27, Nobleton, Ont.
905-859-9998
www.physiomed.ca
www.kngtotalfitness.com
Photo by carlos a. pinto