Blaze of Glory — Larry Bentley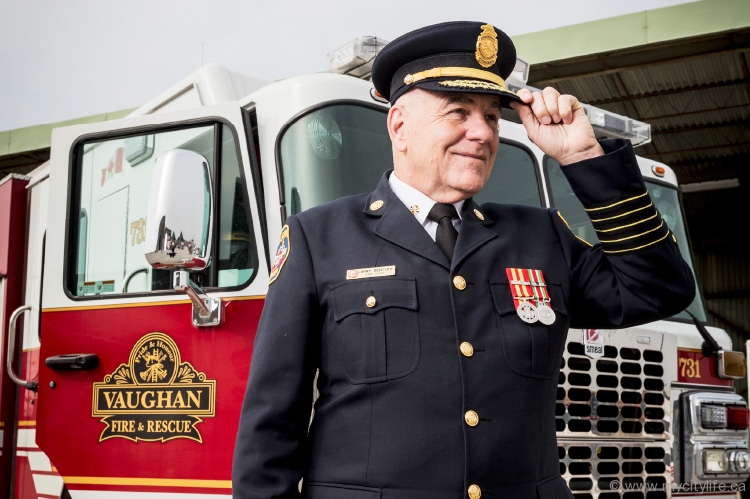 As Vaughan says farewell to its beloved fire chief, we talk with Larry Bentley about his lasting legacy.
After 38 years serving the Vaughan community, fire chief Larry Bentley retired in May 2018. Bentley was the first firefighter to be promoted to fire chief from within the local service. Recognized by his fellow chief officers with leadership awards and honoured by the Vaughan City Council, it's clear that Bentley was meant for this role, and although he has now closed the door to this chapter in his life, no one has been better suited to serve this community.
Born and raised in Woodbridge, Ont., Bentley had this job in his blood: his father, Fred, was also a firefighter. But while Bentley first thought that being a firefighter was just a stable career, his passion for the service quickly turned the job into his life's work.
"I'm a Woodbridge boy at heart, so I'm very proud of the fact that I've been able to have a great career here in this city," says Bentley.
Over the years, Bentley has witnessed many changes on the job. From new and improved safety measures using the latest technology and equipment to new training techniques, the job of a firefighter today goes above and beyond dousing flames. In addition to training the best of the best, Bentley and the staff at the Vaughan Fire and Rescue Service (VFRS) have taken a lot of initiatives in the area of mental health management to support their crews. He adds that while most firefighters are adrenaline junkies, this job can be quite stressful at times, so having these programs in place is a great way to help cope with the more serious moments. And Bentley is not without his share of cautionary tales to remind him just how serious this job can be.
Those memories, for better or for worse, are the ones Bentley will take with him well into retirement. For Bentley, those moments are what he uses to inspire the next generation of firefighters.
"Come to work, do your training, provide great service to the citizens of this community and have fun."
"We as a service have to remember that we inspire children, but in turn, they inspire us, as well"
Those are the words of wisdom Bentley shared with the fire and rescue teams that he's leaving behind at the VFRS at 2800 Rutherford Rd. It's clear walking through the fire station and by Bentley's side that he is respected and admired by all of his peers. There isn't a single person along the way who doesn't stop to shake his hand or strike up a conversation. His is a presence that will be missed, not only at the fire station, but also in his community. Bentley's impact on the lives of those living in this community will not soon be forgotten. Just ask Matteo Papa.
Matteo is a five-year-old boy who has battled leukemia. Now in remission, Matteo's courage and fighting spirit inspired Bentley to give Matteo a day he'll never forget. Bentley and his crew surprised Matteo on his birthday with his own firefighter hat and uniform, then gave him a ride to school in their fire truck. Bentley says that putting that smile on Matteo's face — and his parents' faces — was the least they could do for such a brave little boy.
"His struggle and his fight, that makes Matteo the true hero," says Bentley. "We as a service have to remember that we inspire children, but in turn, they inspire us, as well."
According to Bentley, there was still plenty of work to be done in his last few weeks on the job. When asked what he'll miss the most, Bentley presents a long list that ranges from witnessing the growth of the community first-hand to the great group of professionals who come to work every day, highly engaged and ready to provide an outstanding level of service to their fellow citizens.
It's safe to say that Bentley spent his last day on the job working, surrounded by those who will be grateful for the heart and soul he's put into his career.