The Design Duo Staging Their Way To Success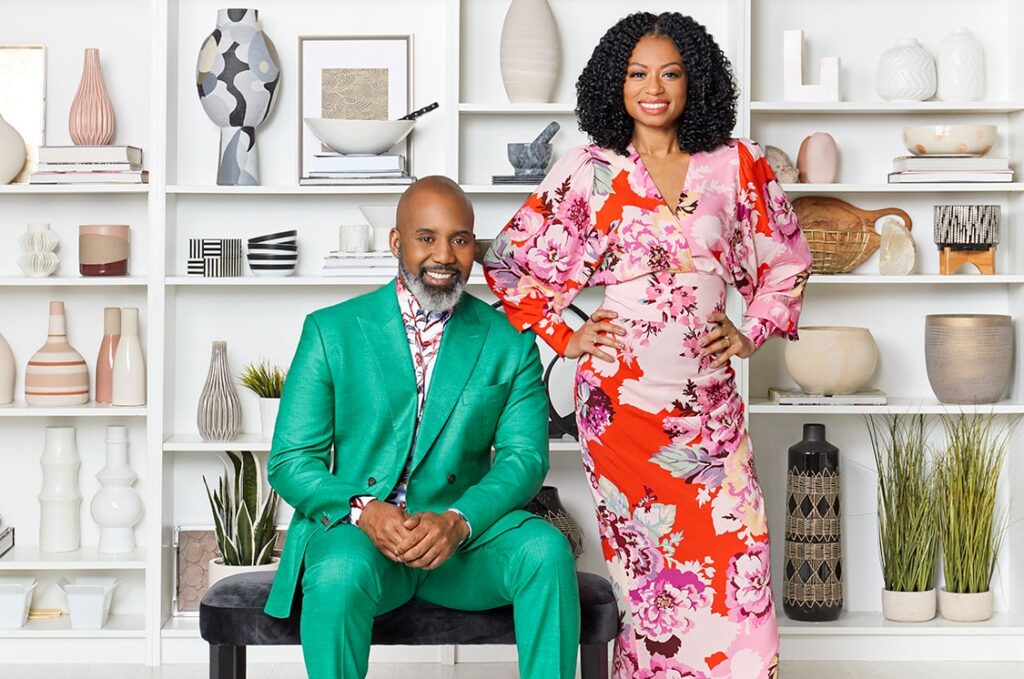 Following the premiere of their HGTV show, Styled, Nicole Babb and Caffery Vanhorne discuss matching outfits and the mottos that keep them moving.
The first time that Nicole Babb and Caffery Vanhorne met was in 2000, but from the energy they share when talking with each other, you'd think that they'd been friends forever.
Their new HGTV show, Styled, shows the energy of the design duo and puts a distinct focus on home staging and renovation. It follows Babb and Vanhorne as both friends and experts as they meet different people and reimagine their spaces. That could be helping someone turn a house into a place they'll live in forever. Other times, it will be focused on elevating market value.
"The episodes I love most are when people are having a big transition in their lives," Babb shares. "Where we're helping them with their homes because they're newly single and looking to spruce up their space for them."
Before Styled, Babb had a successful staging business, R + P Home, preparing properties for sale through the curation of Canadian furniture and accessories. It was this venture that gave her the experience in home staging and acts as the driving force behind the show.
What Vanhorne adds is vision as an award-winning fashion stylist who has launched his own line of clothing and taken his eye for design to other verticals, like interiors and photography. He shares how part of his work with Styled plays into the fact that he loves moving.
"I'm living in my 29th apartment," he says. "Moving doesn't stress me out, and I find when I live somewhere, and the decoration is done, I'm ready to move again."
Though their artistic journey to TV has been different, they explain how their views on design align and that they always end up on the same page. They're so in tune with each other that Vanhorne laughs as he shows us photographs where they've met in different versions of the same outfits, having to change when they arrive on set.
"The episodes I love most are when people are having a big transition in their lives"
At the time of writing, Styled isn't even through its first season, but already the pair have noted the impact. "It's been really positive," Babb says. "A lot of people have said, 'My daughter watched the show and sees herself in you and sees that she can have a career in design.'"
For Vanhorne, too, he shares anecdotes of having someone show him photos of their house after meeting him in HomeSense or approaching him to ask where he got his colourful sneakers. "I wasn't wearing any, so I was confused," he says. "But he was talking about the show."
Yet, for all their similarities, their personal mottos shine a light on who they are as people. For Vanhorne, a maximalist at heart, it's "moderation is false glamour," explaining that "more is more is more. If you love it, buy two. If it comes in four colours, buy the other two."
For Babb, "One that keeps coming up for me is that a ship is always safe at shore, but that's not what it was built for. Take risks, get out there and explore. Find true happiness and be fearless."
And, like the way they align with style, they align with how they'd define success for the show. "It's about people getting to see another perspective. We're a Black man, Black woman, Black family, multicultural, multiethnic, and they see us shine in a light that hasn't been put forth before," says Babb. "We're people that love fashion, but it doesn't define our existence. We just love beautiful things because we see the effect they have on people's lives."
www.richandpoorhomestaging.com
@nicolebabb_
www.cafferyvanhorne.com
@cafferyvanhorne
INTERVIEW BY ESTELLE ZENTIL