Kate Beirness and Natasha Staniszewski – The SportsCentre Sisterhood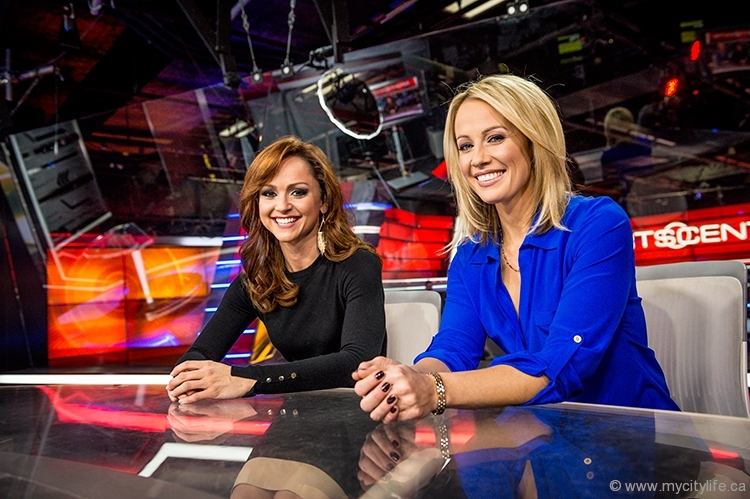 One-on-one with the first all-female anchor team of TSN's SportsCentre.
The best advice Kate Beirness ever received was to leave. She was working low-level at Rogers Sportsnet, booking travel for on-air talent and the like, with aspirations of one day becoming a sports broadcaster. Joining the ranks of one of Canada's television giants seemed like a good place to start. Her boss disagreed. "He said, 'If you're really serious about being on air you need to get out of here,'" she recalls. Making the big time meant being in front of a camera. Every. Single. Day. She had to go where the work was: Smalltown Nowhere. "I tell people that come up to me that it's going to be like high school hopscotch," she says of her early broadcasting days.
Natasha Staniszewski, Beirness's co-anchor on TSN's morning edition of SportsCentre, concurs: "I slept on an air mattress for two years in Saskatchewan, moving from small town to small town to small town, because you never knew where you were going to go."
It's 8:30 p.m. on a chilly Wednesday evening as the pair reminisces from a small boardroom at CTV Toronto Studios. At this hour, most are at home, kickin' it with the family, maybe catching up on The Bachelor before hitting the hay. But for Beirness and Staniszewski (pronounced "Stan-ah-chef-ski") the day's just beginning. They co-host TSN's morning edition of SportsCentre, the channel's flagship highlight program that goes live at 1 a.m. and runs throughout the morning. It's TSN's highest-profile slot, and Beirness and Staniszewski are its first ever all-female anchor team.
To audiences, this may seem like a watershed move — two women sharing the desk of TSN's prime-time show. But for this pair? No biggie. "It's not a big deal until other people say, 'It's cool for me to see you up there,' or, 'It's cool for my daughter to see you up there.' That's when it's like, OK, I guess it's kind of cool," says Staniszewski, a born and bred Edmontonian.
"I never even really thought about it," says Beirness, a basketball junkie from Port Perry. "But maybe it's because the industry has come that far."
When Jay Onrait and Dan O'Toole left TSN for the bright lights of American TV in 2013, it sent a ripple through the industry. For a decade, the pair occupied the desk on SportsCentre's morning broadcast and redefined what was expected from the modern sportscaster. These guys cut loose. These were the two who sang Darude's "Sandstorm" while the other did some awkward-dad robot dance. And people loved it. The Wall Street Journal even wrote an article lamenting "Why Can't We Have Canada's 'SportsCentre'?"
For a time TSN rotated anchors, trying to find the right combination to fill the giant clown shoes left behind. When the dust settled, the faces viewers saw were younger and way prettier. But how were these newcomers supposed to live up to that game-changing legacy? The simple answer is: you don't.
"My big thing from the beginning — and I think that we've established this too — has been: I don't want to be Jay and Dan," says Beirness. "And if you try to be them that's when you fail, because they were so unique and so funny and so talented that it's completely pointless to try and mimic them."
We're broadcasters, but we're fans. Otherwise we wouldn't be doing this
— Natasha Staniszewski

For TSN's VP of production, Mark Milliere, it was all about finding anchors that the audience would want to have a beer with. "That's the vibe you want, because that means they're connecting, you find them credible and fun to be around," he says.
Fun is one way to describe Beirness. Bold and high energy are good, too. And confident. You hear about people who walk into a room and take it over. Beirness makes them look like amateurs. She calls people "Dude" and "Bud" like some seasoned hockey pro. I imagine if I challenged her to arm wrestle she would slam her elbow on the table and be like, "All right, tough guy, let's go." And she would probably win. Surging down her arms are the hills-and-valley definition of someone more than familiar with the dumbbells and lat pull-down machines and other equipment of a gym that I'm Googling to make it sound like I know what you would find in a gym. She's the type of person who cannonballs into the deep end without testing the water. "There's a deep end?" she quips.
Staniszewski, on the other hand, offers the balance. She's personable yet cautious, knowledgeable but modest. When Beirness explains that Staniszewski is an excellent baker, "like the greatest baker in the newsroom," Staniszewski responds humbly, "I'm not that good." She does this often when compliments come her way. It's a deflective trait you find in certain athletes (in high school, she helped her volleyball team reach Alberta's provincial championships) who don't want to let their success go to their heads. She's more prone to stand back and observe and analyze before wading in.
But this is what makes their chemistry so potent. They know their sports, yes. But they also constantly play off each other to keep things flowing. We get into how they're tinkering with nicknames for Staniszewski because of her last name's phonetic intimidation. "We're working on 'The Chef,'" Beirness says. "I like The Chef, too," Staniszewski chimes in. "The Chef's fun. The Chef's always up to something," Beirness continues. They have an almost sisterly connection. ("Sisters. That's adorable," Beirness laughs when I suggest it.) It's easy to be around, keeps you engaged — which is what a modern broadcaster needs.
In a day and age where we can stream highlights and get immediate score updates with the tap of a finger, television needs to give more than just information. It needs to also entertain. Broadcasters need character, and Beirness and Staniszewski get that.
"I think viewers like it when you show a little personality," Staniszewski says. "I think they like that I'm an Oilers fan. I think that they love that Kate's a Bears fan. So every once in a while you've got to let that out." Adding: "We're broadcasters, but we're fans. Otherwise we wouldn't be doing this."
Beirness and Staniszewski have reached one of the few peaks in the mountain range of sports broadcasting. They both pulled a Drake, starting from the bottom before they "Now We're Here"'d. So, being relatively young and already at the top, what does the future hold?
"I've always taken this industry a day at a time," Beirness says. "And right now, all I'm working on is being the best sports broadcaster that I can be and making this morning loop show the best in the country."
Staniszewski: "This is my dream job right now. I have no plans or aspirations to go anywhere else. Take it day by day and be grateful for having it, because god knows things can change really fast."
"Now I'm all inspired to go sports broadcast some more!" Beirness quips.
And off they go to do just that, walking side by side down the halls of CTV studios, laughing like sisters.