Mimmo Baronello: Art Full of Pop-Baroque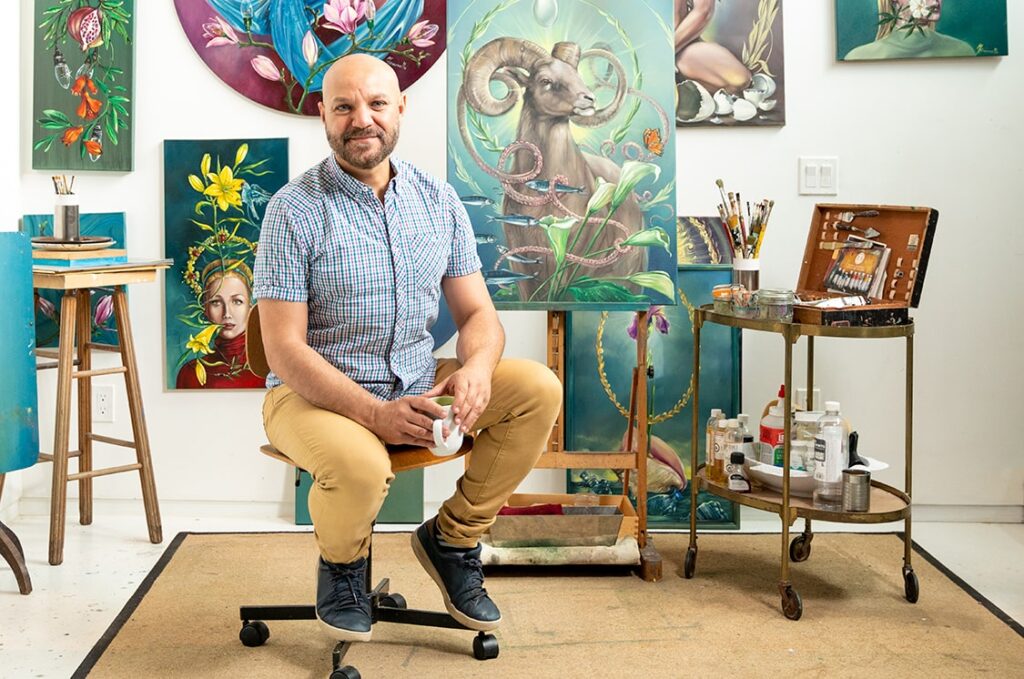 Meet the Sicilian artist using iconography of the past to provide a commentary about our present and possible futures.
The longer you look at a piece of Mimmo Baronello's work, the more you'll discover. Where a first glance might offer a heron, painted in stunning detail, a closer look will reveal the pile of empty tins it's standing on, the lid gripped in its mouth or the egg levitating above its head, embraced in a branching crown.
Conversations with the artist are much the same. The more you speak with Baronello, the more you uncover and the more connected to the art you feel. His work is a style he describes as "mannerism with a pop-baroque injection," and takes inspiration from the approach of the Renaissance period.
Growing up in a small town in southwestern Sicily, Italy, Baronello saw the world through the lens of the beautiful architecture and culture that surrounded him. It's here that his affinity with the art world began. "You assume that every child grew up with 2,500 years of history around them," he says. "You don't know until you travel that you grew up in one of the most cultural islands in the world. You know it's beautiful, but you assume everybody grew up with the Greek theatre, Roman villa and baroque churches."
From Sicily, Baronello moved across the country and even the world, working in Milan, Rome and New York, creating pieces that spanned film, fashion and art direction. In 1998, he settled in Canada. He's the youngest of three, says he can't live without art, books and nature, and has huge admiration for empathy. As he says, "Without empathy, we've lost humanity."
"You know it's beautiful, but you assume everybody grew up with the Greek theatre, Roman villa and baroque churches"
While most of his work has been centred on design, six years ago, he switched to focus more on painting. It was a decision he made after his mother sadly passed away. "She always said, 'Why do you always please other people with your talent? You know you want to be a painter. You have to be what you want to be,'" he shares. "So, I made a promise to her that I would try, and for the last six years, I've dedicated myself to painting. I was a designer who could do art, but now I'm an artist who can do design."
Take a look at his portfolio and you'll see how much work Baronello has created. Each is individual, laden with inspirations from his upbringing and symbolism that speaks of deeper meaning. "Coming from a town with more than 10 churches, my love for decoration and symbols came from when I was a child," he explains. "You are in these palaces, and every painting looks beautiful, but when you take a second look, you discover the symbolism. When you study the Renaissance style up until the 1800s, you realize nothing is casual. If there's a flower in hand, the flower means something. The colour means something. It becomes a language."
Armed with this insight alone, you'll start to look differently at Baronello's work. You'll see the egg making an appearance over and over, symbolic of life reborn. You'll see acorns that speak of knowledge. You might also see bay leaves, a symbol associated with the Roman god, Apollo.
For all the symbolism and meaning that drape these paintings, there is one thing that ties everything together and an overarching theme Baronello is exploring. "The underlying message is our relationship with the environment, from our food to the air we breathe and the lifestyle we lead," he says.
For this reason, animals are a particular focus, with owls, polar bears, moose or the previously mentioned heron all making an appearance. You'll see they're portrayed as grand — a centrepiece to the art. "The animal is painted as a noble would ask to be painted in the 1700s or 1600s," he explains. "That's why you see this drapery around them. People respond to that. They like this idea of nature being glorious. Still fighting."
It's a focus that's become even more important for Baronello in the pandemic. Over the last year, he has realized, more than ever, the responsibility of leaders when it comes to making change. "COVID-19 made me realize our responsibility as individuals comes after the responsibility of leaders, big manufacturers and billionaires to change things."
As well as being a commentary on our relationship with nature, the paintings speak to the artist's life and experience living in different parts of the world. Having spent time in Europe and North America and having created art in both, he's acutely aware of how different symbols carry different meanings, depending on where he is and how that has an impact on his work. "I'm trying to bridge two worlds, where I bring American iconography to Europe and vice versa," he continues.
Moving forward, Baronello has big plans. In particular, he wants to focus on installations and collaborations. "I see myself working more with institutions, not only with my art and painting, but also trying to make the audience a part of it. I like the idea of expanding my art, but, most of all, to collaborate with other artists and institutions."
www.mimmobaronello.com
@mimmobaronello
INTERVIEW BY ESTELLE ZENTIL