Pasta Paradise – Continental Noodles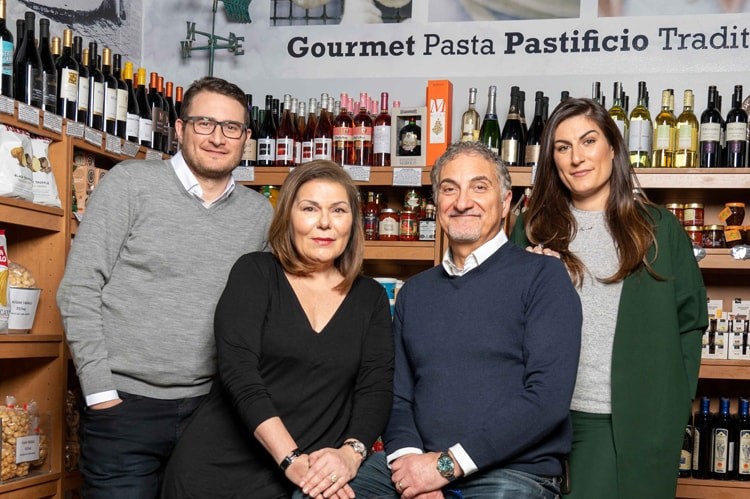 One of Vaughan's long-standing family businesses shares its recipe for success.
There are certain people in life we simply cannot choose — neighbours, airplane seat-mates and, most notably, family. While the occasional family gathering may be palatable, working together in a business can be an entirely different day-to-day dynamic, fraught with difficulties. Business history is littered with high- profile, dysfunctional family feuds that have included ugly public spats, lawsuits and courtroom dramas more suited to reality television.
What, then, is the magic elixir to having a successful family business — a business successful both with the bottom line and at the kitchen table?
Continental Noodles, founded in Vaughan, Ont., is one such successful family-run business, now with three generations of the Liberatore family running this Italian pasta-making company, as well as its wine-importing agency, Vinaio Wines. Franco Liberatore started the company in 1967, passing it on to his son Vince, who now oversees the operation with his daughter Sarah. She also is in charge of the sales and marketing of Vinaio Wines and is assisted by Angela Liberatore. Angela manages the pasta division, and Matthew Liberatore assists with in-house legal and general counsel.
Continental Noodles is the No. 1 pasta store in Ontario, selling made-fresh-daily pasta and homemade sauces to gourmet grocery stores and restaurants from its three locations in the Greater Toronto Area.
We sat down with the Liberatores to find out their secret recipe for running a successful family business.
---
Q: Describe some of the advantages of working with your family.
A: The advantage of working with family is that we can be brutally honest with each other. This makes for much higher scrutiny, accountability and ultimately an extremely high-quality product. We are constantly consuming the pasta we prepare or the wine we import at home with family and friends, and so there is no place to run and no place to hide — high quality all the time.
Q: Tell us how you go about resolving conflicts working with your family.
A: Sunday lunches and family meetings are our time to circle the wagons. In our house, there is no separation of church and state; we are in constant contact during the good, bad and the ugly.
Q: What are some business or life lessons you learned from the previous generations?
A: Perseverance and discipline are key elements. You may not be able to please everyone, but you can remain resolute in your endeavours. We always strive to choose a path and carry the matter through.
Q: How has each new generation of your family contributed to the growth and success of your business?
A: The next generation of our business has had extensive training in the corporate law/corporate finance legal space, as well as in the marketing and food services industries, including wine sommelier qualifications. Together, the next generation is expected to be a powerful combination, bridging the more pragmatic business requirements with the fun side of wine and food, all while still respecting the traditions that make our products and approach so special. Trying to avoid the ratification of food and wine is central. Life is about having fun, so let's see things for what they really are.
Q: What are your keys to success?
A: Give the people what they want and be ready to explain why whatever you produce or introduce to the market is special. There has been a remarkable democratization of information over the past years, and people just don't have the time for silly games anymore. You cannot fool people anymore, nor would we ever want to. People know what good stuff is, and again there is no hiding. I cannot stand when I walk into a restaurant and get the feeling I'm being taken advantage of, whether it's tiny portions or corked wine. Knowing your craft is key.
Q: How do you envision the future of your company?
A: As the generations that brought specialty Italian products to Canada continue to pass on, I would imagine that our business will continue to be a reminder of quality, a reminder of how products were once made — before industry, before mass production, before prepacked product, before standardization.
Our goal is to provide our customers not only with an experience while they shop, but also a special experience for their families that they work so hard for. People are working harder than ever before for their disposable income, and we want our customers to know that we respect their dollar and want them to have the best culinary experience at the table with their family.
Additionally, we want people to know about the lesser- known elements of the Italian culture. For example, Italians treat wine as very much a part of their meal. [It's] not something to be consumed on its own, but to be enjoyed in harmony with whatever has been put on the table, from the fancy to the extremely simple. It doesn't have to be so sanctimonious, as some might think. Understanding this is what we want for our family, and so, too, with our clients.
Interview By Victoria Scott