Assassination Turned Transformation – Mayor Patrick Brown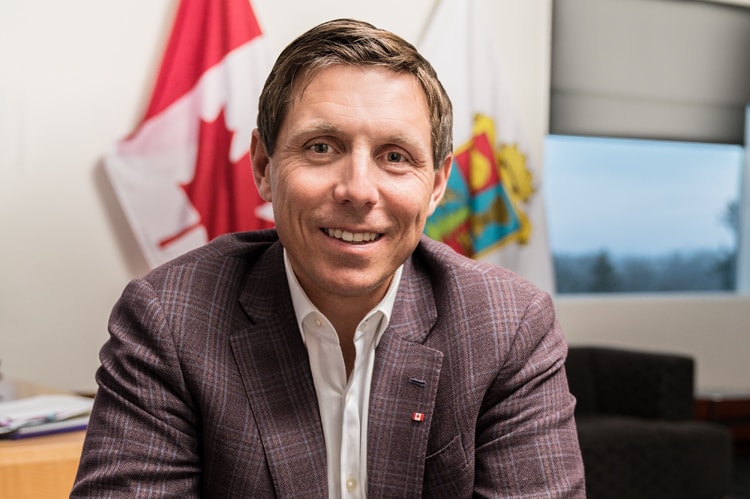 From political pundit to party outcast, former Progressive Conservative leader and MPP Patrick Brown, author of Takedown: The Attempted Political Assassination of Patrick Brown, shares the triumphs and challenges of his life in politics.
EDITOR'S NOTE
In the review by Cece Scott of Patrick Brown's Takedown in our (Feb/Mar) edition, we wrongly edited Ms. Scott's review to report that Vic Fedeli faced an allegation of "work place sexual harassment". The book in fact stated Mr. Fedeli had faced an allegation of "inappropriate behaviour" by a female working for the PC party. We regret the error.
Politics has been a part of Patrick Brown's DNA from the time he was nine years old. His parents, Judy and Edmond, nurtured this interest in their young son by encouraging him to read a variety of daily newspapers and discuss what he'd read around the dinner table. It was this unbridled passion and genuine interest to serve for the public good that would at first pole-vault Brown to great heights of electoral success, before almost destroying him on both a personal and a professional level. This hit-by-a-truck fall from grace prompted Brown to write Takedown: The Attempted Political Assassination of Patrick Brown. Published in November 2018, after the Ontario provincial elections, the book was the lightning rod that made Brown's supporters and critics alike sit up and take notice that here is a politician who refuses to be crushed under what he considers are false accusations. CTV, the media outlet that published on that fateful night of Jan. 24, 2018, what Brown adamantly claims are false, unsubstantiated and over-the-top malicious allegations from accusers who at first refused to be identified, is also front and centre, launching a Statement of Defense in response to Brown's $8-million defamation lawsuit against it.
Brown first became politically aware at the age of nine, engaging in political discussions with Edmond, who had run twice unsuccessfully for the New Democratic Party (NDP). As a part of a school assignment at the time, Brown wrote to the then Prime Minister Brian Mulroney about the far-reaching effects of acid rain. Mulroney's office wrote back, outlining the government's policies on the issue. Then in 1988, when he was 10, Brown's interest was further piqued by the federal "free trade" election. His mind was made up: Brown's political path would now be tied to the Conservative party's platform and values.
The climb to the top, a vantage point from which Brown could see the prize — becoming the next premier of Ontario — was not always an easy one. Growing up, Brown had what he describes as a debilitating stutter; it diminished his confidence and affected his social circle. He played every sport imaginable, including soccer, baseball and hockey, in order to fit in. That, along with the speech therapy lessons his mom took him to regularly, helped assuage the problem by the time Brown was in high school. "Who would have thought that when I was a kid with a stutter, that later on in life I would be speaking to large audiences as a part of my job? I would never have fathomed that. But I found a way to overcome my challenges; it is a tenacity that I have been taught by my family," Brown says.
At the age of 19, Brown became the national youth president of the PC Youth Association. In 2000, at the tender age of 22, Brown became the youngest councillor ever to be elected to the city council of Barrie, Ont. — a feat he accomplished while in his final year of undergrad school at the University of Toronto. Barrie is a city that Brown would return to as an MP after the 2006 federal elections. "My time in Barrie was pretty successful," Brown says. "We procured a university expansion, we brought the GO Train back up to the city and we cleaned up Lake Simcoe."
"The game of politics shouldn't triumph the pursuit of public service"— Patrick Brown
By 2005, Brown, who was practising law in Brampton, Ont., where Edmond, now 78, still practises law, decided to leave law and run for politics. On May 9, 2015, Brown was elected leader of the PC party. Bill Davis, whom Brown calls the finest premier Ontario has ever seen, was the new party leader's mentor, one Brown aspired to emulate. "His premiership was one of balance, pragmatism and decency; he was committed to working with all sides," Brown says.
His friendship with Davis has been a sustaining support for Brown, especially during this latest crisis. The biggest influencers throughout Brown's life, however, are his family, including his mother and father, his grandparents and his two sisters, Fiona and Stephanie. "We grew up together and are incredibly supportive of each other," Brown says.
And while Brown might take it for granted that growing up in the same family inspires automatic loyalty, he would experience just how devoted and supportive his sisters were when his future imploded on the night of Jan. 24. "It was not surprising when I faced adversity in early 2018, that the first people by my side were my family," Brown says. "No one anticipates having a false story on national news with no notice to respond. I felt like I had been run over by a truck." He explained that it was very hard, because his family knew the actions of his accusers were malicious. Not only did Brown feel he was blindsided by the two female accusers, known as Joanna Bloggs (her lawyer, David Butt, stated in an email that she now wishes only to move on from this chapter of her past, and accordingly, will not be saying anything more) and Jane Doe, in the media, but he also said he was stunned by the actions of some of his campaign team, including Brown's chief of staff, Alykhan Velshi; Andrew Boddington, campaign manager; Dan Robertson, chief strategist; and Vic Fedeli, who went on to become the Conservative's finance minister. Brown also states in his book that his takedown started with a very "cynical and corrupt Liberal party." He also states that CTV is the "big winner of the Blame Category" for his downfall. "It hung me in the court of public opinion without giving me the proper chance to defend anything, and it did so with a very poorly researched story," Brown states in Takedown.
"No one anticipates having a false story on national news, with no notice to respond. I felt like I had been run over by a truck"— Patrick Brown
However, in the book Brown refers to one of his biggest surprises as being the behaviour and actions of Fedeli, who at one time, Brown says, told him that he was "The best leader we ever had." In Takedown Brown wrote of what he described as "inappropriate behaviour" by Fedeli when he was interim PC leader. Fedeli then served the publisher, Dean Baxendale, and Brown with a Notice of Intent to sue for defamation, if the publisher did not agree to a retraction of these and other comments published in the book. Baxendale says, "When a claim is served, we will respond appropriately."
On Jan. 30, Fedeli announced he is suing Patrick Brown and Optimum Publishing (JF Moore Lithographers Inc. of Toronto, the parent company, and its owner Dean Baxendale are also named), for $8 million for false and defamatory statements made in Takedown, which Fedeli had referred to in his Notice.
Fedeli also states that Brown's book was published on a day that would cause "maximum damage," . [i.e.,] the day that Fedeli delivered the PC government's first fall economic statement. None of the allegations by Brown in his claim have been proved in court. "As a family, we were frantically struggling as to how best to expose this fraud. Fiona, who was about to become a partner in a law firm, took off three weeks from work in order to help piece together what had happened. We finally got the names of the 'anonymous' accusers. And we were able to demonstrate that the accusations were factually impossible. I didn't even own the house at the time when these alleged accusers said the allegations happened."
The family was also successful in getting CTV to publish a retraction, clawing back its earlier statements that the accusers had been underage, and that, in fact, Brown had not owned the house they mentioned in their statement at the time the alleged accusations took place. "The story started to unravel further and further," Brown states. "The witness who supposedly drove these women to the house stated that the episode never happened. I took two lie detector tests. We really rallied together to expose that these alleged accusations were fraudulent."
Brown describes being angry, hurt and gobsmacked on the night he considers his political assassination devolved. "I wouldn't wish what I went through on my worst enemy," he says. Alise Mills, one of Brown's former campaign strategists and spokespeople, joined his team seven days after the Jan. 24 allegations. Mills's job was to ensure that Brown navigated the waters between the volatile situation he was in, give him a safe place to work from, slow down the process and effect calm. "Patrick did not want to slow down," Mills says. "He wanted to defend himself against the accusations. People don't understand how nuanced and complicated the whole situation was. It wasn't just about the sexual allegations, it was about a political situation that was happening. I thought I had seen the worst of politics, but I did not know how far we would go down the rabbit hole."
Takedown: The Attempted Political Assassination of Patrick Brown is a take-no-prisoners, unvarnished memoir about the people Brown believes were directly involved in his public and extremely humiliating vituperation. "I was up by 20 points in the polls; I was leading the Liberals and NDP by a country mile, not only in fundraising and byelections, but [also] in every electable milestone," Brown states. "If the election had been held on January 23, we would have won the largest government in Ontario history."
To add insult to injury, after his resignation was sent out without his permission, Brown was asked if he would accept the new leader's policy positions on gay rights, climate change and Islamophobia. "I really felt that they were telling me, 'Can you walk back your core convictions to meet the new leader's outlook.' I said that, 'No, I didn't feel I had to.' I thought a political party should be broad enough to welcome a diversity of opinions. I'm proud that I went to the Toronto Pride Parade; I'm proud that I stood up for gay rights; I'm proud that I supported the updated Sex Education Curriculum. I'm proud that I supported the Liberal motion condemning Islamophobia; [and] I'm delighted to be the only Conservative leader in the country supporting the national climate accord," Brown says in a voice that is charged with both passion and rancor.
Out of the party but not out of opportunities, Brown was offered work in a variety of areas, including at a financial institution, a downtown law firm and a university teaching position. "One of those opportunities would have been a lot more lucrative than getting back into the absurdity of public service," Brown says. "And my wife, Genevieve Gualtieri [they were married in 2018], told me that she would support me on whatever path I chose. And while one of those paths might have been more attractive, I'm a firm believer that when you get knocked down, you get back up. I had been knocked down by my political adversaries, and to simply disappear is not how I'm built. I knew I had more to contribute to public service; I had more to contribute to the public discourse."
Due diligence and standard media protocols were not adhered to relative to his case, Brown believes. He feels that CTV did not want to be left out of a story if that story were at the eye of a storm. It has been a trying time and a very challenging lesson, but Brown has garnered several takeaways from the experience. "I learned that I am too trusting, and that a lot of people were hangers-on because of my position," he says. "There is a tangible insincerity in politics, and this experience was a real eye-opener for me. It certainly showed me who my true friends and allies are."
So what's next for Brown, now that he has licked his wounds and is front and centre in the public eye? Well, his first victory came when he won the October 2018 Brampton mayoral race, a city for which he has a strong affinity. "I practised law in Brampton before I was an MP and, in fact, ran my political bid for the Conservative leadership out of Brampton," Brown says. "I have a strong connection with the city, and I felt strongly that I could make a difference there. Brampton's escalating crime, lack of jobs and gridlock are a challenge. But we are going to turn things around. We are going to have top-notch recreation. We are going to create a Brampton advantage and attract industry, like Mississauga[,Ont.,] under [former] Mayor Hazel McCallion. I want to make Brampton the envy of Canada."
"There is a tangible insincerity in politics, and this experience was a real eye-opener for me. It certainly showed me who my true friends and allies are"— Patrick Brown
The most recent development on the political front for Brown and his fellow regional mayors is Ontario Premier Doug Ford's announcement the week of Jan. 14, 2019, that a review of regional governments will be conducted. The review encompasses 82 municipalities, including Peel Region, which is comprised of Mississauga, Caledon and Brampton. Brown stated in an article in the Jan. 15, 2019, edition of the Toronto Star that he doesn't believe the announcement had anything to do with his ongoing feud with Premier Ford and the Conservative party: "I wouldn't assume any inappropriate motivation for the change. It is appropriate to look at inefficiencies of wings of government. I hope that the municipality and the region will be consulted sincerely as this process unfolds. Obviously, there are savings when it comes to numbers whether it's waste management or Peel police. We look forward to participating in that consultation."
To the question as to whether he will ever re-enter provincial or federal politics, Brown's response is that he is 100 per cent focused on Brampton, on turning the city around. "The game of politics shouldn't triumph the pursuit of public service," Brown says. "Blind partisanship is toxic; it is a cancer on the best interests of our democracy. Character assassinations within parties are toxic. Politics shouldn't be about tearing each other down. It should be about creating a better place, a better country for everyone."
Both the offices of CTV and Minister Fedeli refused to comment for this article.
WRITTEN BY CECE M. SCOTT
INTERVIEW BY VICTORIA SCOTT