More Than Just a Pumping Heart – Dr. Barbara Cifra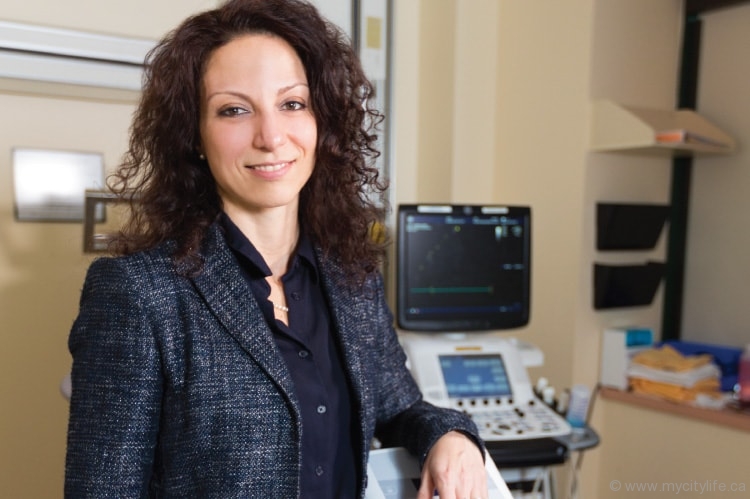 Successful cardiac surgeries now save children's lives, but one doctor has set her sights on more than just survival. Dr. Barbara Cifra is heading the Exercise Medicine program at SickKids, and the goal is to allow children with heart disease to lead a healthy lifestyle that includes exercise — so they can thrive well into adulthood.
If you have a child with a heart condition, it's scary — for the child and for the parent. So you try to protect them the best you can, thinking exercise isn't a good idea as it could be too taxing on the heart. But Dr. Barbara Cifra, a staff physician at SickKids, is turning that idea on its head. "I truly believe that life is something more than a pumping heart," she says. "It's about empowering these kids to live at their maximum capacity and make these years more valuable."
Each year in Canada, one out of every 100 babies born has a heart defect, and it's estimated that about 91,000 children and 170,000 adults are living with congenital heart disease (CHD). Dr. Cifra points out that in North America children with congenital or acquired heart disease are more likely to be overweight because of physical inactivity compared with children without heart disease. On the other hand, some kids might underestimate the consequences of their condition and engage in unsafe sporting practices. "Add to this a lack of counselling and, unfortunately, only a small percentage of children with heart conditions and their families receive formal physical activity recommendations," says Dr. Cifra.
In fact, data from cardiac rehabilitation programs for adults with CHD has shown the positive effects of this program on the degree of obesity, the level of exercise capacity and the psychological state of these patients. For Dr. Cifra, it all started about seven years ago when she volunteered at SickKids as a researcher, and was then hired as a research fellow. She started looking at the model for adult cardiac rehabilitation, and the fact that it is a mandatory intervention for adults. "I started thinking, 'Why don't we do the same for children?'" she says. "Because these children will become adults and if we don't counsel them on how to be active and healthy, they may also become obese and develop comorbidities like high blood pressure and high cholesterol."
"It's about empowering these kids to live at their maximum capacity and make these years more valuable"
This kind of thinking led Dr. Cifra to develop a new program at SickKids in the cardiology department. The program, Exercise Medicine, is Canada's first pediatric program focused on exercise and physical activity counselling for children with heart disease. The overall aim is to evaluate the use of personalized physical activity counselling and exercise training recommendations to improve the quality of life and life expectancy of children with congenital or acquired heart defects.
Actually, it's as if the universe conspired to bring together all of Dr. Cifra's training to culminate in this program. She completed her medical training in Italy with a residency in sports medicine, which focuses on exercise physiology and sports participation screening. She spent five years at a children's hospital in Rome but was also working with elite athletes at a private clinic. "The good thing about working with elite athletes is that they are practically superhuman and we can see how a certain type of exercise might affect someone who isn't healthy or has a condition," she says.
Getting the Exercise Medicine program up and running at SickKids is Dr. Cifra's goal. But in research, it is always a struggle for funds. Even when she would talk to friends and tell them what she was doing, Dr. Cifra noticed that they really didn't understand, "so every time I mention research to people, they picture labs with mice or cells growing in a dish." And with the public, the perception is that if they donate money to research it won't impact medical care right way, she adds. "But this is not the case," she says emphatically, adding that the research she is conducting rapidly changes the clinical care and some of the decision making, so it's a shorter path. "And I was thinking, 'How can I make this happen? How can I make the public understand that certain clinical research can have a quicker impact on the medical system?'"
So, aside from her position at SickKids, she set up Hope for Hearts, with a mission to improve the life expectancy and the quality of life of children with heart disease through research, innovation and education. In 2015, Hope for Hearts held a gala in support of this research, and another one in 2016. But last year, Dr. Cifra held a Yogathon instead. Why yoga? "Because I love yoga, I'm an instructor and I love the meditation part," she says. "So it's like an exercise event that is supporting an exercise program."
For Dr. Cifra, it's really about perspective. "We can say to kids, 'OK, you have this condition, but it is safe for you to exercise to a certain level and you have to do it, because you have to live your life fully,'" she says. "I also want to address their self-esteem and make them more confident." And that's really at the crux of her push for the program. It won't just impact these kids' cardiac function or muscle function, it will also impact the way they look at life in general, she adds.
She has big plans for the program. "For me, the future is to make this program successful and to open it up to more of the pediatric population," she says. "We're starting with children with congenital and acquired heart disease now but we want to expand it to all children living with chronic disease." The problems that her patients have are the same ones that children going though cancer treatment or living with diseases like rheumatism are facing, she explains. "There is no substitute for healthy lifestyle counselling: it's an important issue for all of these children," she adds.
Dr. Cifra is tremendously grateful for the support she gets from SickKids. "They see the potential and the importance of a program like this one," she says. "There's no other place I could develop something like this." One might call Dr. Cifra an inspiration — as well as simply amazing. "Or maybe I am just crazy!" she laughs.
---
On Feb. 25, Dr. Cifra is chairing her second annual Hope for Hearts Yogathon at the Mattamy Athletic Centre in Toronto. As well, she's looking at holding a gala event to take place this spring/summer. For more information, visit hopeforhearts.ca