Leaner, Meaner Legs – Leg workout tips
Spring is around the corner and it's time to kick your workout into high gear. Some of our favourite experts share their tips for achieving your best legs yet.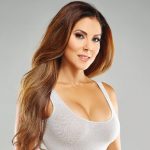 Suzan Galluzzo | Owner, Hourglass Workout Markham and Richmond Hill / Corporate Trainer, Reebok Canada
Studio: Hourglass Workout
www.suzangalluzzo.com
Variety is key. Legs are one of the most difficult to shape because they are one of the largest body parts and will require consistency in your workouts. I try to incorporate different methods when training my legs.
First, my go-to routine at least once per week is Plyometrics, a lot of squat jumps, box jumps and lunge jumps. Aim to do five different lower-body exercises for 30 seconds each and repeat five times. This should take around 30 minutes.
I also incorporate high reps on lower-body machines twice per week. I suggest four sets of 20 reps on machines like prone lying leg curl, squats, quad extension and leg press to create a long, lean look. Don't be scared to go heavy and complete fewer repetitions.
Finally, I aim to incorporate steady-paced-fat-burning cardio three times per week, to burn fat and tighten skin. The stepmill is your best option for this. It can be done on a treadmill or bicycle as well. I advise staying at a pace where you're still able to carry on a conversation – keep this for 45 minutes.
TIP: Toning your legs requires consistency in your workouts
---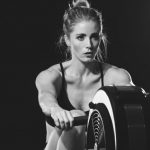 Kristin Jeffery | Founder & CEO
Studio: SCULLHOUSE Rowing Inc.
www.scullhouse.com
Toned legs require two things: getting rid of extra pounds and gaining muscle. One of the best ways to shed extra weight is with HIIT – high-intensity interval training. HIIT involves intervals of high-intensity activity followed by short intervals of rest. At SCULLHOUSE Rowing Inc. HIIT is at the forefront of our classes. Using the rowing machine is a great choice for intervals because it is a low-impact cardiovascular and strength-training workout in one – you torch calories and build muscle at the same time.
Rowing is fantastic for improving muscle definition because you strengthen your inner and outer quads, hamstrings, calves, and glutes. I suggest starting with eight- to 10-minute sets of intervals and varying the stroke rate between 22 and 28. The stroke rate is the number of strokes you take per minute and is displayed on the rowing machine's electronic monitor. Incorporating intervals on the rowing machine will have you well on your way to lean, sculpted legs.
TIP: The rowing machine is a great choice for intervals because it is a low-impact cardiovascular and strength-training workout in one
---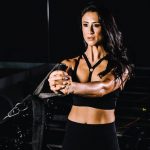 Bianca Gross | Master Trainer
Studio: Studio Lagree
www.studiolagree.com
Lagree Fitness integrates all the basic elements of physical fitness, not just in one session but in each and every move. This is the key to getting great legs. While target-training the lower body does help to sculpt legs, you also have to make sure that you're working all areas of the leg while keeping the heart rate elevated (in order to burn calories) and working on flexibility.
Every single Lagree class includes a "block" focused on the lower-body. Each leg-centric movement targets several areas of the leg in a slow and controlled manner, for a certain duration of time, in order to achieve muscle failure and caloric burn (the "method" of Lagree Fitness). Whether you're working on the moving platform, using a weighted cable or bungee or simply using your own bodyweight, your legs will be on fire – maybe for days.
TIP: Make sure that you're working all areas of the leg while keeping the heart rate elevated (in order to burn calories)
---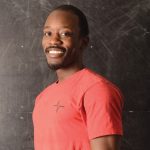 Ahj Roberts | Performance Coach / Personal Trainer
Studio: 180 Performance & Studio Fitness
www.hundredeighty.ca
Variation and volume! These two V's will give you the big W (win) when it comes to achieving the perfect legs. Diet aside, if you are tired of doing legs and seeing no results it simply means you are tired of doing the same movements.
The solution is adding variation into your routine. Not only does this prevent overtraining and fatigue but it will help efficiently attack the different muscle groups that make up the lower body. For example, squats can come in varying foot positions, depths and tempo, all of which are able to isolate different muscles. A wide stance will target mainly the inner thigh, whereas a narrow stance will target mainly the quadriceps.
This is not to say we now need to go to the gym and do a new movement every session. It means that we can now spend more time in a session on let's say the different regions of the "glutes" with five exercises over 30 minutes, as opposed to exhausting only one part of the muscle with one exercise over a shorter amount of time.
"How much is enough?" This depends on your body type and your workout history, but the easiest way to break it down is by asking yourself, "How consistent can I be with this routine?" If you are not able to maintain "X amount" of work due to your commitment to training and vigour of your routine, then we need to dial down our program and readjust our goals. Start early, plan your week and give it time! Recovery is the name of the game when it comes to training to increase or decrease size.
TIP: Start early, plan your week and give it time! Recovery is the name of the game when it comes to training to increase or decrease size