Goodness on Wheels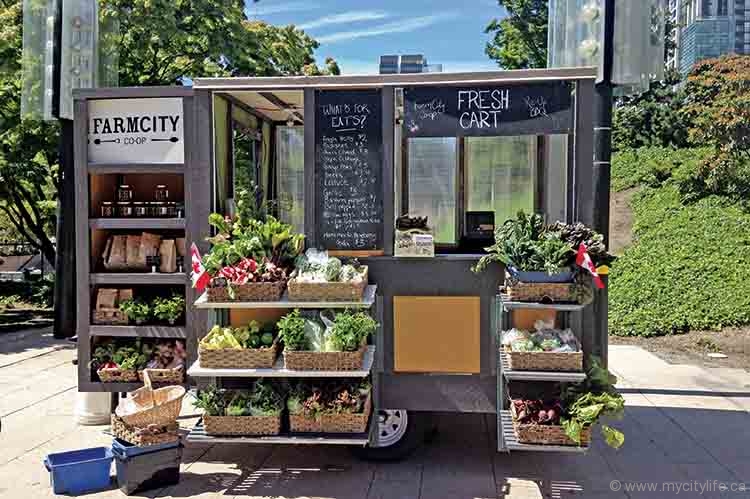 A farmers' market-inspired food cart has landed on the city streets of British Columbia, introducing a new way of bringing farm-fresh and local goods to urbanites
It's lunchtime as you stroll out the office doors with the same old strategy in mind: a cream cheese bagel, maybe a doughnut and a cup of coffee to wash it all down. But as you're approaching your tried-and-true café, something catches your eye on the street corner.
It's a food cart. Adorned with charming wooden panels and manned by a smiling neighbour, it's waiting there for you, nearly bursting with a rainbow-hued bounty of fresh local fruits and veggies, organic and homemade snacks, cold-pressed juices made from the artisan restaurant down the street and oodles more.
This was the scenario for many downtown Vancouverites this past July when the FarmCity Fresh Cart made its debut along the city's streets. The concept was brought to life by restaurant owner Lindsay Kaisaris in partnership with the FarmCity Co-Op, a community of local sustainable farms in southwestern British Columbia that produce organic goods.
"We've been working with the farmers of FarmCity Co-Op for about three years now, and we thought, 'Wouldn't it be such a good idea to put some of their vegetables on a cart in the middle of downtown Vancouver?'" recalls Kaisaris, whose restaurant, Re-Up BBQ in New Westminster, sells its bacon and cured meats on the Cart. "I thought people would like it and that it would be good for the world." And so Fresh Cart was broughtto life.
Every few days, the Co-Op farms drop off fresh batches of their goods, ensuring that each daily cartload is straight-from-the-farm fresh. Kaisaris herself then takes the Cart out on the town, making just as many friends as she does sales and almost selling out before it's time to turn in. "People have started to do their grocery shopping with us. They think it's fabulous. Yesterday I actually had to call one of the farms and say, 'Hey, we need more food — we're running out!'"
According to Kaisaris, the wackiest item she's seen on the Fresh Cart's ever-evolving stock is organic fertilizer ("It's selling amazingly well; people buy it for their own potted vegetables at home"), and her personal favourite, snap peas. "I'm on a snap pea cleanse, because they're all I've been eating for like, two weeks."
While Kaisaris says she's not sure if expansion is on the horizon for Fresh Cart, she hopes the concept will inspire others across the country to open their own farmer-friendly, eco-conscious portable grocery stops. It's only a matter of time before the idea catches on in other Canadian cities, benefiting the lives of local farmers and city dwellers alike with its fresh, local produce.
So, lunch breakers and dinner planners, prepare to toss out that stale bagel and caffeine itch — because like a mirage in the middle of a city dried up with fast food and coffee shop chains, Fresh Cart might be hitting your neighbourhood sometime soon.
Until a Fresh Cart rolls into your neighbourhood, savour some of these local food markets near you:
Woodbridge Village Farmers' Market
Woodbridge Pool & Memorial Arena
Highway 7 and Islington Ave., Woodbridge
Every Saturday, 9 a.m. – 1 p.m.

Brampton Farmers' Market
Main and Queen streets, Brampton
Every Saturday, 7 a.m. – 1 p.m.
Stonegate Farmers' Market
194 Park Lawn Rd., parking lot of
the Christ Church St. James, Etobicoke
Tuesdays, 4 p.m. – 7 p.m.