For the Love of Carmen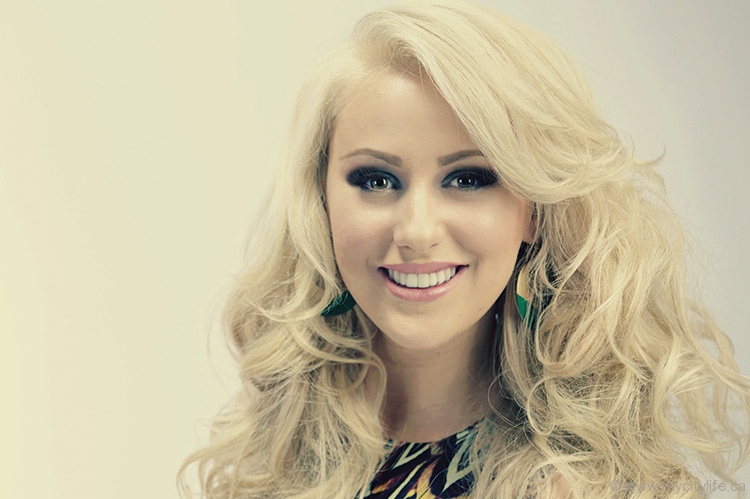 When you're about to interview the likes of Romanian-Canadian songstress Carmen Corcoz, there's some hefty preparation required. Because let's be honest, there are usually two ways that a sit-down chat like this could go: the individual in question could either turn out to be in the same league as the Mean Girls' posse ("You can't sit with us") — or, she could take you, your quivering boots and your self-calming mantras by surprise and reveal herself to be a joke-cracking, hugging, complete and utter sweetheart.
The moment I step inside our designated meeting spot — a recording studio at Dufferin and Queen West in Toronto — I realize that in Corcoz's case, it's the latter: there's a whirl of blond hair and pearly white teeth, and suddenly I'm engulfed in a bearlike embrace that leaves me wondering, dumbfounded, if I've just made a new best friend.
Talent like Corcoz's can be notorious for seeping into people's heads and making them grow too big, but this multitalented singer is humble as can be. In fact, the hopeful messages that underlie each of her tracks are making Corcoz shine a little bit brighter in the midst of today's glittery landscape of musicians.
"Music isn't just a job for me, and it's more than a creative outlet," says Corcoz, who moved from Romania to Toronto when she was nine. "It's my way of helping people."
In fact, when Corcoz earned her first dose of spotlight in Toronto back in 2011 with the release of her EP "Inspired," she connected the hit with SickKids, becoming an ambassador and donating a percentage of all track purchases and album sales to the Foundation.
It's three years later, and Corcoz still glows in a way that only true do-gooders do. She's continuing her mission of spreading hope through her heartfelt ballads, each of which is built with her own poetry. This year promises to be a big year for Corcoz: she plans to release a series of brand-new singles, including the track she wrote in honour of her mother called "A Call Away," who lost her battle with cancer in November 2013.
"We're going to release that one on November 5, 2014, the anniversary of her death," says Corcoz. "And we're going to involve SickKids with this one too, because it's not just a song about my mom — a lot of people are going through the same thing."
Next to being a hero, Corcoz's new year's resolution is to launch her music internationally. Though she's made it big in both of her homes (Canada and Romania), the artist hopes to generate a fan base in the States, South America and more European countries. And it's a reachable goal: her style — a soulful blend of rhythm and pop — is something that listeners are craving, and her own poetic lyrics are the cherry on top of her vocal finesse. All sung in her sweet Romanian accent, each of Corcoz's ballads feels sealed with a European kiss.
"Writing, recording, promoting, performing, it's a lot of work and a lot of patience," says Corcoz. "But it's totally worth it, because I honestly believe a song can change your life."