Ed Quinn: From Berkeley to the big screen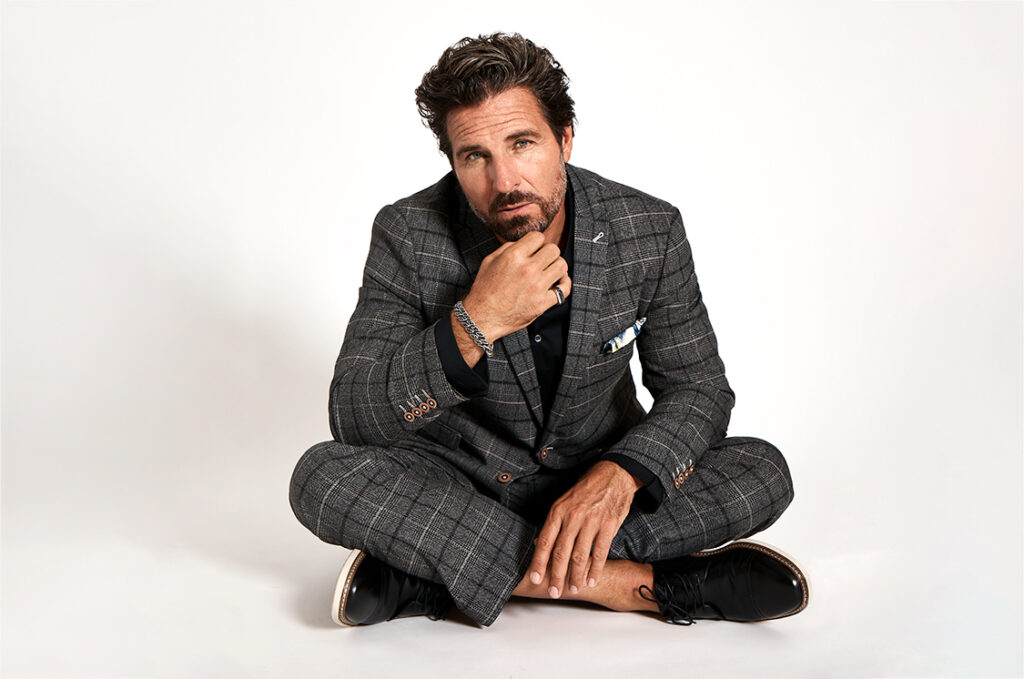 The American actor, model and musician talks about growing up beside a regional park, working in Europe and not getting broken by show business.
Ed Quinn describes his childhood as a dream. He talks of growing up in California's Berkeley Hills, besides the 2,079-acre Tilden Regional Park. He shares stories of being able to look over the San Francisco Bay as he made his way to school, enjoying the "eclectic vibrancy" of Berkeley as a city. He describes working as a lifeguard, spending the summers learning to surf at Stinson Beach.
His first experience in front of the camera came when he started modelling during his last semester studying history at the University of California, Berkeley. "I thought I was going to work in commercial real estate, then I got booked into shows in Paris, Milan and Barcelona." When he arrived, he realized he didn't fit what the fashion world wanted, but he had a talent for commercials, shooting a total of 37 in the two years he was in Europe.
"Doing commercials was what put me through my acting classes," Quinn says. "I started booking small roles and then bigger roles." Time spent modelling in front of the camera, paired with those acting classes, has seen Quinn land roles in more than 50 television shows, including Eureka, 2 Broke Girls, Netflix's One Day at a Time and, more recently, The Oval. It's also seen him travel to far-flung destinations, and star in a range of movies.
"Every actor has a different process," Quinn says. "For me, especially when I'm doing television and the volume of television, it's thinking the character's thoughts. If I know who the character is and what their relationship is with the person in the scene, all I have to do is listen."
"Doing commercials was what put me through my acting classes."
He likens the process to a piece of music, enjoying the freedom that comes with shaping a scene. "I like there to be a crescendo, arc or event," he shares. "I like to start in one place and end up in another."
Quinn also makes it clear that it's not just up to the actor to shape a role, but there are other parts at play. "When you make a TV show, there's a giant team. One of the keys to a show getting easier is that the writers know you well. You're this character and vehicle they get to write to and, like the actor, they're also discovering it."
Having tasted success, Quinn is someone who is aware of the pros and cons that come with being part of Hollywood and takes steps to feel as grounded as possible. He references Robert Duvall, who talked about the power of having off-screen hobbies to keep actors grounded, and puts that into practice. Whether it's surfing or snowboarding, Quinn complements his life in front of the camera with a healthy lifestyle off-screen and "having stuff you do that you can be really passionate about and geek out on."
One of his loves besides acting is music. It's one he discovered in Berkeley, where renowned guitarist Joe Satriani was the local guitar teacher. Quinn practised a lot, played a lot, and went on to start a band that gathered momentum. Today, that passion has resulted in a music studio he's built and tracks he releases under Ed Quinn and The Swamp Metal Allstars.
It's clear he uses music as an outlet, but also as a means to explore deeper subject matters. He describes one of his more recent releases, "Freak Show Cold," as a warning for people hoping to come to Hollywood.
"I've been very lucky that I've always been able to have a good relationship with the business and Hollywood," Quinn continues. "I worked incredibly hard and I've had more heartbreaks than I could ever count, but I can also compartmentalize it really well with a lifestyle of surfing, snowboarding, music, fishing, and all things I love to do. My soul doesn't get broken by the business and "Freak Show Cold" is almost like a ghost of Christmas future. A warning that show business is magic. It's amazing. I can't believe I get to be a part of it, but I've seen it take a lot of victims."
His upcoming new action-thriller movie, Shadow Force, recently started production in Colombia While a release date for the movie is yet to be set, Quinn shares how it was "amazing getting the role," and that "Colombia was a ton of fun. We got to do a month in Bogotá and then a month in Cartagena in a five-star beach resort, taking boats to set every day. It was a magical experience."
Interview by Estelle Zentil