Fit for the Fast Lane – Chris Lane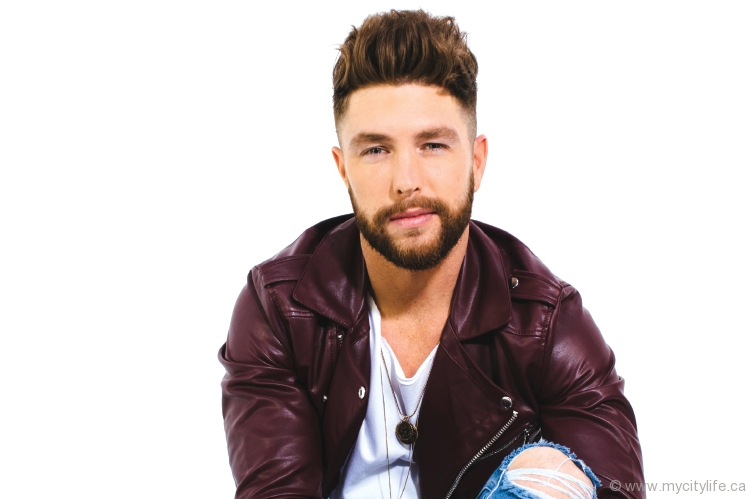 From North Carolina athlete to one of Nashville's hottest country pop stars, Chris Lane hits the ground running, opening on Florida Georgia Line's Smooth Tour alongside the Backstreet Boys and stirring up some magic of his own.
Just days after releasing his 2016 debut album, Girl Problems, Chris Lane's single "Fix" shot to number 1. Now, as the 32-year-old singer wraps up the final months of life on the road, he's putting the final touches on a tour of his own slated to begin at the end of this year.
His musical journey may have been sparked by chance after several sports injuries sidelined his MLB dreams, but Lane's success is no accident. If there's one thing the country singer believes wholeheartedly, it's that hard work pays off: "When you work hard enough at something, you will get it," says Lane. "There's no doubt about it." City Life Magazine chats with the heartthrob just before he hits the stage in Texas.
Q. How did you discover your talent for music, and why did you decide to pursue that path?
A. I didn't grow up singing my whole life. I mean, I would sing along to the radio and stuff, but it's not something I sat down and thought I had a career in. During the time I was sidelined from my injury, I started learning how to play the guitar just for fun, and it turned into all this. Once I got good enough I started learning how to sing and play at the same time; it really developed into a passion I didn't know I had. As passionate as I was for baseball and football growing up, I had this deeper passion that just grew on me. I loved it. Once I started playing shows I decided it was what I wanted to do. So I worked as hard as I possibly could, not knowing what would ever happen with it. But I'm thankful for those injuries, because I probably wouldn't have ever even attempted to go this route [otherwise].
Q. What was your goal with your latest record, Girl Problems?
A. When I was recording my album I just wanted to record songs that I loved, and hopefully songs that people would show up and be able to sing to. I tried to keep it as upbeat as possible because that's how I want my shows. I got to learn a lot from Florida Georgia Line, touring with those guys. I saw the energy they brought to the table, and I wanted songs that would bring a similar energy so I could take that on stage. Hopefully I did that!
Q. You mentioned that your twin brother Cory is your drummer. What's it like touring with him and having your parents come out to your shows?
A. [When] we played sports my parents never missed a game, and now they're at the shows. They're very supportive. My dad seems to think he has to find me a wife every time he comes out to a show. He'll post up at the back and talk to every girl. Girls come to me during the meet and greet and they're like, "So, your dad's calling us his daughter-in-law, what are you going to do about that?" I look at my mom like, "Would you please tell him to quit that right now?"
"Garth Brooks told me that you can get anywhere you want in this life with how you treat people and how hard you work.
Q. Who are some of your inspirations and mentors in or out of the industry?
A. Definitely my dad; he pushed my brother and me our whole lives. No matter what, he encouraged us to work the hardest we could to be the best at whatever it was. Once I started learning how to play the guitar and sing I applied that same advice. Musically, Keith Urban was a huge inspiration of mine. I loved everything about his music, the sound, how he played guitar — I mean, that's what inspired me to want to pick up a guitar. I grew up on Garth Brooks and Alan Jackson, Tim McGraw, Kenny Chesney, all major inspirations for me.
Q. You've been extremely busy on tour this year, but you made a promise to yourself and your fans to focus on your physical fitness. How has that fared so far?
A. I've been given the opportunity to go out on a stage most nights, and that alone makes me want to be in the best shape I could possibly be in. You're running around singing and sometimes it's not easy to do. I don't want to be running out of breath. I see other country singers like Tim McGraw, who is absolutely ripped — like, crazy fit. You look at those around you in the industry and think, if someone as big as Tim McGraw is in that good shape, then I should be able to do it, too — if not better!
Q. When you're trying to create new music, where are you most in your element to dream up new ideas?
A. For me a lot of it is lying down at night. I think a lot when I'm lying around. Sometimes I have a tough time going to sleep and I find that's when, if I come up with anything, whether it's a song title or idea for a song, I generally write it down in my notes. Another cool part of this tour is that they have a bus out here called Tree Vibez Music, and it's their writing bus. They bring out a bunch of songwriters every weekend and you can jump on the bus at any time and write a song with whoever you want. It's always good to continuously have ideas. Or there may be a story that somebody told me during a meet and greet and I'll always write it down, [so] whether I use it or not, it's there. I have a million different things in my notes that I look at.
Q. What's the best piece of advice you've ever received?
A. Garth Brooks told me that you can get anywhere you want in this life with how you treat people and how hard you work, and I find that to be very true.
Photo Courtesy of Chris Lane