Scott Family Chiropractic – Vaughan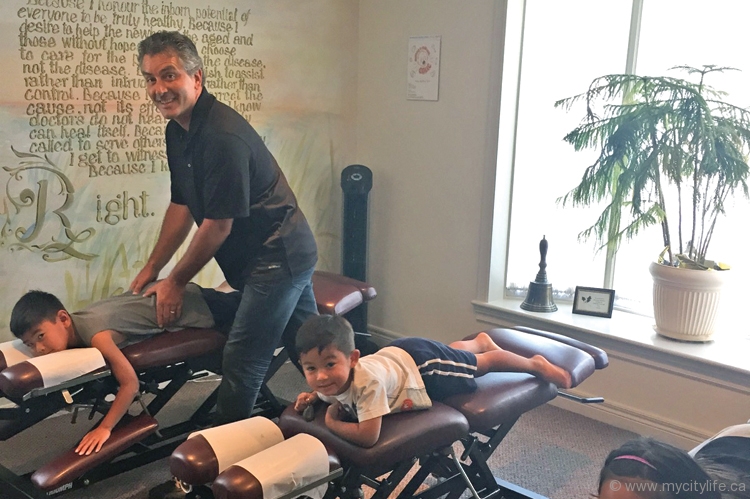 How a Woodbridge family practice guides patients toward a healthy, all-natural life.
Dr. Andrew Scott knows how powerful the human body is. Over his 20-year career, he has seen it heal itself in miraculous ways — when given the right opportunity.
"At Scott Family Chiropractic, we specialize in getting the body to do what it was supposed to do," he explains. "We provide natural solutions to health issues, but also educate patients on what lifestyle will enhance health so they are empowered to be their own best doctor."
Dr. Scott's focus is to detect and correct tiny misalignments in the spine called vertebral subluxations. These subluxations, often caused by physical, chemical or emotional stress, can put pressure on the delicate nervous system and interfere with the transmission of vital communication from the brain to the body.
He explains, "When this happens, all manner of health challenges emerge. If left uncorrected, pain, tissue damage and organ breakdown result. With gentle release of such interference, the brain is able to heal the body through the nervous system."
This approach may be atypical in the industry, but it's allowed numerous families to regain health in ways they didn't think were possible. As Dr. Scott notes, "We strive to stay up-to-date on the latest techniques of spinal correction, exercise, physiology and nutrition to remain clinically excellent."
Passionate about helping children grow up healthy, Dr. Scott fosters a caring, family-oriented environment that caters to all ages. Most challenges that adults face actually begin in childhood. By identifying problems at a young age, parents can steer children toward a healthy lifestyle.
Dr. Scott asserts, "We're about taking care of the spine early, so individuals can benefit from a healthy, active life — no matter their age." Scott Family Chiropractic provides dedicated service for kids and adults, ages zero to 99.
8 Lansdowne Ave., Woodbridge
(Enter at 5220 Hwy. 7, near Kipling Avenue)
905-264-KIDS (5437), www.scottfamilychiro.com