Manmade: Everyday Essentials Made For Comfort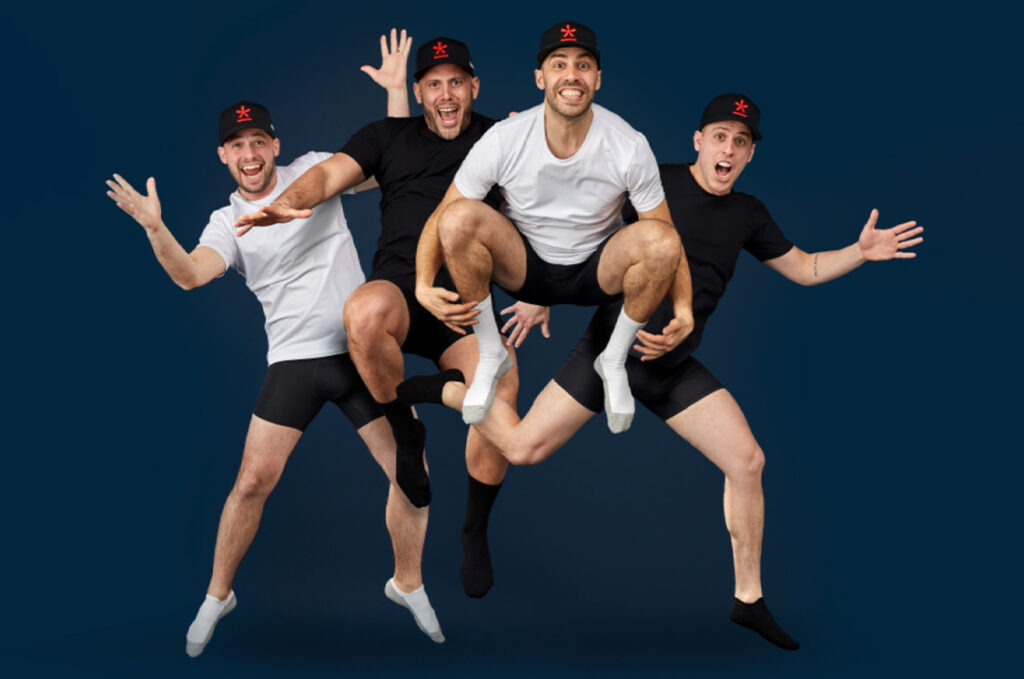 Four best friends left the financial industry to solve a problem they all had: terrible underwear.
Manmade is a new eco-friendly Canadian brand that produces underwear designed for comfort. These are not your grandfather's underpants. These are quality essentials created to support men's wellness and health.
Anthony Ciavirella, Roberto "Berto" Rebelo, Philip Santagata and Robert Marzin are lifelong friends who were tired of struggling with underwear that rode up, caused chafing and would loose its shape after a few washes. These four entrepreneurs, who had no experience or skills in apparel design or manufacturing, went on a 10-month journey to reinvent men's underwear taking an unprecedented approach: creating a simple yet functional design with the highest quality materials at a reasonable price.
Cotton briefs feel good out of the dryer but sag as the day wears on. After dozens of trials and iterations, they created the most comfortable boxer brief, where function trumped fashion but they do look great. The briefs use a luxurious plant-derived fabric called Modal, a semi-synthetic fabric made from beech tree pulp, which is not only an alternative to cotton that uses 10 to 20 times less water during production, but is also over three times softer and more comfortable, while still maintaining its shape throughout the day and in the laundry.
These entrepreneurs built their boxer brief with a mansack to create comfort … feeling like you are going commando, yet still supported.
"We are best friends that share the same passion. We treat our business like our child and want the best for it. We are having tons of fun building this business and would not trade it for the world."
During their product-development process they took great pride in their product, from conceptualization to production and everything in between, ensuring all aspects of the product are up to the high-quality standards that they insist on.
Sticking to online sales and one simple design allowed them to discover it is not just about making underwear — or socks, which Manmade recently added to its collection. The brand is on a mission to educate men about wellness. There is a lack of awareness around men's self-care, too. Through their blog, The Gentlemen's Club, and active social media pages, the team is making men understand why they are wearing what they are wearing and what it does for them.
Another tenet of the Manmade philosophy is "No body shaming." Most of the models that Manmade features are not the sort you would find with other brands. If they pick three models, they use three different body types. Manmade garments are made for all shapes and sizes.
These entrepreneurs were also able to secure an in-person audition for Dragons' Den, which the team calls its "TSN turning point." The team was working to bring Manmade to a level where they were known nationally. The men went all out with their pitch, stripping down to their boxers to present their line of clothing essentials. This "exposure" led to a doubling of sales. Their attention to customer care, which includes emails, calls, all orders shipped out within 24 hours and a handwritten thank-you card with every order, has created a loyal fan base and repeat customers.
Their fun approach of employing social media to showcase their journey and of directly, personally talking to their audience are some of the many ways this fast-growing brand sets itself apart. They believe that underwear is part of self- care and should feel good, and they have dedicated themselves to supporting men and the community. Manmade is the "guy brand" that men deserve … and makes the quality essentials men need.
www.manmadebrand.com
@manmade.official
INTERVIEW BY MARC CASTALDO