The 2016 Dodge Charger SRT 392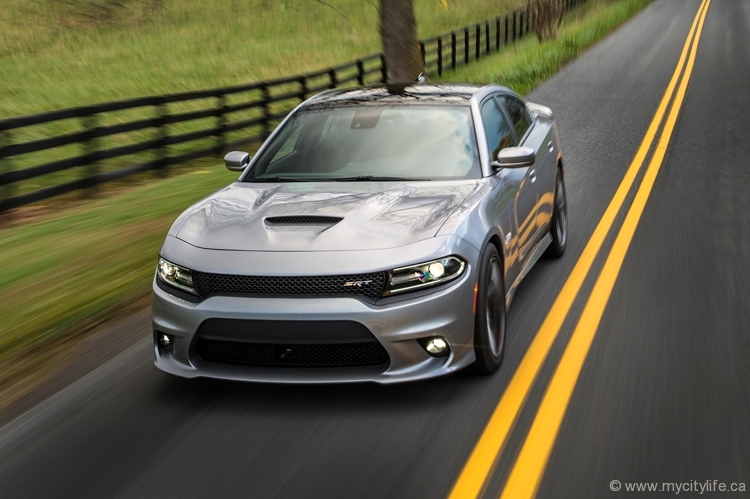 Combining svelte style with serious strength, this family-friendly sports car is as powerful as it is playful.
When describing the Charger SRT 392, Dodge has said, "Whether enjoying a play day at the track, or taking the kids across town for a play date, the Dodge Charger SRT® 392 has the power to get the job done and make every drive equally rewarding." With a bold statement like that, clearly Dodge is targeting a demographic that was in need of something all their own: the cool parent.
So, what makes the 2016 Charger SRT 392 perfect for cool parents? Let's start with the fact that it's powered by a 392-cubic-inch, 6.4-Litre HEMI V-8 engine, boasting 485 horsepower and 472 lb.-ft. of torque, which gives you an adrenaline rush the moment you push start. The Charger's engine revs so loud that onlookers will feel the vibration. Its newly redesigned front fascia, hood, rear fascia and spoiler have fashioned a head-turning sports car. The front splitter not only optimizes airflow to the cooling modules without compromising vehicle balance, but it also gives the impression the car will eat anything that gets in its way on the road. The rear fascia and diffuser showcase the four-inch round exhaust tips, making it look intimidating, even from behind. Dodge also added a new colour option to the 2016 model — so if you're a fan of deep purple, pick Plum Crazy Pearl.
Dodge made a lot of changes to the SRT 392 this year that they didn't offer in 2015. The 2016 model comes with first-class technology to ensure hands-free features and safe driving at all times. It has navigation and five free years of SiriusXM Traffic and Travel Link service. The UConnect 8.4 infotainment system adds drag-and-drop customization, along with Siri Eyes Free compatibility so that you can dictate any phone activity and your eyes stay completely focused on the road. If you're in a bind, the owner's manual can be accessed through the touchscreen display in a convenient and timely manner. If you have kids in the car, these technology features will keep you focused on what's important: the road.
If you are a parent with flair or just enjoy a powerful car, the growling 2016 Charger SRT 392 is what you'll want to be seen — or heard — driving
You can feel safe driving around your precious cargo thanks to the Brembo® ultra high-performance brake package, which gives repeated stopping power. There are 15.4-inch rotors in the front, giving the Charger SRT 392 the largest front brake package ever on a Chrysler Group vehicle. The two-piece rotors with six-piston calipers are vented and fitted for extra performance. The back has 13.8-inch rotors with four-piston calipers which are also vented and fitted. If you are a parent with flair or just enjoy a powerful car, the growling 2016 Charger SRT 392 is what you'll want to be seen — or heard — driving. It's perfect for an adult play day when the kids are off at a play date.