Jeep Wrangler Willys Wheeler Edition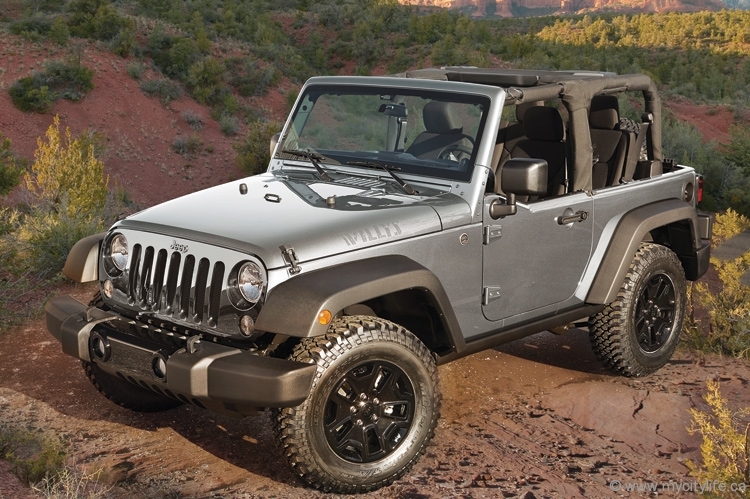 Jeep's classic Willys Wheeler trim adds an air of nostalgia and improved capability to its off-roading king.
Jeep's history is rooted in the ubiquitous Second World War-era U.S. army utility vehicle, the Willys MB. While today's Jeep drivers have traded in hostile enemy territory for muddy off-road trails and daily commutes, the American automaker hasn't forgotten this military past. It's with the limited-edition Wrangler Willys Wheeler model that Jeep salutes its all-terrain heritage.
What you get with the Willys Wheeler is the unmistakable exterior of this iconic four-by-four enhanced by subtle cosmetic details and improved off-road capability. Esthetically, it's branded with satin-black Willys decals on the hood and tailgate, and its grille, its 17-inch wheels and its Jeep branding all get the combat-ready, blacked-out treatment for an understated but unique look.
Under the hood you'll find the tried-and-true 3.6-Litre Pentastar V-6 that you do on all other Wranglers, with its more-than-capable 285 horsepower and 265 lb-ft of torque being controlled by either a 6-speed manual or 5-speed automatic. But the Willys Wheeler ups the ante over the standard Sport model with serious off-roading upgrades. A Dana 44 rear axle adds a 3.73 ratio and limited slip capability, while performance shocks and rugged BFGoodrich off-road tires (plus a matching full-size spare) make it better equipped for rough terrain, and rock rails offer greater protection.
Owners of the Willys Wheeler also get heavy-duty Mopar slush mats to handle the mud and snow, and they're welcomed to the Jeep family with a Jeep Trail Rated Kit that includes a tow strap, D-rings, heavy-duty gloves and a Jeep-branded bag.
When you combine all these enhancements with the Wrangler's already powerful Command-Trac 4WD system, electronic stability control with hill start assist, traction control, electronic roll mitigation, Trac-Lok differential and hooks (two up front, one in the rear), you have a vehicle that earns its "best-in-class off-road performance."
And that's what driving a Wrangler is all about. While so many other companies have succumbed to the siren's call of aerodynamics, which has helped shape so many vehicles into sameness, the Wrangler has resisted. Jeep could have redesigned their lauded off-roader to match the times, making its square body sleeker and it faster and more fuel-efficient. But no one buys a Jeep for those reasons. You buy a Jeep because you want a Jeep — the abilities it offers, the statement it makes.
Jeep drivers want to pop off the hood and unhook the doors for that perfect summer cruiser. They want a reliable off-roader that can rip through the bush with confidence, an SUV that doesn't quiver at the sight of thick mud or murky water with an unknown depth. Sure, on the road the steering might feel too loose, and it certainly doesn't cut through the wind. But it's those qualities that make it so great in the dirt, mud and snow. It's a vehicle you can trust in the most daunting conditions.
The Wrangler has always made drivers feel like they're part of something special and unique, hence the famous Jeep two-finger wave. It's a vehicle that affords the confidence to go anywhere and do anything, and that's what its drivers have always loved. And with the Willys trim, you can pay homage to where that all came from.
---
General Specs
Engine: 3.6-Litre Pentastar V-6
Horsepower: 285
Torque: 260 lb-ft
Transmission: 6-speed manual
or 5-speed automatic
Starting at $33,845