Genesis G70 – Introducing the 2020 Lineup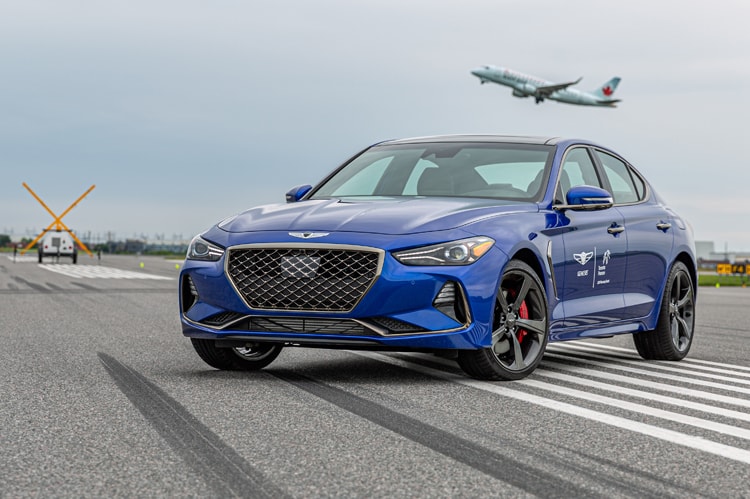 Genesis announces new features to the esteemed G70 at Toronto Pearson International Airport.
What happens when you take the luxury of a Bentley mixed with the sportiness of a Maserati? You get the incredible compact luxury sport sedan — the Genesis G70.
The company just announced the all-new advancements for the 2020 vehicle lineup, including wheel designs and upgrades, as well as higher performance engine options.
Speaking of wheel upgrades, the new G70 will feature 19-inch wheels for all-season usage, while revamping the previous graphite pantone 18-inch base with a silver coat. In previous editions, the 19-inch wheel was only used during the warm summer months, but now the vehicle sports the larger bases, creating an opulent component.
Brand-loyal customers will also be pleased, as Genesis has announced the vehicle's new 3.3T Prestige version of the G70. This variant gladly marries the twin-turbocharged 3.3-Litre V-6 engine and the 3.3T Sport edition, creating a luxurious sport car. This new edition will contain a napa leather interior that customers can enjoy, choosing from five colour options.
For those wanting even more options and power, the G70 is available in two different powertrains, including a 2-L turbocharged I4. This variant features a four-cylinder engine, 252-horsepower and a strong torque of 260 pounds per foot.
---
2020 Genesis G70 Powertrain Options
G70 2.0T Advanced: eight-speed automatic transmission
G70 2.0T Sport: six-speed manual transmission
G70 2.0T Elite: eight-speed automatic transmission
G70 2.0T Prestige: eight-speed automatic transmission
G70 3.3T Prestige: eight-speed automatic transmission
G70 3.3T Sport: eight-speed automatic transmission
---
The second option is the 3.3-L twin-turbocharged V-6 boasting 365-hp and 376 pounds per foot of torque. This variant creates an advanced power-to-weight ratio and tops out at a top speed of 270 kilometres per hour (168 miles per hour), controlled by an all- wheel-drive, eight-speed automatic transmission.
Both guarantee the classy and sporty Genesis driving experience.
The 2020 Genesis G70 starts at a low $42,000 and comes with the renowned Genesis at Home Concierge Service. This service is specific to Genesis customers, as it comes with complimentary scheduled maintenance, Genesis Connected Services, map and digital updates and more.
To learn more about Genesis and the 2020 G70, visit the company's website at www.Genesis.com