Furnishing Dreams For 50 Years – Stoney Creek Furniture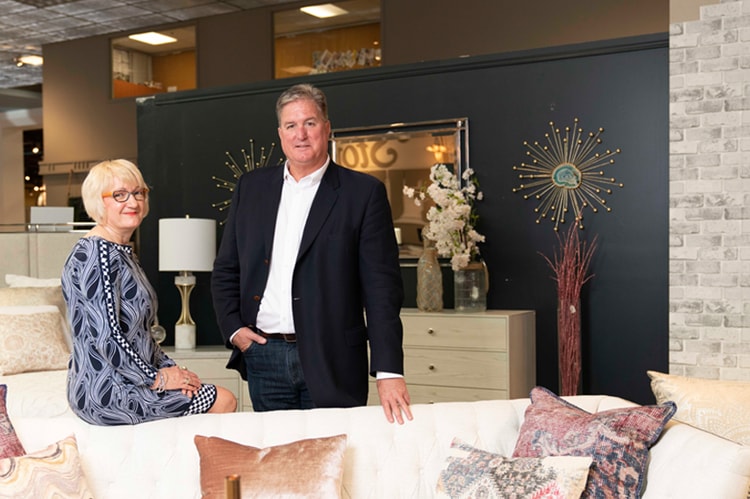 The personable staff, innovative room stylings and commitment to community are the keys to Stoney Creek Furniture's successful customer relationships.
As Stoney Creek Furniture celebrates its 50th anniversary, president Jim Fee credits his staff as being the key differentiator. "The experience of shopping at a family-owned, family-run business, versus a big box, comes down to the people working there," says Fee. "A significant amount of Stoney Creek Furniture's staff have been with the company anywhere between 10 to 30 years, a fact that has been instrumental in creating the commitment, family feel and enthusiasm that exists at both the Stoney Creek, Ont., and Vaughan, Ont., locations. People coming into the store sense a different vibe here. Because we are not commission-based, customers feel comfortable browsing in our relaxed environment."
The values established when Fee's friend and business partner, Dennis Novosel, founded the Stoney Creek company in 1969 — i.e., a forward-looking vision with a focus on learning, key industry associations and a neighbour-centric commitment to community, which includes supporting local sports teams, along with charity fundraisers — continues to be intrinsic to the company's core mission. "We are always trying to create excitement in the store and to give back," Fee says.
Highly popular is Stoney Creek Furniture's free design consultations, which assist customers with envisioning, creating and curating their dreams, room by room. "The takeaway for customers is that they can envision what they want and feel at ease about their choices," Fee says. "I love when people come through our stores and say, 'Wow, that's really cool.' People look at furniture as a commodity and don't give it credit for its ability to enhance their lives. But having a great chair to relax in after coming home from a hard day at work, or a nice sectional that the family watches a movie on, basically having an environment that de-stresses you after a long day has immeasurable value. When a person is ready to make a decision, we are there to help guide their dreams. Equally important is our backend delivery team, which is second-to-none; it is a team that consistently garners rave reviews."
"We are committed to ensuring that the customer is fully happy with the end result"
Stoney Creek Furniture cares about its customers and about getting things right. It is a philosophy that extends from the time customers enter the stores right through the purchase process, and to the end delivery and set-up. "We are committed to ensuring that the customer is fully happy with the end result," Fee says. "That is why and how we have been in business for 50 years, with a customer base that encompasses the GTA, extends east to the Niagara area, Brantford and Kitchener, over to Lake Erie and north to cottage country. It is absolutely worth the drive to visit our stores in Stoney Creek and Vaughan. And remember, our Stoney Creek location is close to the wine region, so you can make a day of it and go for a wine tour and lunch."
Sign up for special offers and exciting new designer updates at www.stoneycreekfurniture.com
---
Stoney Creek Furniture
7979 Weston Rd., Vaughan, Ont.
395 Lewis Rd., Stoney Creek, Ont.
1-800-263-8575
FB: @StoneyCreekFurniture
IG: @stoneycreekfurniture1969