Rocco Naccarato – Protecting What Matters Most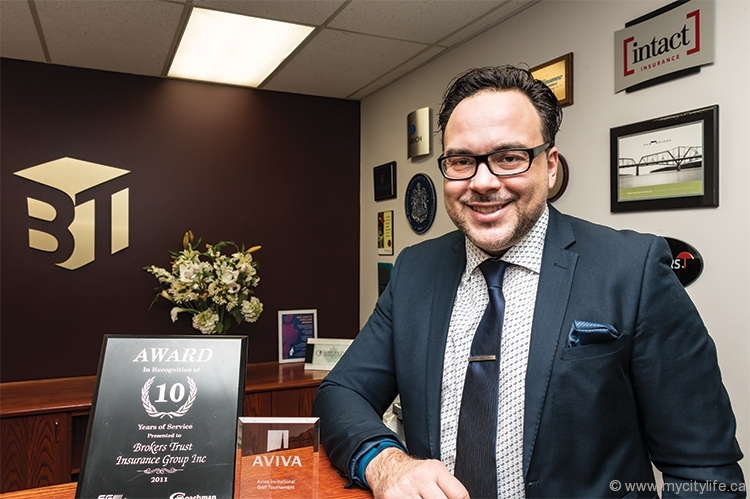 Insurance broker Rocco Naccarato delivers personalized service and comprehensive coverage for the important things in life, including weddings.
Rocco Naccarato wants to help you protect what matters most. For the past five years, the Vaughan-based insurance broker has guided clients toward the best possible coverage for safeguarding their home, auto and commercial investments. But what sets Naccarato apart is the one thing his customers appreciate over everything else: personal service.
"I'm there for my clients," says Naccarato, an associate broker at Brokers Trust Insurance Group. "Whether it's a flat tire, a traffic ticket or any emergency, you can call me and I'll be there. I treat my clients like family."
For a proud husband and father like Naccarato, a man you regularly find in a church pew on Sunday mornings, looking after his family is the No. 1 priority. He brings this compassion to every relationship he builds, and it's a back-to-basics level of service that you just can't get from a website or over the phone.
The casual, no-pressure experience of working with Naccarato doesn't end after signing on the dotted line, either. "If something comes up with your policy, an increase in price or certain coverage is removed, I'll remarket to ensure you get the right coverage for your lifestyle," he says.
"Whether it's home, auto or your wedding, I'm here to help"
-Rocco Naccarato
Rosalie Girgenti of LEX Reporting Services Corp. turned to Naccarato after problems with her last insurance company, and she wasn't disappointed. "I've switched my car, home and business insurance all over to Rocco Naccarato. His trusted advice, personal service and above-and-beyond commitment to his business definitely shows," she says.
"I'm thankful of Brokers Trust for the opportunity and on-going support," says Naccarato. "I'm also thankful of Mario Piccone from Piccone Coaching. He provided me with the tools to be successful and to be grateful for my life and family."
While things like home and auto are the obvious aspects of life that need coverage, Naccarato is expanding service into the hospitality industry to protect things like catering and events. And of course, that means protecting the most important event of people's lives: weddings.
Naccarato's personalized Wedding Essentials service covers everything from gowns and suits to rented properties to dinner receptions to cancellation expenses to gifts and even honeymoons. "Everything except cold feet," Naccarato quips. But the biggest factor of this coverage is the liquor liability. If someone becomes intoxicated, drives and causes a fatal car collision the bride and groom can be held at fault and, consequently, sued.
"Wedding Essentials provides peace of mind that if anything does happen, you will be taken care of," Naccarato explains. "If you have coverage for your home, vehicle and business, it makes sense to take care of your wedding, especially considering all the time and money you've invested in it."
Naccarato's work goes beyond insurance too. "I'm very focused on giving back to parents that need help," he explains. After witnessing first-hand the amazing care and support his family received when his daughter spent time at SickKids, he's become an avid supporter of the hospital, raising money and also donating his time through volunteer work.
"I know what it's like to have others there for you in a time of need. That's why my goal is to help you protect what matters most," Naccarato concludes. "Whether it's home, auto or your wedding, I'm here to help."
2780 Hwy. 7, Suite 201, Concord, Ont.
905-760-1515 x 225 / 647-669-7578
www.rocconaccarato.com