Jim Anagnostopoulos: Following His Instinct To Help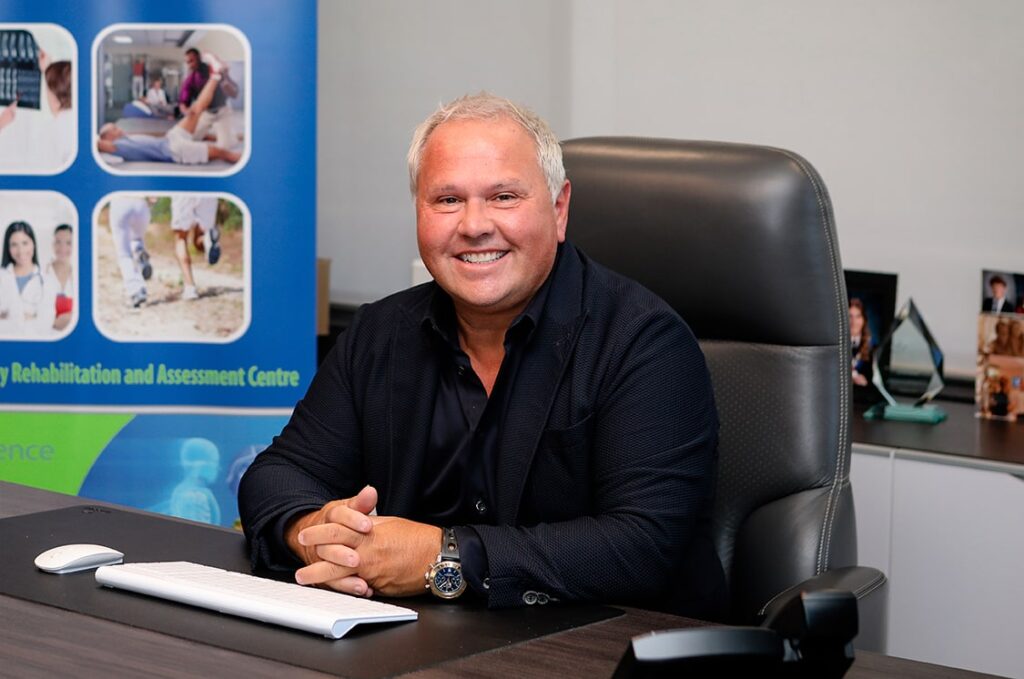 The clinical director, president and CEO of Access Rehab discusses his route to the founding of the clinic, its new location and why education is as important as treatment.
The seed that led Jim Anagnostopoulos to found Access Rehab was planted early. His parents, who immigrated to Canada from Greece when they were in their mid-30s, raised Anagnostopoulos as an only child. "When I was in my teens, my dad was already in his 50s. Both my parents worked hard to create a new life in Canada. While my upbringing was different than most of my friends, I'm grateful for the values they taught me."
But as they grew older and began to struggle with chronic illness, Anagnostopoulos was faced with the challenge of becoming a caregiver, learning to navigate the healthcare system to help his parents access the care they needed. "It wasn't an easy road. I had to be resourceful when it came to finding treatments and care for them."
So, he completed a degree at the University of Toronto in Kinesiology, the study of movement, and started working in treatment centres, learning about the business and building a resource library of where people can turn to for help. This was the foundation for creating Access Rehab.
"I took everything I experienced with my parents, combined with my education and training with rehabilitation clinics, and created a solution that I wished was available for me."

Jim Anagnostopoulos
That vision is one that offers a personalized approach to recovery, bringing together state-of-the-art technology and physiotherapists, chiropractors, osteopaths and massage experts to guarantee the best-in-class care. The clinic also provides specialty treatments like pelvic floor physiotherapy, vestibular rehab and chiropody and diabetic foot care.
"We don't hire just anybody," Anagnostopoulos continues. "We hire the right people. I make sure all my healthcare providers prioritize recovery and care above all else. My commitment is to provide the best possible care to help people access what they need to make full recoveries and return back to the activities they love most."
Education is also a vital part of the centre's mission, and a lot of time is spent with patients explaining the ins and outs of their recovery program. Anagnostopoulos emphasizes that Access Rehab isn't just a place to treat injury but a continuously growing resource that invests in new technologies and treatments. "I am constantly researching and providing my therapists and clients with new tools and treatments," he says.
Anagnostopoulos is someone who has dedicated his life to helping people recover, but that reaches far beyond his vision at Access Rehab. Every two years, he goes to schools to speak on the importance of wearing safety helmets, collaborating with the Toronto Police Service and law firms to give away 300 helmets to students. He also supports Autism Canada, Vaughan Food Bank, Canadian Spinal Research Organization and, most recently, Million Dollar Smiles, a non-profit organization that provides accessible playground equipment to children with disabilities.
It's an indication of his passion for helping others and all comes together at Access Rehab. At the beginning of the year, Access Rehab moved its clinic to Vaughan, into the newly built York Major Medical Centre, to take its commitment to recovery to the next level. "I'm proud to be a Vaughan resident, and being able to collaborate with even more medical specialists allows me to expand my reach and provide our community with access to the very best in health and rehabilitation services."
191 McNaughton Rd. East, Suite 303, Vaughan, Ont.
416-987-8092
www.accessrehab.ca
@accessrehab.ca