Cerilli Hair Salon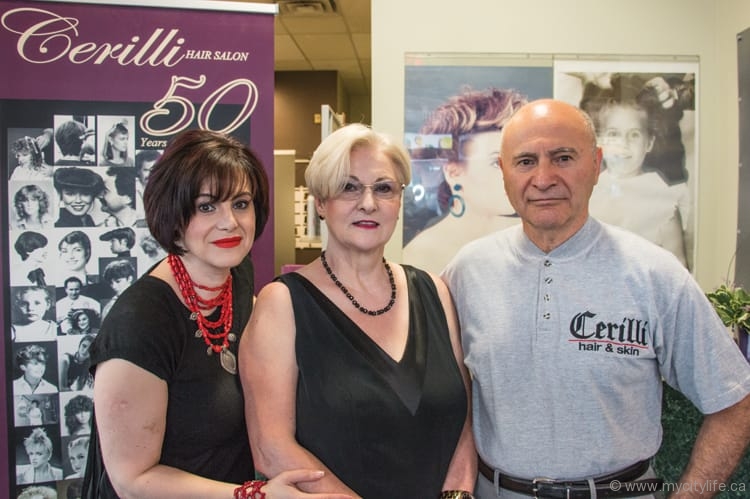 Cerilli Hair Salon owner Loredana Cerilli knows the importance of a thorough client consultation. She listens closely to her customers' desires and always asks how they liked their latest style and colour.
"It's about building rapport and ensuring that clients are 100 per cent satisfied," says Loredana, a second-generation hairstylist with over 25 years of experience. "You're not going to get that unless you ask the right questions."
For more than 50 years, Cerilli Hair Salon has combined this customer-first attitude with expert knowledge to fulfil the hairstyling needs of clientele across Canada. It's made Cerilli, which was founded by Loredana's parents, Maria and Tony, the go-to salon for customers looking for unrivalled service from caring professionals who can tackle any request.
"As specialists in our field, there isn't a cut, colour job or repair we can't do," explains Loredana, who also holds a degree in trichology, the study of hair and scalp disorders, and provides specialized scalp treatments as well as wig and hairpiece fittings.
A key to Cerilli's success is continuous education. Loredana and her qualified team regularly travel the world to stay on top of emerging trends and techniques, and Maria and Tony also use their decades of experience to mentor new stylists.
With this depth of knowledge, it's no wonder that Cerilli won the Top Choice Awards for Top Hair Salon in 2012 and 2013, and the 2014 Readers' Choice Award for Top Hair Salon and Loredana for Top Hair Stylist in Richmond Hill.
"We're equipped with the knowledge and tools to complete any challenge," says Loredana. "We take what we do very seriously, and that's what sets us apart."
www.cerillisalon.com
10520 Yonge St., Richmond Hill, Ont.
905-508-9400