Cannoli Queens – Vaughan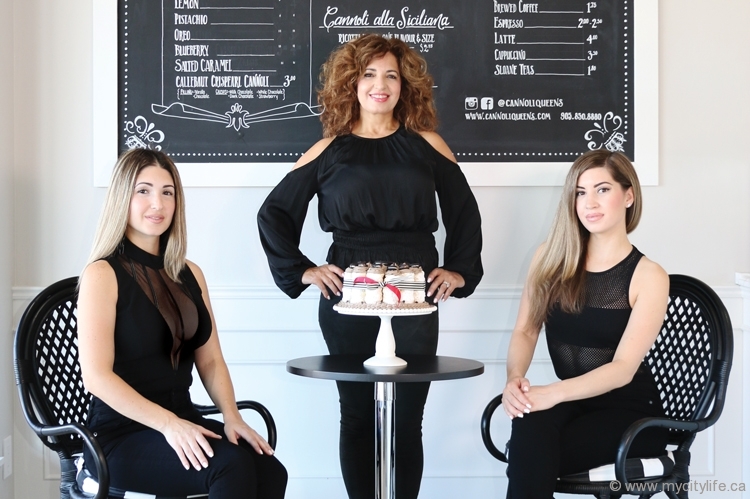 All hail the Cannoli Queens! Silvana Mior and her daughters Bianca and Giulia took everyone's favourite dessert and, with a lot of love and imagination, made it even better.
Freshly piped cannoli, classic Italian pastries and signature cannoli cakes are all scrawled on the handwritten chalkboard menu at the intimate Cannoli Queens in Vaughan. The boutique bakeshop looks much like those found on small Parisian side streets, but the menu is undeniably filled with Italian flair.
For Silvana Mior, this bakery is a long-awaited dream come true. An endeavour of her daughters, Bianca and Giulia, Cannoli Queens has found much success after their humble beginnings. When their business started two years ago, the three found themselves supplying wholesale to grocery stores from their home. Within six months, the business had grown exponentially, and within a year, Cannoli Queens had found a storefront home in the heart of Vaughan.
Today, the vibrant storefront is as charmed and as scrumptious as its sweet wares, and the three entrepreneurs have come to develop relationships with regular customers while welcoming newcomers on a daily basis. Everyone in Vaughan and beyond wants a taste of the Cannoli Queens' recipe, which was perfected by Silvana, Bianca and Giulia through lots of hard work, love and inventiveness.
"It started off with just a vanilla cannoli. Everyone loved them. I used to make them for family functions, friends. Everyone would go crazy over them," Bianca says.
"It's so different. I've never had a cannoli that's tasted like this. I don't think anyone else has either, so we started a business."
From Double Chocolate Mousse, Nutella and Cinnamon Cream Puff to Oreo, Blueberry and Salted Caramel, the mother-daughters team has introduced a total of 18 flavours to date and plan to continue churning out fresh flavours whenever they're so inspired. They have even introduced a line of seasonal flavours like Pumpkin Spice for the fall and Candy Cane and Gingerbread for the winter months. And no Cannoli Queens treat is complete without an espresso-based elixir or a tea from Toronto's own Sloane Tea. Their imaginative Carousel Cake has also become famous in Vaughan's celebration scene, drawing the eyes and luring the tastebuds of everyone planning a wedding, a shower, a birthday — or, well, just a smashing dessert.
The intimate, family-oriented vibe that comes from the Cannoli Queens team is like the silk bow topping their gift to Vaughan's culinary landscape: their delectable menu is made all the sweeter by their passion and hard-earned expertise in the kitchen.
As these new royals continue to up the cannoli game in the GTA, they show no signs of slowing down.
200 Marycroft Ave., Unit 23, Vaughan, Ont.
905-850-8880
photo by Carlos A. Pinto