Sam Mizrahi – The Developer Behind The One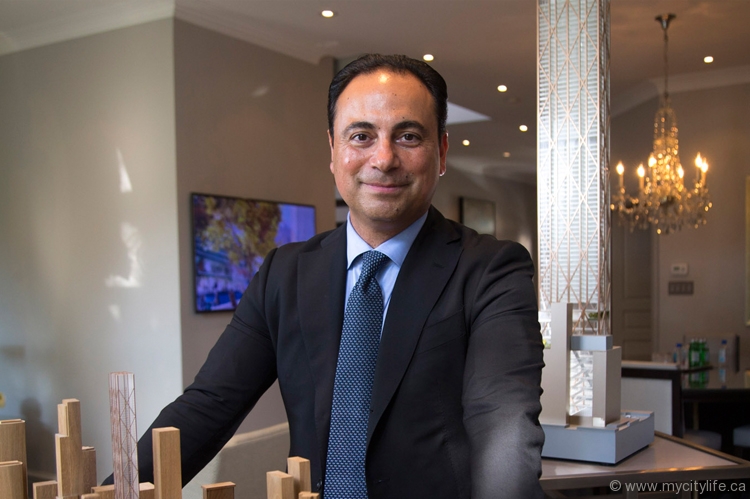 Anyone who lives in the Greater Toronto Area has witnessed the stunning growth in the downtown core of the city, now North America's fourth largest metropolis. Toronto is a global hub and the core has become a beautiful forest of interesting and varied towers, many imagined with creativity in their design and architecture. The pace of growth is fast, with more towers under development than anywhere else in North America. Some might think of it as 'crane-city' right now.
Toronto will always be iconic landmarks – the CN Tower, the shining gold headquarters of Royal Bank Plaza, and the Ludwig Mies van der Rohe design of Toronto Dominion Centre. But, in the next five years, new structures will take their place in the admired skyline.
The growth is being called the "Manhattanization" of the city. The ambition and scale of some of the new skyscraper projects deserves this characterization because this is the evolution of Toronto into an international city with a museum-like collection of architectural gems. Three of the 10 new skyscrapers under development have been labeled "supertall" buildings, a term associated with skyscrapers that are 300 metres or higher.
The surge in Toronto's growth has inspired some visionary developers who want to contribute meaningfully to the beauty and integrity of the city.
One of them is Sam Mizrahi, an entrepreneur and business leader who spent most of his childhood in Toronto. From an early age, he began building a real estate career with a vision that was different from others. He believes in game-changing developments that anticipate the needs of home-owners and the growth of the city, offering innovative design and architecture. In a world that is often governed by fast, short-term profit, Mizrahi aims to build timeless architecture created with craftsmanship and an attention to detail that hail from a lost era.
Sam Mizrahi, founder and principal of Mizrahi Developments, is a natural leader, having identified and acted upon business opportunities from the time he was a teenager. Growing up in the York Mills and Bayview neighborhoods, Mizrahi founded his first company at the age of 18. The company sold and distributed blank audio and video cassettes to businesses in Toronto and Montreal and eventually reached $18 million in revenue before Mizrahi sold it.
In the early 90s, Mizrahi began another visionary company that would meet a need in the luxury marketplace and also become a success: Dove Cleaners. In a theme that would occur again when he moved into real estate development, Mizrahi explored, intuited and researched the desires and needs of a high-end clientele, offering them a service and product they didn't know they wanted until he articulated and created them.
He started Dove Cleaners in 1992 in Los Angeles, later moving the successful company to Toronto in 1994. Over the next five years, he built Dove into a business with 100 retail locations and a large, state-of-the-art processing plant. In a forward-thinking decision, one that would set him apart from the competition and set him on a course for his career as a real estate developer, he acquired the ISO 9001 certification, a rigorous process management system that requires continual third-party audits to help guarantee customer satisfaction and superior quality.
Prior to his entrepreneurial initiative with Dove, Mizrahi was exploring real estate opportunities as he searched for overlooked sites with the possibility of zoning changes in the Richmond Hill and Oakridges areas on the periphery of Toronto. From an early age, he made shrewd and lucrative decisions that telegraphed his ability to identity opportunities others passed on. In 2007, Mizrahi returned to real estate development on a full-time basis. In the following nine years, he helped redefine luxury urban living in Toronto with the introduction of a number of successful luxury condominiums, including the Yorkville boutique projects at 181 Davenport and 133 Hazelton, both of which sold out before ground was broken, establishing new sales records in one of the most competitive luxury marketplaces in North America.
Sam Mizrahi's career has now reached a new height as he takes his experience in zoning, heritage neighbourhoods, community relations, architectural knowledge and quality construction to realize new ambitions.
Two years ago, in 2014, Mizrahi announced his acquisition of property at the south west corner of Bloor Street and Yonge Street in the midtown heart of the city, a site that is integral to the identity and history of Toronto and which hadn't changed hands in almost 100 years. Known as The One, the envisioned building will be an 80 storey, mixed-use high-rise located at the busiest intersection in Canada with underground access to the north-south and east-west subways lines.
The One is expected to be the first of the new downtown skyscrapers to break ground. Foster + Partners, one of the most innovative architectural firms in the world has designed an exoskeleton structure for the 8-storey retail podium that allows for interiors that are free of obstructing pillars and benefit from maximum sunlight. Flagship stores for some of the world's leading brands will be located here, cementing the reputation of Bloor Street as one of the great shopping avenues, similar to Fifth Avenue in New York and Bond Street in London, England.
With expert planning and collaboration with some of the city's key constituents in the local community, independent oversight boards of architects and designers and municipal government, The One has recently achieved planning approval.
Mizrahi is delighted to have the opportunity to contribute to the growing importance of Toronto and to the civic experience for people who live here. The One will have beautiful public spaces and will be encircled by wider sidewalks to enhance the pedestrian experience.
"I firmly believe this is what Toronto and downtown Toronto needs," Sam Mizrahi says. "We're an international, deeply multicultural city, similar to London, New York City and Chicago. Toronto should have buildings that have the same kind of ambition and generate the same sense of awe and excitement as found in those cities."
Sam is driven by the imperative to give back, to make a difference and imagine a neighbourhood that is inclusive and dynamic for all people.
"When we design our constructions, I want them to be supremely comfortable to live in. At the same time, I want to introduce buildings that are classically designed and of the highest construction quality," Mizrahi explains.
In addition to focusing on classic, timeless design, Mizrahi sees his work as a developer as offering services and amenities that enhance the quality and convenience of life for residents. One of the most significant features of his projects is the ability for homeowners to custom-design with maximum flexibility the interiors of their homes. Mizrahi understands that a home is a reflection of the owner, a sanctuary that should be designed to restore calm and health. He ensures that the structural engineering of his projects allows owners great freedom in thinking about where their kitchen, bathrooms and other features of their home should be situated. The homeowner doesn't have to follow the plumbing or other technical underpinnings of other suites in the building.
The attention to graceful living extends to the exteriors of his projects as well. Thoughtful architectural features and choice of cladding, such a pale, beautiful limestone, are all part of the design process. Landscaping at his projects, including the new 128 Hazelton and 1451 Wellington in Ottawa, offer green spaces that are as important to the overall project as their interiors.
"Landscapes really are central to how a building embraces its community and how it can enhance a neighborhood's feel and look," Sam Mizrahi says. "It isn't all about the brick and concrete. It's also about how you design the natural elements outside the building, the greenery, and how you provide residents convenient access to enjoy the outdoors. That's so incredibly important."
Sam Mizrahi looks forward to future projects that will contribute to the exciting evolution of our country's important cities, helping to enhance the urban experience for local citizens and gain acclaim and attention from a global audience interested in the vitality of the growing Canadian economy and influence.