Plan Your Dream Wedding – Jessica Mulroney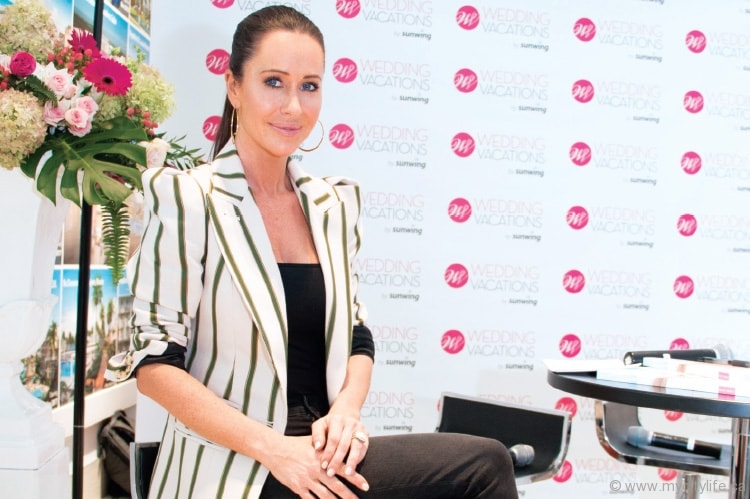 Jessica Mulroney is a Canadian fashion stylist who specializes in all things bridal. City Life had the pleasure of speaking to Mulroney at the Sunwing Yorkdale CONCEPT store about planning your dream wedding in 2018.
Let's talk bridal trends for 2018.
The first thing I learned working with Sunwing and wedding vacations is you don't have to compromise on style with destination weddings. For instance, a lot of people believe that if you have a destination wedding it's going to be rustic, like a tiki bar and straw tables on the beach, but it's certainly not like that. Destination weddings are comparable to some of the most beautiful city weddings I've ever seen. So really, when it comes to trends, anything that's trending in general for weddings is trending in destination [weddings]. The one thing that you can see that's different is florals, because there are certain florals that are better for destination [weddings]. Right now we are seeing a lot of greenery, a lot of plants, a lot of succulents for tables. But when it comes to style, you don't have to compromise just because it's on a beach. Normally your reception will be in an air-conditioned area, or if it is outside it won't be on the sand, so you really can wear whatever your dream dress is.
Do you think budget really plays into finding your dream dress?
I don't anymore; I think once upon a time when I got married there really wasn't the choice out there. Now every designer has a bridal line, from very moderate pricing to couture, and because bridal trends are so quick now, people can see them instantly during bridal fashion week. Designers are able to turn out the most trendy, fashionable gowns right away at every price point, just like regular fashion, so really you can find your dream look at any price point. It's insta-fashion.
What is unique about a Sunwing destination wedding?
I have been working with Sunwing and wedding vacations for three years, and I have to say it's the team in Toronto and the wedding planners in different locations. I've been to countless different countries and resorts, and I've met so many of the wedding planners at each and I've had the chance to actually witness so many of their weddings. I've been able to speak to so many of the brides, I've been able to speak to the parents of the brides, I've been able to speak to the guests, and one comment I always hear is that they can't believe how well-organized and how easy the weddings have been. And it truly is a testament to the teams. The wedding vacation team here and the planners that are abroad, they're amazing.
"You can find your dream look at any price point. It's insta-fashion"
About weddingvacations.com, why is that such a useful resource?
Because you can find everything! Anything from trend inspiration to gown inspiration, a lot of the photo shoots that we do — we shoot tons of celebrity brides in all different locations. Whatever you need to know about prices, about resorts, what kind of resorts are available, whether they're family-friendly or not, whether they have a spa — everything you need to know about every single type of wedding, how you can organize the wedding, seeing pictures of weddings in those destinations, it's all there for you, so if you are planning a destination wedding, if you go onto the website, there's nothing you won't find.
What is the most important factor a couple should consider when deciding between having a destination wedding and having their wedding in the country they live in?
Cost is definitely something; it actually can be less expensive to do a destination wedding than a city wedding depending on what you want to do. I think you have to decide what exactly you want to do. I think a destination wedding is usually a great direction to go in. It's like having an extended vacation with your friends and family, so whether it's three days, four days, a week, you really have a chance to connect with your family and friends and truly celebrate your wedding as if it's a week long, [or] three days long. Sometimes when you only have one wedding day, what happens is you barely get a chance to see your friends and your family, you're kind of just like "hi, hi, hi, hi, hi" — you don't get a true moment to enjoy each other, so on a destination wedding you really have that time to relax, enjoy, spend time on the beach. It's just a bit of a different, more relaxed atmosphere than you would have at a wedding in the city.
What would be your biggest tip for couples who want to break the news that they're having a destination wedding that maybe not everybody can attend?
Well, if they can't attend I think the nice thing to do if you are having a destination wedding is to not have an expectation that everybody can come. But if you do have a lot of people that have kids maybe make sure you choose a family-friendly resort, and if some people can't come, it's not a big deal. Make sure they're included in other parties like your bridal shower, your bachelorette, make them feel included if they can't make the vacation happen, although, within wedding vacations there are so many price points that there's definitely a destination wedding that's affordable for most people to go on.
What would be in your bridal survival kit if you were having a destination beach wedding?
I like those MAC sweat sheets, lip gloss at all times, the really good powder sunscreen that's out now (so you don't have to worry about getting your dress or your clothes all mucky), anti-humidity sprays for your hair, and always have the regular things an emergency kit would have: a sewing kit, safety pins, any of that stuff is really good … and a pair of flip-flops.