Villa Charities: The Italian Community Hub Celebrates Its 50th Anniversary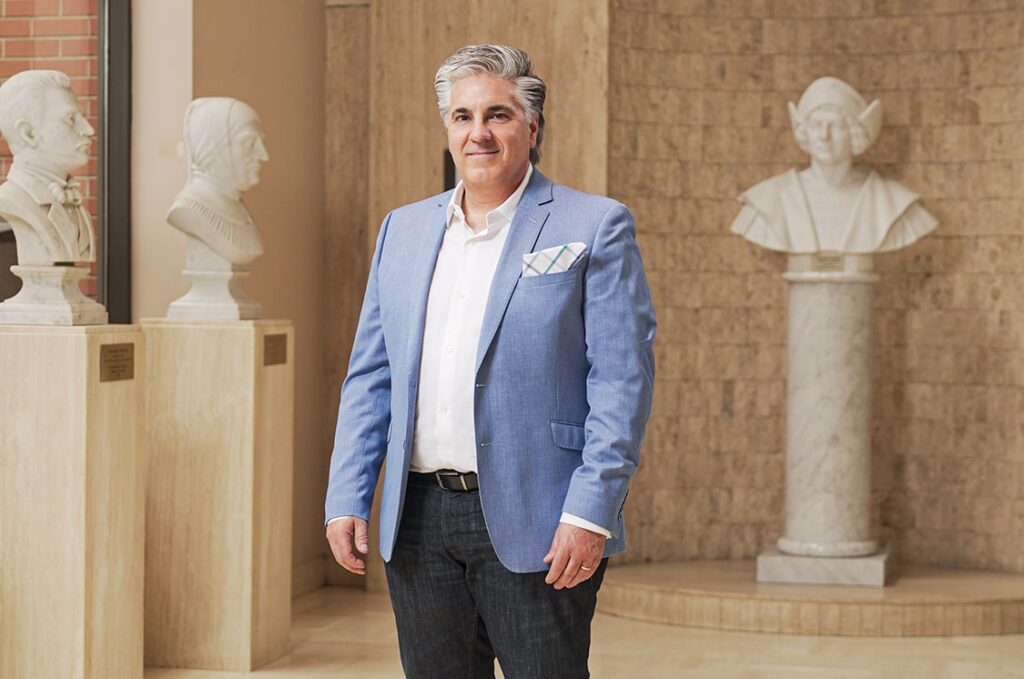 Acting president and CEO of Villa Charities Marco DeVuono shares his connection to the community hub with a vision of inspiring people to explore the Italian in all of us.
Illuminated with green, white and red lights on April 15, 2021, the CN Tower, a building that defines Toronto's skyline, was lit in commemoration of Villa Charities's 50th anniversary, signifying the organization's importance as a pillar for the Greater Toronto Area's Italian- Canadian community.
For many, the symbolism behind the colours that mark the Italian flag represents more than just exceptional food staples, such as spaghetti bolognese, exotic cars, high-fashion ateliers or its boot-shaped geography. Rather, it symbolizes a deep-rooted appreciation for history, family and tradition.
For Marco DeVuono, acting president and CEO of Villa Charities Inc., the light show commemoration was not lost on him, nor was the impact it had on the Italian-Canadian community. "This Toronto beacon, when it was lit up in the Italian colours, it honoured all Italian immigrants and was a moment of great pride for Italian-Canadians. That iconic landmark recognizes the contributions that Italian immigrants did for the city and, most likely, for the tower itself — a lot of them built that tower. They saw those colours, saw that symbol, [and] it reminded them of the work that they did to help build the city and the country."
In fact, the City of Toronto was built by many Europeans who immigrated to the city with an abundance of hope in search of a new life. As more and more Italians emigrated from Italy to Toronto between the 1950s and 1970s, the first-generation Italian-Canadian community grew its culture and roots across the city, significantly contributing to the building of the nation.
Founded in 1971, the Italian Canadian Benevolent Corporation (changed to Villa Charities in 1995) was originally founded by Italian men and women with the dream to provide elderly Italians in their community with affordable, high-quality, culturally sensitive long-term care. "They wanted to build something where they were familiar — where the culture was the same, the food was the same, everybody spoke the same language — so they came together to do that. Since then, Villa Charities has grown significantly, and we've grown to become a leading provider of cultural, educational, health and wellness programs, child care and event-planning services, and we're also a property manager with housing for independent seniors in our three apartment buildings. Nevertheless, to this day, we remain true to our mission, and we want to enrich lives through experiences and services that honour Italian culture and heritage," says DeVuono.
Growing up in the community himself, DeVuono says Villa Charities played a big role in who he is today. "I grew up and went to high school in the community, I worked out at the Columbus Centre Athletic Club. My grandmother was a resident at the senior apartment building here. I would come to visit her, and we would come outside and have a coffee and a sandwich, and when she went into Villa Colombo and then, well, she passed away. My wife has a similar story. As I got older, we got married, my kids came to camp here, and we had their baptism and communion parties here. I volunteered to do tax returns at Villa Colombo Vaughan, so I've just grown up with the place. I have a lot of personal connection to the organization."
For 50 years, Villa Charities has provided cultural and educational programs that offer a broad range of activities, services and facilities managed by its affiliate organizations, like the Columbus Centre, Joseph D. Carrier Art Gallery, Villa Colombo Toronto, Villa Colombo Vaughan, as well as apartments for independent seniors: Caboto Terrace, Casa Del Zotto and Casa Abruzzo.
Partnering with both Italian and non-Italian organizations, Villa Charities continues to expand its vision of "inspiring people to explore the Italian in all of us." Says DeVuono: "Our role is to keep those traditions and heritage alive by bringing to life our mission of enriching lives through experiences and services that honour Italian culture and heritage. We continue to expand our partnerships with affiliations and organizations that align with our vision, mission and values. For example, we partnered with Eataly, The Food Dudes. We've broadened tenants into the Columbus Centre, such as TLN Media Group, the Leonardo Da Vinci Academy of Arts & Sciences, and the Academy of Realist Art. Partnering with these affiliates and these organizations with like-minded values and heritage and culture, we continue to promote our culture and heritage as well. I think we're the heart and soul of Italian-Canadian culture, and it's reinforced by our vision and mission."
Since its fruition, Villa Charities has been hosting a number of cultural events, including its annual cycling fundraiser Giro, an ode to the Giro d'Italia three-week- long Grand Tour, the Italian equivalent of the Tour de France. In addition to its annual fundraiser, Villa Charities has hosted Cultural Tuesdays, a series of illustrative talks designed to engage the community every Tuesday on a wide range of topics, from culture, lifestyle, history, cuisine and art, and has featured renowned Italian personalities to host events, including Lidia Bastianich, David Rocco and current Alfa Romeo Formula 1 driver Antonio Giovinazzi. For second- and third-generation Italian-Canadians looking to learn or improve their linguistic skills, Villa Charities offers workshops where they can learn and practise Italian in a relaxed atmosphere outside of a traditional classroom.
As we approach the summer, June is of particular importance for the Italian community hub because it marks Italian heritage month. Pre-COVID-19, Villa Charities would host a number of events showcasing the best of Italian culture, heritage and cuisine at the Columbus Centre. Although these events can't be celebrated to their full potential due to the current obstacles presented by the pandemic, Villa Charities's focus has been committed to the safety and well-being of the seniors living in the apartment buildings. It has been offering many support programs and services, including free pre-packaged meals, personal safety items, weekly outdoor musical performances by local Italian-Canadian musicians, outdoor prayer services and weekly fitness classes. "It was quite a sight when they did the fitness class, and you'd see the seniors come out on their balconies, moving their arms and doing jumping jacks with the instructors. Honestly, it was really moving and something that we were really proud to be a part of," says DeVuono.
"I have an open-door policy. I want to connect with the community and hear what they have to say and just reestablish those connections with the community"
In response to COVID-19, Villa Charities also brought back some staff who were laid off due to the pandemic and created a dedicated senior support team that would call the residents in the apartment building to ask about their health, provide emotional support and assist them with essential needs.
With a deep appreciation for his vibrant community and his personal connection to his work, DeVuono is there for his community. "I want to establish a close connection with the community. I want them to know that they can come to me and share whatever they want to and discuss with me. I have an open-door policy. I want to connect with the community and hear what they have to say and just re-establish those connections with the community."
Growing up with a community DeVuono could lean on and learn from is just one of many beautiful representations of the impact that Villa Charities has had on the lives of Italian-Canadians. This influence is a testament to how culture can live on through people who engage and express curiosity and interest in their heritage or outside of their own culture. "You don't have to be Italian to appreciate a lot of the Italian things. If we can keep our traditions and heritage alive, which is what we're trying to do, we think we will engage second, third and other ethnic groups to enjoy some of these things as well," he says.
Based on the vision Italian men and women had a half-century ago, the Italian community hub is continuing its legacy on the idea that looking after our elders and honouring our culture are lifelong commitments that undoubtedly add beauty, pride and fulfilment into our lives.
While the modern world of globalization makes preserving culture seem like an intangible feat, Villa Charities is creating an intellectual infrastructure that, in a way, will outlive any physical building or structure and be passed down to future generations. "We will continue to serve as a destination not only for the multi-generational Italian community, but also the vibrant, broader multicultural community seeking to explore and experience the Italian culture and heritage. We can't just stand still; we have to adapt and evolve because the world is changing, and we have to change with it," says DeVuono.