Listening To Life's Lessons – Q & A With Audio One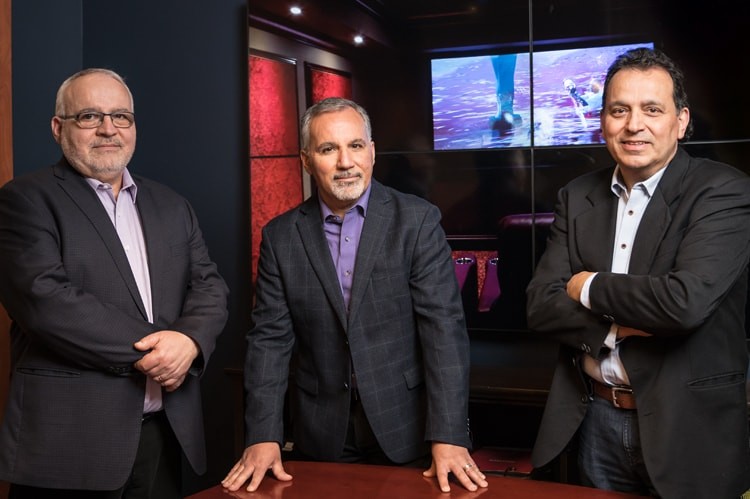 A fixture in Vaughan for over 32 years, the D'Ascanio brothers have created a business in Audio One that has evolved, while staying true to their inherent values.
Sometimes in life, it's the tragic moments that lead to rebirth. This concept applies to brothers Anthony, Carlo and Gino D'Ascanio, who founded Audio One, one of the longest-standing businesses in Vaughan, Ont.
After losing their father to cancer in 1985, they took a step back and realized the importance of family. They chose to work together, creating a business the following year.
Staying true to themselves, the brothers nurtured their shared love of music and interest in audio equipment, bringing their passions together and creating Audio One in 1986. City Life sat down with Gino D'Ascanio to get an inside look at the business and understand its 32-year history.
Q: Tell us about the evolution of your company.
A: What started as a simple audio store, selling turntables, speakers and hi-fi equipment from our retail location, has evolved into a business that covers many facets of home entertainment and automation. We sell and install everything from audio and home theatre systems to full home automation systems. This change in business offering has required a change in both strategy and attitude in order to keep up with the fast-paced industry. Today, we are as much a contractor business as a retail business. Much of our work is outside our showroom, bringing us into our clients' homes and businesses.
Q: Describe some of the advantages to working with your family.
A: It is more than just working with family. Audio One is the epitome of our hard work and what we have been able to build together that has lasted over 32 years. Working alongside my brothers (and now a nephew, too) has been very rewarding. It is a family here above just the employees who share the same bloodline. Our passionate and dedicated staff have all become like family to us. We look out for one another, and we have a mutual trust in one another, sharing common goals and aspirations. This has been the biggest reason we have been able to work well together all these years.
Q: How do you resolve conflicts working with your family?
A: When we have to make a major decision or resolve an issue, we discuss it among one another and generally agree on a majority of decisions. Communication is key, and we always focus on remembering we are all in it together. I can't recollect one time we haven't resolved an issue or have made a decision that had any lingering effect or resentment between us. We do, however, have thick skin and are able to navigate each other's personalities after 32 years.
Q: What are some business or life lessons you have learned during your time in your industry?
A: The most important lesson we have learned is: change is constant, and you must embrace it. By focusing on becoming home theatre specialists when that segment of the industry grew, instead of resisting the change and avoiding new training, we have added programmers and network specialists to our staff, helping grow our home automation division.
32 years ago, we would not have imagined a regular part of our business would come from new technologies and services (installing motorized shades, surveillance cameras, digital signage, and designing and installing A/V systems for many of the common areas in condominiums around the city). There have been many technologies through the years that weren't ready or reliable for our clients and therefore our business. We are always careful to ensure the new technology works before we install it in our clients' homes or businesses.
Q: What are the leading factors that have contributed to the growth and success of your business?
A: They can be traced back to our core values of working hard, honesty and treating people right — this is how to sustain a business over a long period. There are so many competitors we have seen come and go, but we continue to thrive by sticking to those tried-and-tested values. Another important strategy is to work with brands and products that fall in line with our core values. Many of our brands and suppliers have been with us for decades; these brands have great products, people and values. We refuse to sell out on lesser products just to benefit our bottom line. Deliver a quality product with quality service, and you will always ride the bumps and dips that every business will inevitably face.
Q: What advice would you give to those interested in starting their own company?
A: Figure out what kind of company and business person you want to be and stick with it. Listen, learn and adapt, but never replace hard work, honesty and reputation. Every business is a journey, and like anything good in life, you're going to have to fight through some tough times to get to the good stuff. Keeping positive is essential to getting through what could drive many people to give up. Most of all, have some fun. Working hard doesn't mean you can't maintain a fun and friendly atmosphere for both your team and clients.
Q: How do you envision the future of your company?
A: We envision our company remaining very active in the home automation and installation business. We see so much potential in the way technology is pulling everything in the home together, and we believe anyone building or remodelling a home will require essential technologies that will exponentially improve the living experience. This technology, however, requires experts to program and install, [so] we have put a lot of focus in growing the installation and service side. Outdoor living is another growth area that ties naturally into our installation business.
Products and services (outdoor TVs, music systems, lighting and outdoor networking) are all parts of the home people want to experience more of. We also see the commercial service side of our business as a major factor going forward. We have worked with so many condominium developers by providing digital signage and A/V systems for their buildings, we are confident we'll help to expand this area of expertise.