Having the Heart for Canadian Art — Ian Dejardin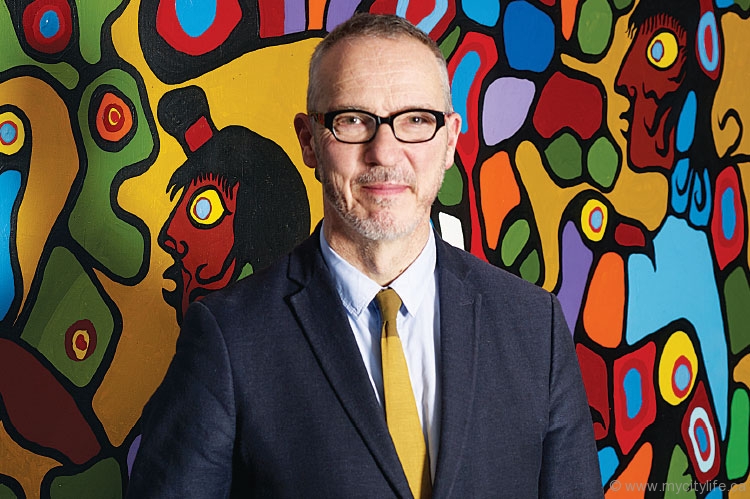 Scottish-born Ian Dejardin has spent the last 12 years as the director of Dulwich Picture Gallery in the U.K., arguably the best arts and museum job in Europe. So why would he leave such a coveted post to become the executive director of the McMichael Canadian Art Collection? Dejardin sits down with CityLife to explain.
When the Montreal Rhapsody Orchestra started playing 1980s classics from the likes of Madonna and Michael Jackson at the 2017 McMichael Moonlight Gala, one keen man decided to hit the dance floor and break out a few moves. By his account, he did so for the next two hours. His name is Ian Dejardin. He's the new executive director at the McMichael Canadian Art Collection.
"Apparently, no previous director has ever danced at the McMichael Gala. And none of the staff did before, until they saw me hit the dance floor," Dejardin says. This was the sixth year of the event. "There's a certain relaxation. I think that's what I bring, because I'm not bureaucratic. I like to be friends with my staff."
Edinburgh-born Dejardin officially took over the executive director position from McMichael's interim executive director, Nathalie Mercure, on April 3. Previously, he had been with Dulwich Picture Gallery in the U.K. for 19 years, 12 of them as the director.
"It's been great, [but] a bit of a whirlwind," Dejardin says of the job transition. "When you start a new job like this, it seems to be all meetings, meetings, meetings. And I have to listen — this is the thing. Also, I have to be patient, because I like to get things done."
Being the director at Dulwich is considered by many in the arts and creative industries sector to be the best job in the U.K. So why would Dejardin give that up to be executive director at McMichael? "Because it's the best job in Canada," he replies. "It has a very strong brand. It's the only gallery in Canada that has a mandate to celebrate the art of Canada." Aside from the fact that he was already visiting Canada quite regularly planning for a 2018 exhibition featuring the works of revered painter David Milne, it was Dejardin's unfettered passion for Canadian art that ultimately led him to McMichael.
"I've come at Canada entirely through representation in two dimensions. That's how I fell in love with Canada." Dejardin says he's been a fan of Canadian art since 1987, when he opened a book containing the first reproductions of the Group of Seven. He quickly became a deep admirer of the group's work, especially their use of colour and landscape. "What fascinated me then was the fact that here was a school of landscape painting that was utterly vibrant, bright and suggestive of a country that was very different from where I was brought up," he says. "I understood that this was Canada. This was the vast wilderness and landscapes of Canada, so beautifully painted, clearly in a language that relates to European art (for instance, Van Gogh and all those first impressionists), but was utterly unique."
Photo By Alexandra Cousins / Courtesy of the McMichael Canadian Art Collection