Coach Alfonso Casciato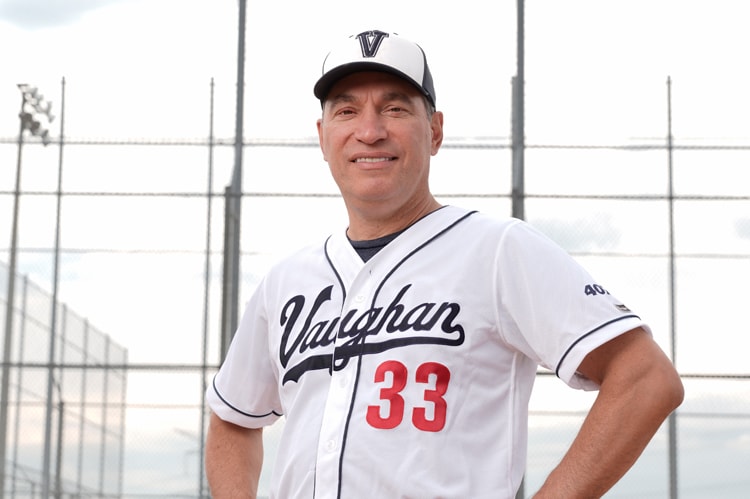 Another sport on the rise in Vaughan is baseball. And Major Peewee 1 coach Alfonso Casciato, of the Vaughan Vikings, is doing a spectacular job in coaching kids on how to play the sport with class and skill. Coach Casciato has been coaching youth baseball for almost a decade and is loving every minute of it. His passion and baseball IQ come from many years of playing baseball himself, starting from when he was a youngster, right up until he had his own children.
When coaching, Casciato applies certain expectations based on the individual player and their specific skill set. The coach knows the right time to congratulate players and when to be a little tougher with them, in order to get the best out of each player. He bases this approach on reading his players' body language and effort levels in order to react and coach in the appropriate style. During the entire interview, coach Casciato spoke with such a level of calmness that one can only imagine his personality rubbing off onto his players. The coach reminds his players of the importance of staying even-keeled and that losing teaches us way more life lessons than winning ever could.
Q. What is the most challenging aspect about being a coach?
A. Teaching my players, in baseball and in life, to never get too high or too low. Also, not to dwell on past experiences, so kids can move forward and develop as a better player and person.
Q. What is a key fundamental that all parents should ensure their kids have when trying to help improve a child's overall ability to play baseball?
A. Parents should look at their child's passion, focus and compete level when wanting to help them improve. The coaches can work on the skills, but each child has a certain level of compete, passion and focus that should be recognized by their parents.
Q. Where is grassroots baseball in Vaughan heading?
A. I think in the last 10 years, we have seen more kids playing baseball in Vaughan and also across Canada. And that has translated into more players being drafted, coming up through the different levels and finally into the majors, where we now see more Canadians playing in Major League Baseball.
After conducting interviews with four different coaches across four different sports in Vaughan, I am proud to say that youth sports in Vaughan is at an all-time high. Talking with each individual coach and seeing how passionate they are about growing and producing professional players was outstanding to experience. But the aspect that blew me away was how, after speaking with each coach, the main focus for all of them was to shape these young minds into becoming better people.
Each one of these coaches is a modern-day coach. This means that they all get to know each one of their players on an individual level and act accordingly to a player's personality, background and circumstances. These coaches hardly get enough credit for all of their hard work and dedication in working with our kids. I hope this piece can shed some light on the many great coaches we have in our city. The City of Vaughan is in a golden era for producing great players and even better people.