The Arcadian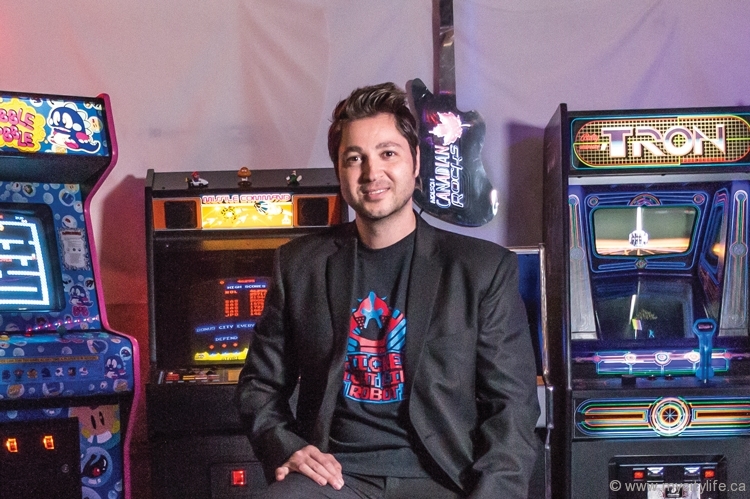 Sasha Sekretov left his heart in a 1980s arcade. Today, he resurrects his favourite childhood pastime by giving new life to vintage games.
The year is 1988. A 14-year-old boy walks into the corner pizza joint and orders a slice of cheesy pepperoni with a Coke. He mumbles the lyrics to Iron Maiden's Aces High playing on the radio as he walks toward the back of the room with his slice in one hand and his drink in the other, and lays his eyes on a neon-coloured, brightly lit arcade game. He puts his food down beside it, pulls out the few quarters he has left and slips one into the change slot. He isn't here for lunch — he is here to beat yesterday's high score. He is here to play Pac-Man. And he is here to win.
Fast-forward 28 years. Today, Sasha Sekretov can be found working hard running his company, Progryp Fitness, which distributes high-performance gym equipment and gear to major sporting goods retailers across Canada. But when he's not busy as an entrepreneur or spending time with his wife Puja and their two children, Mihailo and Leela, he's working on a hobby that he's been passionate about since he was 14 years old.
I meet Sekretov on a rainy afternoon at his home in Vaughan. He invited me over to teach me about this hobby. And no, I wasn't going over to discuss how to pitch a weightlifting project to Sport Chek — Sekretov invited me to see his in-home arcade room.
"In the '80s, I got to play the original arcade games," he says. "I was mesmerized by them. I always thought to own an arcade was unobtainable."
He wasn't wrong. At the time, arcade gaming was a billion-dollar industry. One system could make up to $500 weekly in quarters. Whether it was the local pizza joint, a big arcade of games or even the local convenience store, every business owner knew it was a smart move to own one. Young kids just like Sekretov would flock in just to try and get to the next level of their favourite game.
For the past four years, Sekretov has spent about two hours every day refurbishing old arcade games from the '80s. He welcomes me into his basement, alongside his energetic seven-year-old son, Mihailo. As we descend into the gaming sanctuary, my eyes are blinded by hundreds of flashing neon lights comprised of pixelated computer graphics. I hear sporadic clinging, gunshots and jingles coming from every corner of the room. As my eyes adjust, I see that Sekretov has brought over 30 of these gaming systems back to life.
"Cool, isn't it? I buy them as is. A lot of them are water damaged or need to be rewired," he says. "I bring them back to their authentic, original condition, and they look brand new. I had to teach myself how to do all of the electrical work inside. I'll research online how the games looked in their original state, I often repaint them exactly how they were when they were first made."
Sekretov walks me through each of the games he owns. From Super Mario to Duck Hunt to Tetris and more, this basement is a dream room for any gamer who grew up in the '80s.
While Sekretov teaches me about each of these games (and Mihailo completely absorbs himself in catching a 1-Up Mushroom in Super Mario), I ask the refurbishing whiz how this passion came about. Sekretov tells me how it all started — with a date.
"My wife and I were out once and we came across an old Bubble Bobble arcade game," he says. "Puja was saying how amazing it would be if she could have one of those in her home one day, and like every guy, I wanted to look cool to the girl I liked. I bought an old Bubble Bobble machine and refurbished it for her. We still have it to date."
The act of romance then grew into a hobby, and then a passion, for Sekretov, whose love of the '80s runs deep.
"Every person I have met that refurbishes arcade games or collects arcade games tells me the same thing — we all do this for the love of the '80s," he says. "We do it for the feeling we get when we play, that feeling of having grown up and being able to afford and own this thing that was once so far out of our reach."
Everyone has a memory from the past they wish they could just go back to in a time machine and experience it over again — the atmosphere, the people, but mostly that nostalgic feeling. Arcade games are Sekretov's time machines. For a few minutes a day, Sekretov's mind gets lost in a game and he forgets his age, the bills and all the work he has to get done. When he plays these games it's like he is 14 again. He can taste the pizza, hear Iron Maiden, and the year is 1988.
If you are interested in learning more about vintage arcades, Sekretov invites you to email him at sasha@phyzex.com
photo by carlos a. pinto